Bollywood is home to numerous celebrities and it is not necessary that everyone likes each other. Stars are people too. They also have their differences and disagreements. Publicity Is publicity, no matter good or bad. Here are some celebrities who cannot agree to disagree.
Karan Johar v/s Kangana Ranaut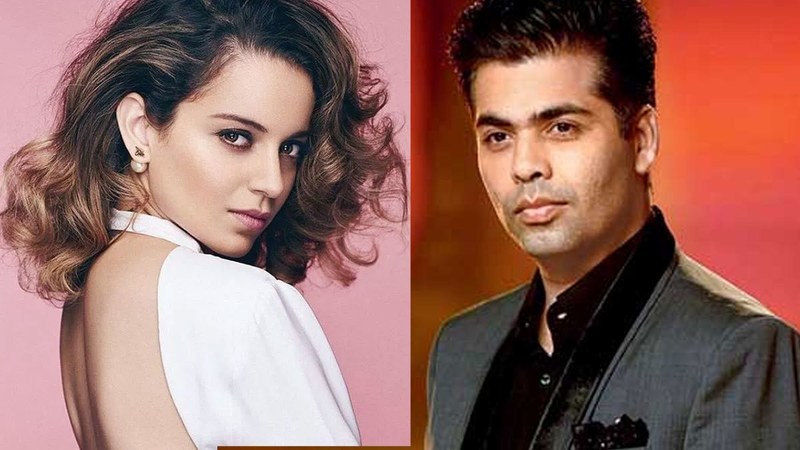 Kangana is known for her straight forward nature and fearless comments. That is why it is not a surprise that she called Karan Johar the "flag bearer of nepotism, a movie mafia" on his own show Koffee with Karan. In return, Karan blamed Kangana of portraying herself as the victim and further added that she should leave Bollywood if she has so many problems. If you thought that fire was out, you were wrong. Recently during the IIFA awards 2017, Karan Johar, Saif Ali Khan and varun dhavan took potshots at Kangana on stage. Saif teased Varun Dhawan that he made it so far into Bollywood because of his father David Dhawan. Varun replied with, "And you're here because of your mummy (veteran actress Sharmila Tagore)." To This Karan quickly added that he is there because of his father, late filmmaker Yash Johar. Taking a dig at Kangana, the three of them chanted," nepotism rocks!" it will be interesting to see how Kangana reacts to this.
Kangana Ranaut v/s Hrithik Roshan
Hook ups and break ups are very common in Bollywood, but one affair took a wrong turn and made headlines for week. During the shoot of Krrish 3, rumors of both co-stars dating emerged in the media. While Hrithik blames Kangana for making the false accusations on him, Kangana stresses that everything was consensual. The Issue became so dirty that legal notices were sent. Hrithik claimed in his notice that Kangana was trying to propagate a false idea and thereby gain publicity with ulterior motives and mala fide intentions. Hrithik also alleged that Kangana was suffering from Asperger's syndrome and made contact with his father Rakesh Roshan, who conveyed that he is not interested. Reacting to all these claims, Kangana sent a notice to Hrithik that she is not dim-witted girl who is smitten and they exchanged emails after Hrithik himself provided her with his ID. Adding to this, she denied the news of her suffering from any mental illness.
Shirish Kunder v/s Shah Rukh Khan
Whenever Shah Rukh Khan comes to mind, his witty, funny and cheerful actions forms an image. But, following the success of Agneepath, a Juhu club threw a party in honor of Sanjay Dutt. The party, studded with Bollywood A-listers, took a drastic turn when Shah Rukh slapped Shirish Kunder, husband of director and choreographer Farah Khan. According to sources, Shirish was hovering around SRK during the whole party and SRK ignored him all the way. SRK lost his cool just before he was about to leave when Shirish whispered something in his ear. Shirish had previously criticized SRK's Ra.one on micro blogging site. Farah also came in support of his husband and condemned this physical violence of SRK.
Kareena Kapoor v/s Priyanka Chopra
Kareena has never taken the back seat when it comes to speaking out her mind. Kareena and Priyanka started on good terms and became very good friends, but later they drifted apart due to work and competition. During an interview Kareena stated that she does not think of her contemporaries to be 'actresses' except Rani Mukherjee, to which Priyanka replied that Kareena is her senior and can judge her caliber. Later in Koffee with Karan , Kareena said that she did not come in Bollywood to make friends and later on answering a question made fun of Priyanka's accent questioning where she got it from.  This time Priyanka broke her silence and snapped back by answering, " the same place her boyfriend (Saif Ali Khan) got it from."
Kareena Kapoor v/s Bipasha Basu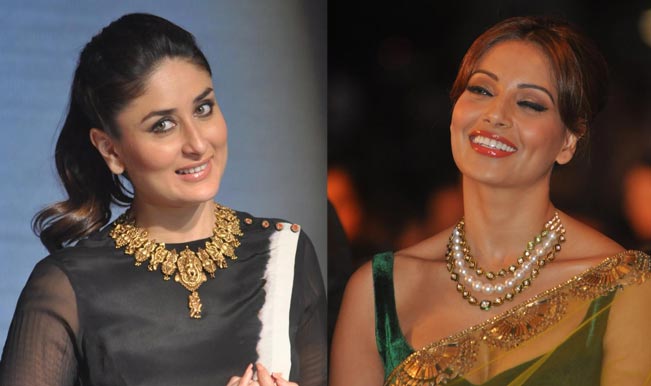 On the sets of both Bipasha and Kareena didn't have the most wonderful times. Their awkwardness around each other works as fodder for gossip columns. In an interview Kareena even called Bipasha 'Kaali BIlli' and commented on her then boyfriend, John Abraham, saying that he is expressionless. Bipasha couldn't let this go and went on to saying that Kareena has too many expressions on Koffee with Karan. Times have passed and both the actresses seem to have let the past stay in the past. During Omkara's promotion, Bipasha told the reporters that she never had an issue with Kareena, while Kareena praised Bipasha, calling her sexy.