75th Cannes Film Festival Started On Tuesday, Opened With Ukrainian President Volodymyr Zelenskyy
On Tuesday, the 75th Cannes Film Festival began with a live satellite video address from Russia's war in Ukraine, and Ukrainian President Volodymyr Zelenskyy, who called on a new generation of filmmakers to confront dictators such as Charlie Chaplin satirized Adolf Hitler. After tributes and musical tunes, Zelenskyy was formally streamed live to the attired audience who had gathered for the premiere of Michel Hazanavicius' zombie comedy "Final Cut."
Zelenskyy, who wore his signature olive green shirt, drew a thunderous standing ovation and spoke at length about the connection between cinema and reality. He did not contrast the current conditions in Ukraine with films such as Francis Ford Coppola's "Apocalypse Now" and Charlie Chaplin's "The Great Dictator."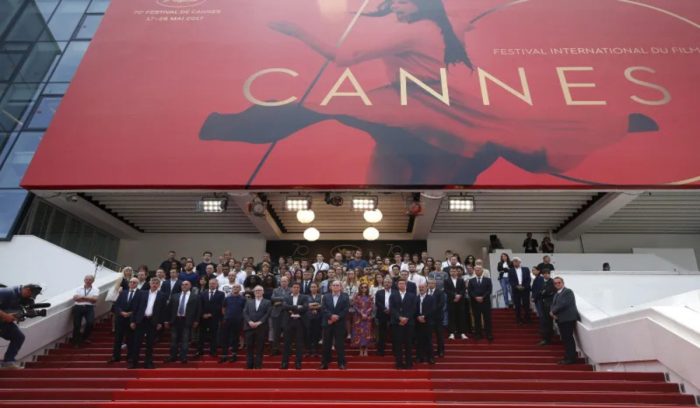 Zelenskyy quoted Chaplin's final speech in "The Great Dictator," which was released in 1940, in the early days of World War II: "The hatred of men will end, and the dictators will die, and the power they took from the people will return to the people."
The Ukrainian president exhorted filmmakers to "not keep quiet" while hundreds of people are dying in Ukraine. The war is the largest in Europe since World War II and shows that cinema has "always been on the side of freedom."
There are several films by prominent Ukrainian filmmakers set on the screen, including Sergei Loznitsa's documentary "The Natural History of Destruction." The footage, shot by Lithuanian filmmaker Mantas Kvedaravičius before he was killed in Mariupol in April, will also be shown by his fiancée, Hanna Bilobrova.
Formally dressed stars like Eva Longoria, Julianne Moore, Bérénice Bejo, and actress Lashana Lynch were among those who graced the famous Cannes red carpet on Tuesday. More star-studded premieres, "Top Gun: Maverick," "Elvis," and more await over the next 12 days, during which 21 films will compete for the festival's coveted top award, "The Palme d'Or."
However, Tuesday's opening and carefully choreographed red-carpet parade followed in the footsteps of the Grand Théâtre Lumiere, which restored one of the cinema's grandest pageants after a two-year pandemic that challenged the exalted stature Cannes annually showers on cinema.
Cannes awarded an honorary Palme d'Or to Forest Whitaker, who received a standing ovation. Whitaker, who won the Best Actor award at Cannes 34 years ago for his performance as Charlie Parker in Clint Eastwood's "Bird," said that when he stepped out at the Palais des Festivals on Tuesday, he could still hear chants of "Clint! Clint!" ringing in his ears. To be known, Eastwood is one of the few others to have been honoured with an honorary Palme award.
On Tuesday, Cannes also unveiled the jury that will award the Palme d'Or. French actor Vincent Lindon is leading a jury that includes Deepika Padukone, Rebecca Hall, Asghar Farhadi, Trinca, Ladj Ly, Noomi Rapace, Jeff Nichols, and Joachim Trier.