'A Part Of Me Is Still Refusing To Accept That You Are No More,' Says Farhan Akhtar On Demise Of Milkha Singh
India's legendary sprinter Milkha Singh, popularly known by his nickname 'The Flying Sikh' took his last breath last night in Chandigarh. The reason for 91 years Old's death has been reported as post-COVID-19 complications. He was taken to the hospital a few days back after complaining of drowning health conditions after a successful recovery from COVID-19. The Flying Sikh's death shocked everyone and much of the film industry (like Priyanka Chopra, Shahrukh Khan, Akshay Kumar) and other fraternities have paid tribute to him. His sudden demise has left everyone emotional.
One of the closest tributes came from the one who played and lived Milkha Singh on-screen. Yes, we're talking about Farhan Akhtar. Farhan played the reel life, Milkha Singh, in the late sprinter's biopic titled Bhaag Milkha Bhaag that was released in 2013.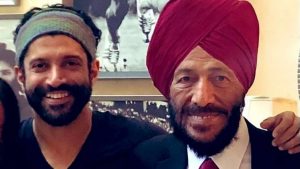 Posting a heartwarming note, Farhan wrote, "Dearest Milkhaji, a part of me is still refusing to accept that you are no more. Maybe it's the stubborn side inherited from you… that side that sets its mind on something, just never gives up. And the truth is that you will always be alive. Because you were more than a large-hearted, loving, warm, down-to-earth man."
He further added, "You represented an idea (to use your own words) how hard work, honesty, and determination can lift a person off his knees and get him to touch the sky, "You have touched all our lives. For those who knew you as a father as a friend, it was a blessing. For those who didn't like a constant source of inspiration and a reminder of humility in success. I love you with all my heart."
Taking to Twitter, Priyanka expressed how inspired she was by the legendary athlete. She wrote, "Warm and welcoming, you made our first meeting so so special. I have been inspired by your excellence, touched by your humility, influenced by your contribution to our country. Om Shanti #Milkha Ji. Sending love and prayers to the family #MilkhaSingh."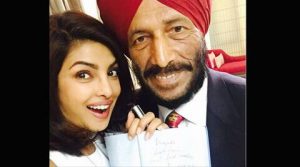 Shahrukh Khan also paid condolences to the late Milkha Singh. He tweeted, "The flying Sikh may no longer be with us in person, but his presence will always be felt and his legacy will remain unmatched. An inspiration to me. An inspiration for millions. Rest in peace Milkha Singh Sir."
The news of the death of Milkha Singh's wife, Nirmal Kaur also came a few days ago. Her reason for death was also quoted to be similar i.e. COVID-19 related issues.  Singh has three daughters- Mona Singh, Aleeza Grover, and Sonia Sanwalka and one son Jeev Milkha Singh who is a Padma Shri award winner. Milkha Singh was introduced to sprinting while he was serving the Indian Army. He is the only athlete to win gold in the 400-meter race at the Asian Games as well as the Commonwealth Games.