Kamaal Rashid Khan, better known by his stage as KRK, is in the news again. The Deshdrohi actor never misses an opportunity to criticise Karan Johar, Shah Rukh Khan, Salman Khan, and Aamir Khan from the Bollywood film industry. He also thrashes blockbusters like Pathaan, Kisi Ka Bhai Kisi Ki Jaan, and others. KRK has accused Akshay of trying to kill him in his most recent Tweets. Read on for more information.
KRK Has Been Claiming That His Life Is In Danger Due To Akshay Kumar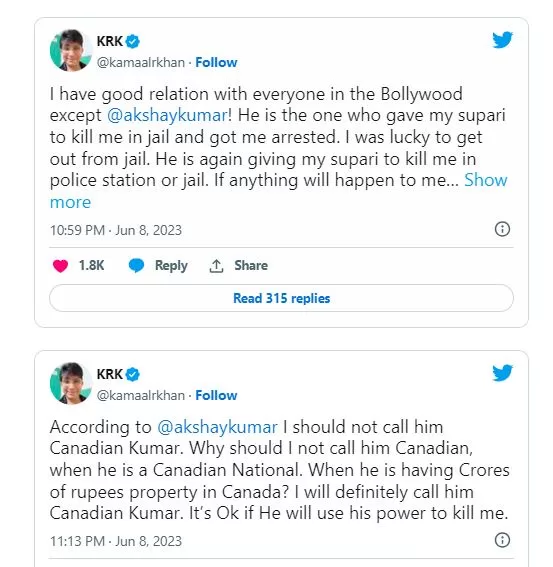 The Deshdrohi actor in his series of Tweets went on to rant against Akshay Kumar and claimed that he's been trying to kill him. He also said that if tomorrow he's murdered, then everyone must know Salman Khan, Shah Rukh Khan and Karan Johar haven't done it but Akshay has.KRK said that Akshay has given Supari in jail to kill him. KRK was arrested once but fortunately came out of jail.
The self-proclaimed critic further revealed that Akshay has been trying to kill him for quite some time because he doesn't want KRK to call him 'Canadian Kumar'.
Akshay Hates When Being Called As Canadian Kumar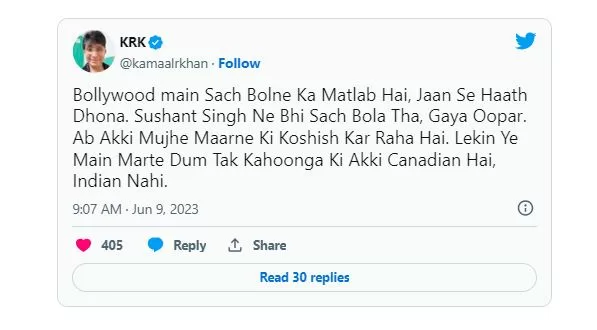 "Shree Canadian @akshaykumar must understand Ki Mujhe Jail Bhejne Se, Yaa Maar Dene Se, reality change Nahi Hogi," KRK stated in the subsequent tweet. He also stated that the day government changes in India, Akshay will be escaping India and will go back to Canada. He even said that why Akshay should not be called a Canadian! Akshay has crores of properties in Canada then he should be called a Canadian.
KRK did not stop here. He went further and even dragged Sushant Singh Rajput's case in his tweets. He said that Sushant did not keep quiet and he was dead. But KRK has been claiming that he is not going to keep quiet. He will go on calling Akshay Canadian Kumar.