Alia Bhatt & Ranbir Kapoor Wedding : The Cute Couple Wins Hearts With Their Unseen Wedding Pictures
Ranbir Kapoor and Alia Bhatt married just a few days ago. The couple's wedding photographs have been widely shared on social media, and they have created quite a stir on the internet. The gorgeous duo has captivated people's attention wherever they go.
In addition to the photos shared by their family and friends, the bride's sister Shaheen Bhatt just posted a new photo of the newlyweds on her Instagram account. Look at the post here.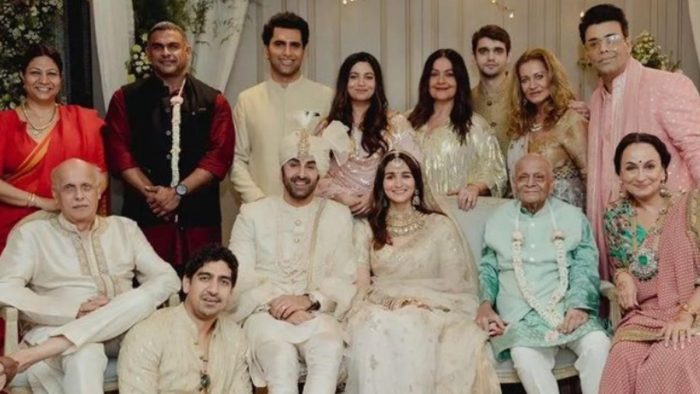 Both Alia Bhatt and Ranbir Kapoor seem to be beaming in this new photograph. Ranbir embraces Alia close to him as the two stands in the shade of a magnificent tree with crimson leaves. The following photograph can observe the newlyweds staring at each other with love-filled eyes.
They are wearing a white garland of flowers around their necks. "My two favorite people on the planet were married yesterday, and our crazy, happy little tribe just became a whole lot weirder and happier," Shaheen wrote beside the photo. "I adore you both tremendously."
Take a look at the new other pictures:
Family photo!#RiddhimaKapoorSahni shares a frame-worthy picture with her bhai, #RanbirKapoor, his wife #AliaBhatt and their families. pic.twitter.com/Ih0zXm7I25

— Filmfare (@filmfare) April 15, 2022
https://twitter.com/Rk_is_unique/status/1515155149811236866
https://twitter.com/seeuatthemovie/status/1514999736394264586
https://twitter.com/aliakapoorx/status/1515003146267140102
https://twitter.com/filmfare/status/1515001587294371844
While everything was going on, according to sources in the Times Of India, Ranbir Kapoor paid an homage to Rishi Kapoor on the occasion of his wedding.
On his wedding day, the Rockstar actor donned his late father's pricey watch, which went well with his ivory sherwani, and he seemed to be no less than a royal prince, according to his friends and family. In addition to an 18kt white gold case and a blue alligator leather band, the watch in question is valued at Rs 21 lakh.