Anurag Kashyap Reacts On A Video Where "Kangana Ranaut Calls Him A Friend" Goes Viral
Kangana Ranaut's headstrong nature has gotten her into some really ugly fueds. Recently, Anurag Kashyap took to Twitter to state that he doesn't like this version of the actress and even schooled her on social media. Now, we have got our hands on video where Kangana Ranaut was backing Anurag Kashyap during the failure of Bombay Velvet calling him her friends. Let's see how Anurag Kashyap reacts to this.
The video begins with Kangana saying, "I have to give an example of the latest release, Bombay Velvet. It's my friend's movie and it didn't do well. I have seen this happen a lot. How everyone became so venomous and so evil. It is heartbreaking to an extent that you feel you want to leave this place. I don't understand how critics and people get so personal." She added, "can say one thing. His intention was to make a sincere film for you all. It doesn't always happen. Sabhi chuk jaate hai, hum bhi chuk jayenge kabhi (Everyone misses the mark, we will also miss the mark at some point). But I want to know what is so frustrating that everyone is just out to kill one person. This is one thing I would like to change about our industry – they get too personal with comments, gossip and reviews."
The social media who shared this video on twitter, also tagged Anurag Kashyap and wrote, "This is how #KanganaRanaut defended you @anuragkashyap72 after Bombay Velvet's failure. But you were digging her 9-10 year old videos to prove her wrong." Anurag reposted the clip and defended himself saying, "Absolutely she did . She always stood by me . I am not her enemy . You all are . The people who are using her are." Watch the video below: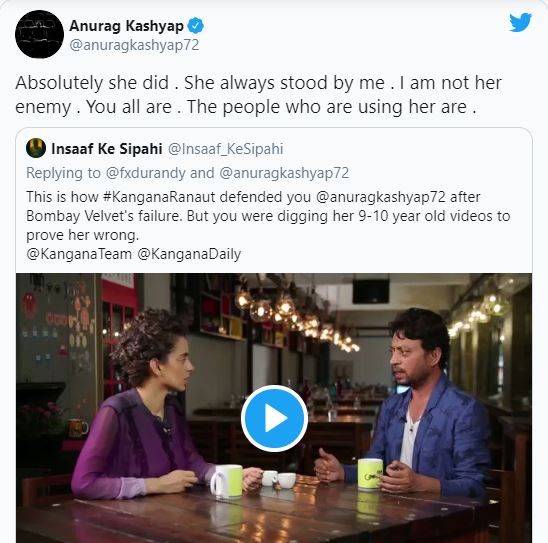 Click here to watch the video directly on Twitter.