A few days back, Farhan Akhtar's girlfriend Shibani Dandekar came out to stand up for her friend Rhea Chakraborty. After the death of Sushant Singh Rajput, Rhea Chakraborty has been constantly grilled by Social media users on various media trials. Only a few people from the industry came out to support the actress and Shibani Dandekar was one of them. Now, Shibani's sister VJ Anusha Dandekar has come forward to voice her support for Rhea Chakraborty. Anusha Dandekar Comes Out To Support Rhea Chakraborty After Her Sister Shibani's Long Message.
Rhea Chakraborty in her interview stated that her family is facing a lot of backlash since Sushant's death. The actress also said that she is seeking justice for Sushant and his family as well as for her family and herself. After her interview few actors like not only her best friend Shibani Dandekar but Taapsee, Swara, Vidya Balan have also come out to support Rhea. Now, adding to the list is Shibani's sister Anusha Dandekar.
Commenting on her younger sister Shibani's post, Anusha wrote, "I'm crying, my heart hurts to know what they are doing to our little rabbit… She is our baby sister forever ❤️❤️❤️ #justiceforrhea". Earlier, in support to Rhea, Shibani had penned down a long note on her Instagram handle condemning the media for '(behaving) like complete vultures on a witch-hunt vilifying and torturing an innocent family to breaking point'. She said that she knew Rhea for more than a decade and that she and her family were going through 'unimaginable trauma'.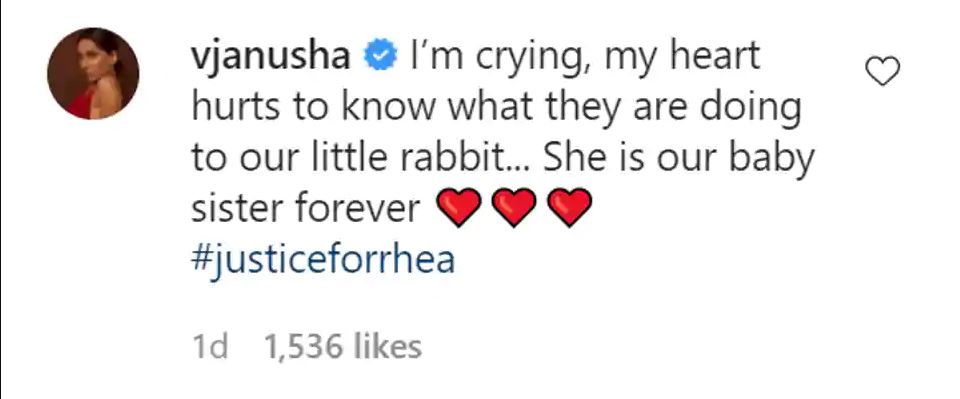 "Her basic human rights taken away as the media play judge, jury and executioner! We have seen the death of journalism and frightening side of humanity! What was her crime? She loved a boy, looked after him through his darkest days, put her life on hold to be there for him and when he…took his own life she was crucified. What have we become?" wrote Shibani.
Anusha Dandekar Comes Out To Support Rhea Chakraborty After Her Sister Shibani's Long Message.