Bachchan Pandey Trailer: Akshay Kumar Is In Great Form In This Gore & Gag-filled Mass Entertainer!
Today, February 18, 2022, the first trailer for Akshay Kumar and Kriti Sanon's mass action-comedy Bachchhan Pandey was posted online, making it a fantastic day for fans of Bollywood's Khiladi. The highly awaited action comedy 'Bachchhan Paandey,' starring superstar Akshay Kumar, is due to hit theatres this Holi, March 18, 2022.
In addition to Akshay and Kriti, Pankaj Tripathi, Prateik Babbar, Sanjay Mishra, Jacqueline Fernandez, and Arshad Warsi will play pivotal parts in Bachchhan Pandey. The movie is assumed to be a remake of the Tamil film Jigarthanda. However, the Farhad Samji-directed Bachchhan Pandey is gaining traction as it approaches its March 18 release date.
While the fans are anticipating the film's release, the crew has been adding to the buzz by publishing intriguing posters on social media. The trailer for Bachchhan Pandey is now out and it has grabbed the internet by storm.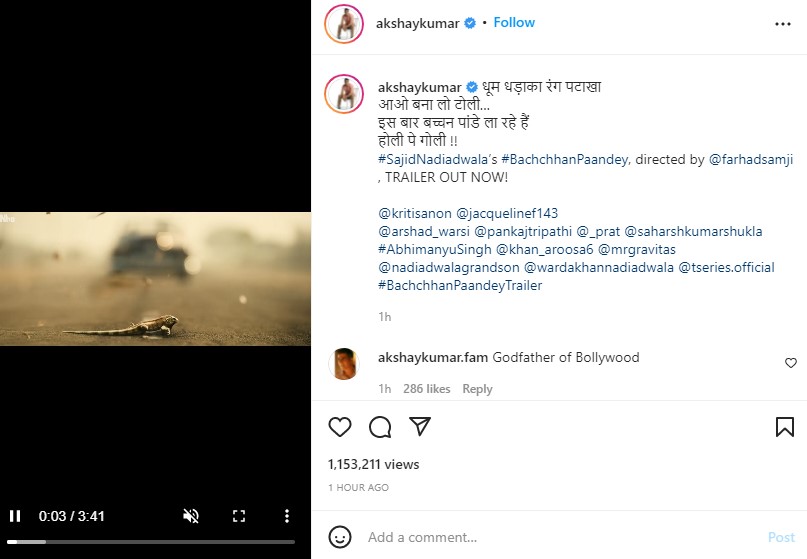 'Bachchan Paandey's' trailer depicts a high-octane narrative of action, humor, and criminality. The trailer has an experimental spaghetti background soundtrack, top-notch action, Akshay Kumar's characteristic comedic flair, and Arshad Warsi's top-class act, among other things.
What is in the trailer?
In the trailer, Akshay Kumar, the eponymous character, is seen wearing a peculiar appearance. In the almost three-minute clip, Khiladi Kumar portrays a murderous criminal, while Kriti plays a filmmaker who wants to produce a film on Bachchhan Pandey. The video then shows a sequence of amusing occurrences with some exciting twists that will leave the audience wanting more.
It's rumored to be a remake of the Tamil film Jigarthanda. The film starring Akshay Kumar, Kriti Sanon, and Jacqueline Fernandez was mainly shot in Rajasthan. The best part of the filming took place in Jaisalmer. Bachchan Paandey's lead actor, Akshay Kumar, says Farhad Samji, the filmmaker, adds,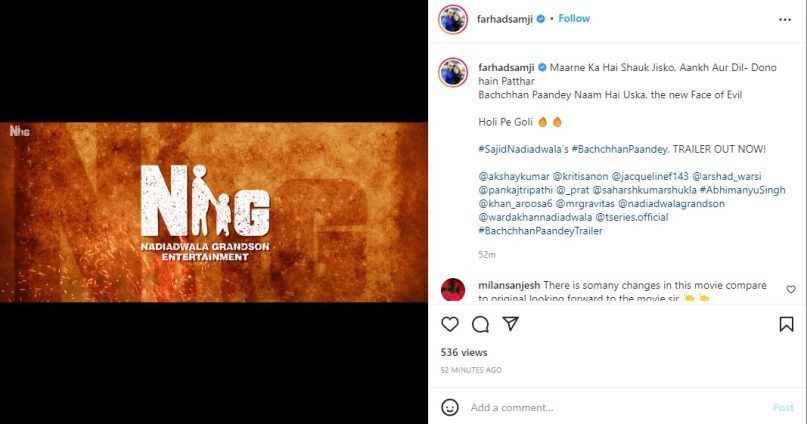 The Final Word
The entertainment, directed by Farhad Samji, takes spectators through India's heartland with larger-than-life graphics and Akshay Kumar in a never-before-seen, threatening demeanor.
After seeing the trailer, fans are enthralled by the film's massive action and humor. The trailer garnered a lot of positive feedback from fans, who praised Akshay Kumar's bulky and ferocious image.