Pictures of a woman from Ranaghat station have gone crazy viral on social media for all the right reasons. A woman dressed in saree and fine jewelry was spotted at Ranaghat station late at night surrounded with buckets of food. She was seen distributing the food to the underprivileged.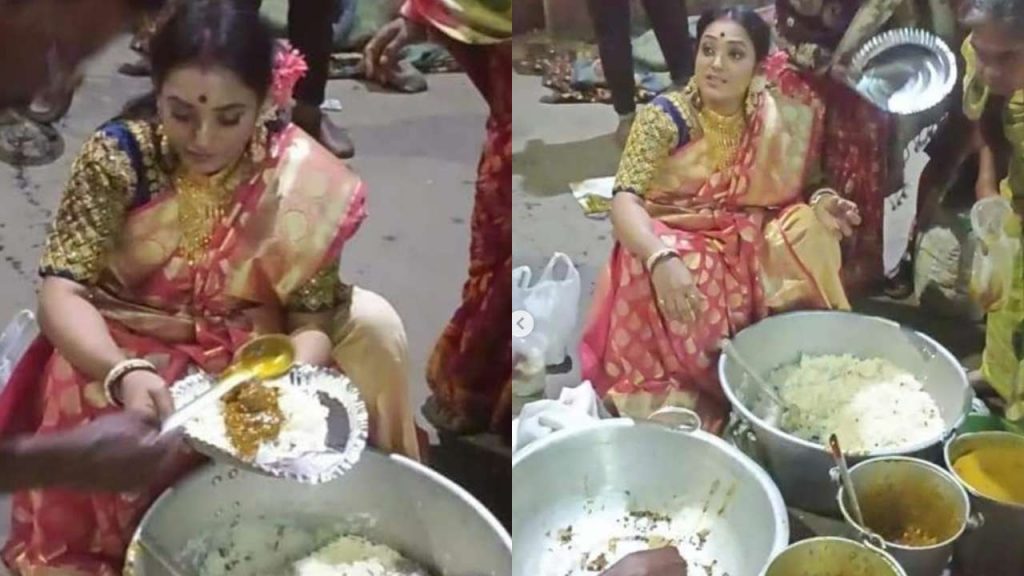 The wedding season is here. Social media feeds are filled with couple shoots and people decking up for the special occasion. However, amid all glitz and glam, a woman distributing leftover food from a wedding reception to the underprivileged is standing out for obvious reasons.
Pictures of a woman distributing leftover food from her brother's reception feast to the needy have gone viral on social media. The woman in the pictures has been identified as Papiya Kar.
Dressed in all finery, the woman was seen sitting on a station platform in West Bengal with metal buckets and big containers filled with food from the reception feast. Serving meals on paper plates by herself, she was seen happily distributing food to the needy at the station.
The comments section is replete with words praising the woman's noble gesture. "In an era where people thrive for their basic needs.. such kind-hearted acts still make us believe in humanity. Indeed, a noble deed. Many of us knowingly unknowingly waste so much of food daily….such a shame (sic)," a user wrote.
"Eyeopener. Good initiative. Salute! Good that this is in social media so that more people will get inspired (sic)," another comment read.
Many locals who came across her images said it's not an isolated incident and that she is known to feed the needy in the locality. As many praised her for her actions highlighting the wastage of food at such big functions, others hoped her act of kindness can inspire others to do the same.