Best Mattress Toppers of 2022
There are many factors that affect healthy sleep. This is a necessary amount of fresh air in the room, an individually suitable degree of darkness, and much more. A special place among these factors possesses the comfort of your bed, mattresses, pillows, and, of course, the quality of bedding. If the sheets or mattress covers are constantly wrinkling and twisting, this disrupts the harmonious flow of sleep. And it can even lead to uncomfortable dreams.
How to Choose Mattress Toppers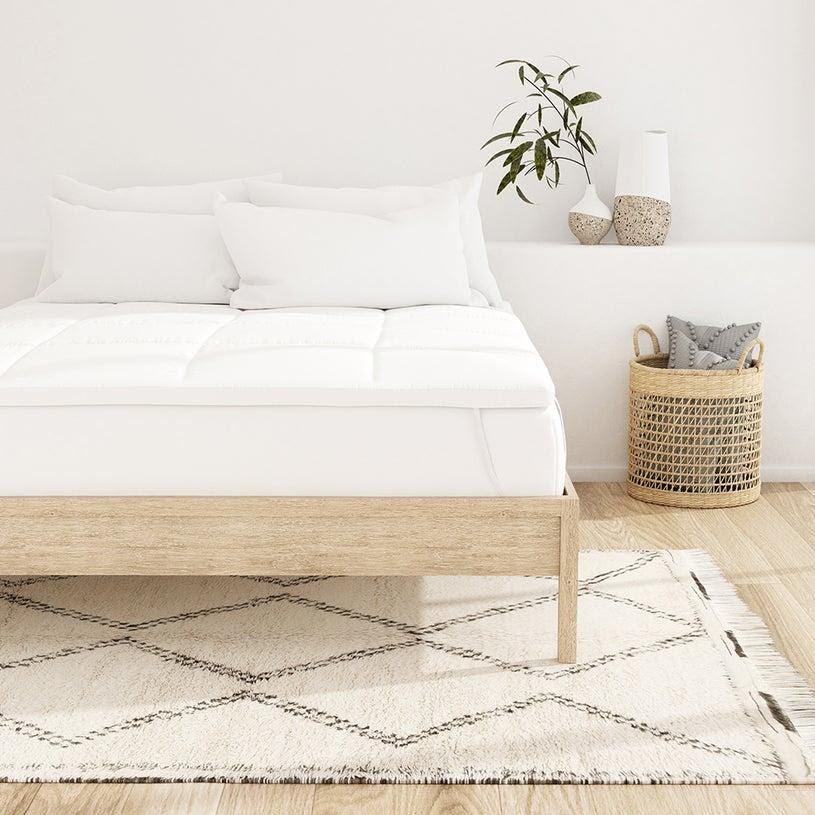 Recently the plush mattress toppers gained huge popularity among experts and adepts of healthy sleep. What are their advantages over other products? How to find a mattress topper for your personal needs? Here are some rules for choosing:
If there is a possibility of liquid leaking onto your bed, you need to choose waterproof mattress toppers. For example, you like to drink coffee in bed, or you have small children. Then buying a regular mattress topper can complicate its care.
You should weigh the pros and cons of using natural and synthetic fabrics. Thus, synthetic fabrics can be more durable and have better protection against fraying, which means they last much longer.
One of the main conditions for buying a certain mattress topper is the ability of the fabric to pass air. It should be perfectly pervious to air!
If the surface of your bed is too hard, you may prefer a soft topper.
If you need more support, the topper should be more strong and solid.
Types of Fastening for Your Mattress Toppers
If you were satisfied with the type of fastening that was on your mattress topper earlier, you can continue to use similar ones. But if something is uncomfortable, it is useful to consider other types of bindings. In your case, they may be more relevant. There are three types of mattress toppers, depending on how it is attached to the mattress:
Fastening with elastic bands at the corners. It fully performs all its functions. However, such a mattress topper is cheaper than the other two types.
Fastening with an elastic band around the entire perimeter. Such toppers cover the sides of the mattress as well. In this case, displacement of the mattress topper is practically impossible.
Mattress topper with a zipper, which is worn on the mattress over its entire surface. This type of fastening completely protects the mattress from all sides. The penetration of moisture is generally impossible, and the penetration of dust mites from the bottom of the mattress is inconceivable.
Linens & Hutch Super Comfortable Bedding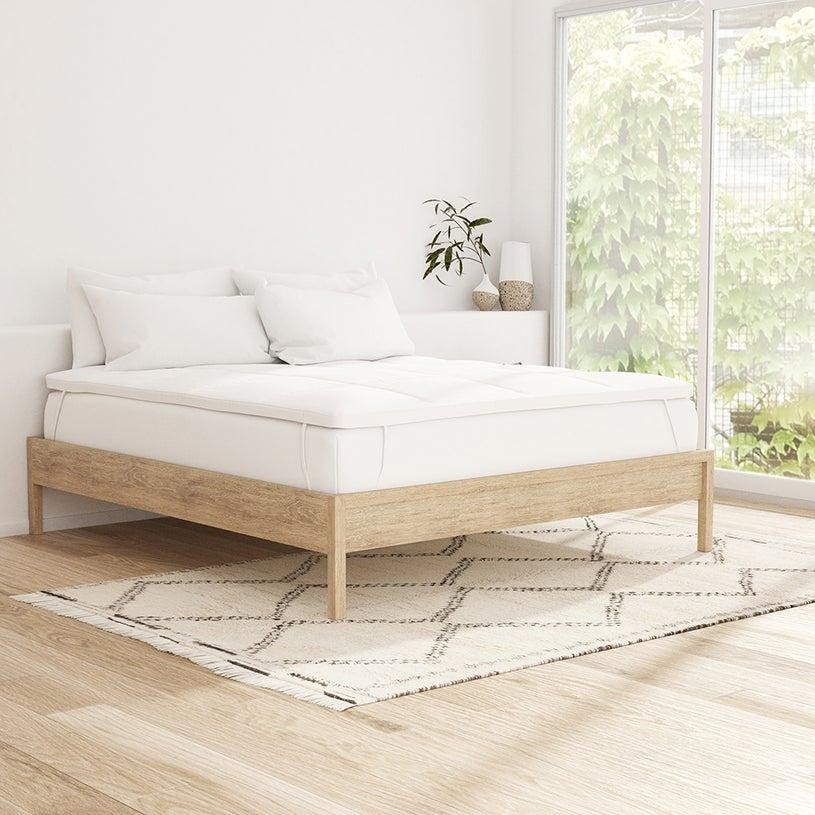 Linens & Hutch is a company managed and maintained by the family. It offers a wide array of eminent quality and aesthetic bedding products. It knows what types of bedding will be comfortable for all family members. The Linens & Hutch has been taking care of the healthy sleep of its customers and the quality of bedding.
Having vast experience,
working with first-class materials,
focusing on clients' feedback,
Linens & Hutch is constantly expanding and improving the range of items offered.
For your mattresses Linens & Hutch proposes to choose a luxurious plush topper with the following features:
micro-plush down-alternative fiber padding
ultra-soft and pleasant to your skin
wrinkle-impeding and breathable
more practical and wear-free than cotton
genuinely hypo-allergenic fabrics that respect special needs of people with super-sensitive skin and allergies
easy care that saves all characteristics of the topper
all sizes
comfortable prices
long trial period and free shipping policy.
Other Products of Linens & Hutch
If you decide to buy a mattress topper at Linens & Hutch online store, be sure to try something else from its luxurious products. The online store presents both well-proven products, and fashionable novelties on the market. Linens & Hutch has a very friendly customer policy, regularly issues coupons, and makes sales and discounts. Among best-sellers of the company:
Comforter sets: solid and patterned, rich in colors and sizes, reversible. Diamond stripe, gray ombre, gingham, daisy medallion, and others are among the most popular.
Sheet sets: 4-piece and 6-piece, solid and patterned, soft and durable.
Duvet cover sets: ultra-soft and suitable for people with allergies, solid and patterned, with pillow shams, with zippered closure and corner ties, each set is available in more than 16 colors.
Coverlet sets: all-season comfort, lightweight and durable. A rich selection of colors and patterns. Square quilted, Damask quilted, herringbone quilted, and others are among the most popular.
Knit blanket: made of ultra-soft acrylic, great for decoration and gift.
Plush down-alternative gel-fiber pillow: made with 100% cotton cover, non-toxic, and suitable for all types of sleep.
With the Linens & Hutch mattress toppers, your sleep will become light, comfortable and fresh. Having tried at least one product of the company, you will highly appreciate its quality and aesthetic appeal. The Linens & Hutch is proud of the loyalty of its customers and does everything to ensure that their choice was successful!