Bollywood Celebrities, From Akshay Kumar To Mouni Roy Send Holi Wishes To Their Fans!
After two years of the Pandemic, India is all set to celebrate Holi with full-on energy this year. The festival of colour is getting its importance back as the COVID-19 situation is quite light now. Many Bollywood celebrities took to their social media accounts to wish their fans on this special occasion. They not only wished but also shared some glimpses of their Holi celebration. They are all colourful today and wished the fans sweet messages.
Amitabh Bachchan, Shahid Kapoor, Juhi Chawla, Arjun Rampal, Hrithik Roshan, Mouni Roy and many others have sent Holi wishes to their fans.
Mouni Roy has shared glimpses of her Holi celebration with her husband Suraj Nambiar. They both are seen playing with colours. Their palms are colourful and posted photos on Instagram. In one photo, we can see that Mouni is applying colour to her husband's face. On the caption she wrote, "May your lives always be filled with colours of joy, love and laughter. HAPPPPPYYYYYYY HOLIIIIIIIIIIIII." Fans are also commenting lovely words and wished both of them happy holi too. See her full post here.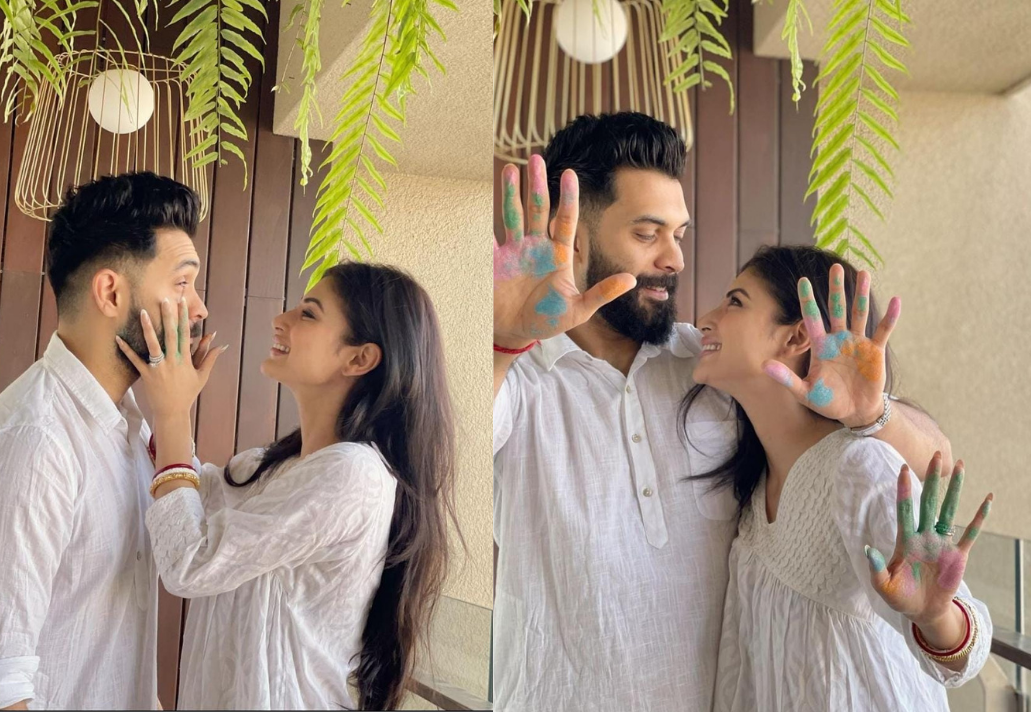 On the other hand, Amitabh Bachchan tweeted and wished his fans too.
T 4223 – @sionvithalmandir
Sion, Mumbai – 22.
श्री विठ्ठल मंदिर, शीव, मुंबई – ४०००२२,
फाल्गुन हुताशनी पौर्णिमा, होळी, मंदिरातील होलिका दहन सायंकाळी ७.३० वाजता, गुरूवार, १७ मार्च २०२२.
सर्व भाविकांना होळीच्या हार्दिक शुभेच्छा. pic.twitter.com/twkZkP1cyr

— Amitabh Bachchan (@SrBachchan) March 17, 2022
Arjun Rampal wrote a note in Hindi and wished happy Holi to everyone.
वसंत ऋतु की बाहर, चली पिचकारी उड़ा है गुलाल, रंग बरसे नीले हरे लाल, मुबारक हो आपको होली का त्योहार। #happyholi pic.twitter.com/28Bxu5c1v3

— arjun rampal (@rampalarjun) March 18, 2022
Not only them but also Hrithik Roshan also wrote a note in Hindi and tweeted to wish his fans.
आप सभी को होली की ढेर सारी शुभकामनाएं! यह रंग आपके रिश्तों में मिठास ला सकें,और ख़ुशी की भावना आपके दिलों में बरकरार रहे, यही कामना है 💛 #HoliHai pic.twitter.com/9eFM2Aw7wn

— Hrithik Roshan (@iHrithik) March 18, 2022
Juhi Chawla, Shahid Kapoor also wished on this special day.
#HappyHoli pic.twitter.com/Tx5vcqRFj2

— Juhi Chawla (@iam_juhi) March 17, 2022
Akshay Kumar wished his fans and urged them to watch  Bachchhan Paandey in cinema halls on the occasion of Holi. He also posted a video with Arshad Warsi and Kriti Sanon.
आप और आपके पूरे परिवार को
मेरी तरफ से होली की हार्दिक शुभकामनाएं.#HappyHoli ! pic.twitter.com/8d1gzl62MX

— Akshay Kumar (@akshaykumar) March 18, 2022
मनाइये होली बच्चन पांडे के साथ, #BachchhanPaandey in cinemas TOMORROW!

Advance bookings open NOW https://t.co/gNQCU4Kx12https://t.co/nUmaRceOeC pic.twitter.com/T4VGrhFMBG

— Akshay Kumar (@akshaykumar) March 17, 2022