Choreographer Puneet Pathak's Private Video Leaked While Romancing With His Wife?
A personal video of Bollywood's famous choreographer Puneet Pathak is becoming fiercely viral on social media. In this video, he is seen romancing his wife. Bollywood's famous choreographer Puneet Pathak has won the hearts of the audience with his best dance moves. Along with the dancer, he is also a good actor and many of his films also testify to this. As a judge on the dance reality show, Puneet has taught his juniors to follow the same discipline and dignity that he maintains. But, recently a video of Puneet Pathak is becoming fiercely viral on social media, in which he is seen sharing a private moment with his wife.
Many Bollywood stars keep sharing photos and videos related to their personal life on their social media handles for the fans. Sometimes some such personal things also affect his image among the public. The same thing happened with choreographer Puneet Pathak. In his private video that recently went viral on social media, he was seen enjoying very private moments with his wife, which was also shared a lot by the fans.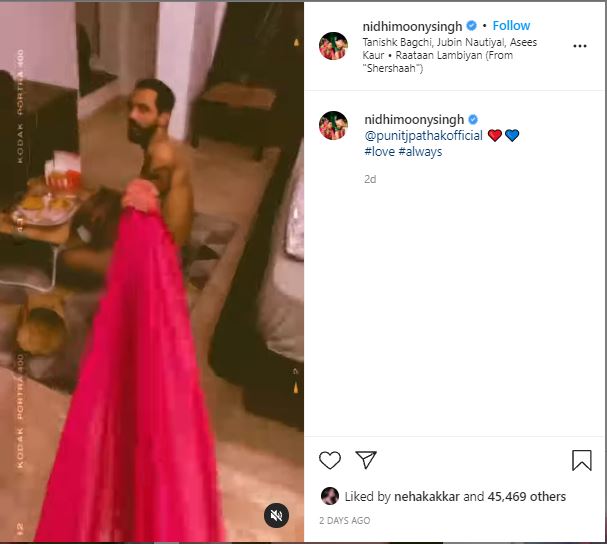 Let us inform you that this video was posted by none other than Punit Pathak's wife on her Instagram handle. Puneet's wife Nidhi Muni Singh is very active on social media and she recently shared this video on her Instagram, which went viral on sight. But he is also being trolled for this. While some people are supporting Puneet Pathak, for some people, Puneet has become a subject of jokes.
Why Questions Always Arise On Women Only?: Samantha Asked Netizens After Separating From Naga Chaitanya
It is very shocking for the audience to see Puneet Pathak in this condition. Several social media users in response said that they could not even watch the entire video as they did not feel comfortable seeing Puneet like this. Talking about the love story of Puneet and Nidhi, both of them saw each other for the first time on the sets of 'Jhalak Dikhhla Jaa'. From here the closeness between the two had increased, after which both of them fell in love with each other. The two got engaged in August last year and tied the knot on December 11.