Cookery Special: All-Day Recipes, These Recipes Can Be Relished For All Meals – Breakfast, Lunch, Dinner Or As Snacks
Carrot and nutrie with fresh garlic chops
Ingredients:
2 cups of grated carrots
1/2 cup of nutria granules
Salt
1 tsp pepper powder
2 tbsps of green fresh garlic – both green and white portion cut into small tiny pieces
1 tsp of anar dana powder
1 tsp of roasted jeera powder
4 tbsps of rice flour
1 tbsps of sattu powder
3-4 cups of bread crumbs
Oil for deep frying
Method
Soak the nutie granules in warm water for 10 minutes and allow to swell adding salt to taste. Wait for the granules to swell. Drain out excess water and then place in a mixing bow. Mix the remaining ingredients, except the bread crumbs and oil for frying. Mix well with your fingers. Divide the mixture into portions. Shape each portion into round balls. Coat each balls in bread crumbs and deep fry in oil a few at a time. Serve as a snack, or a main item for a meal.
Stuffed French toast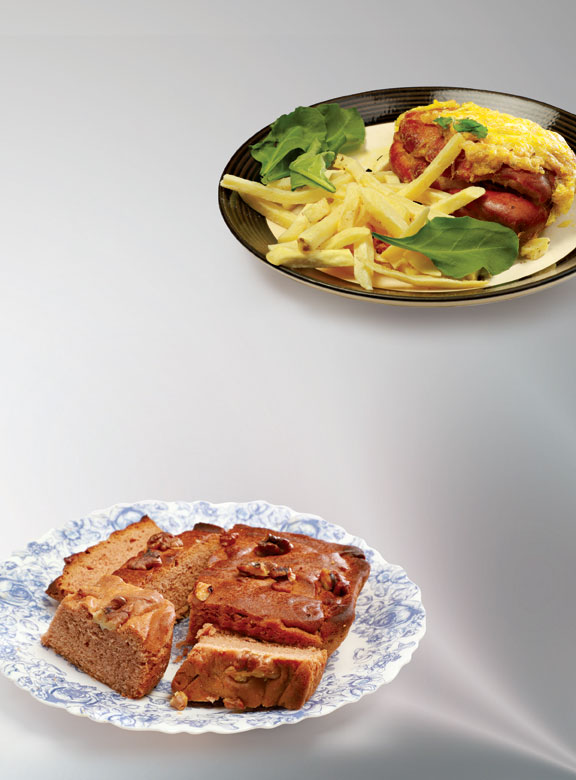 Ingredients:
For the stuffing:
1 cup of sauted vegetables including carrots, beans, broccoli, cauliflower or 100 gms of mashed paneer
3 tbsps of oil
2 tbsps of curry powder
1/2 tsp of haldi powder
1/2 tsp of red chillie powder
1/2 tsp of annar dana powder
For the coating:
4 beaten eggs
Salt
Oil for frying
Cut the loaf into 2 halves.
Method
For the stuffing: Heat the oil and add the veggies and the spices and stir fry for 2-3 minutes. If you are using paneer, replace the paneer with the veggies.
To assemble the french toast: Make a slit horizontally in each of the loaf pieces. Place half the filling in each of the loaf pieces Beat the eggs and add salt to taste. Heat enough oil in a non stick pan. Dip the stuffed loaf in the beaten eggs and fry both sides on medium heat till golden brown on both sides. Turn once so that both sides of the stuffed loaf is golden brown. Serve hot with ketchup as a snack or a lunch item or as a brunch item.
Coffee and walnut cake
Ingredients:
250 gms of maida
1and a half level tsps of baking powder
3 tbsps of instant coffee powder
220 gms of brown sugar
200 ml of oil
200 gms of hung curd
250 gms of walnuts
Method
Sift together the maida, baking powder and coffee powder. Keep these dry ingredients in a mixing bowl. Grind the brown sugar to a powder. Allow it to settle. Now mix in the oil and blend again in the mixy. Now mix in the hung curd and blend again in the mixy to obtain a smooth mixture.
Now mix this wet mixture into the dry ingredients a little at a time, mixing all the time. This should give you a smooth flowing batter. Pour this into an oiled baking dish and bake in pre heated oven at 180oC for 40 minutes or until a needle when inserted in the centre comes out clean. Serve as a snack or a dessert.
Steamed fish fillet parcels
Ingredients:
5-6 fillet pieces of fish – any variety
For marinade:
Salt
Pepper powder to taste
3 tbsps of lemon juice
1 tsp of oregano powder for garnishing
1 tbsp of mustard paste
3 tbsps of mustard oil
2 tbsps of hung curd
Method
Mix all the ingredients for the marinade and marinate the fish fillet with this. Leave aside for 15 minutes. Cut 4 inch squares of aluminium foil. Place each marinated filled in the centre and close from all sides to form parcels. Prepare all the parcels using the fillets. Steam the parcels in a steamer for around 5-6 minutes. Serve hot as a snack, starter, or part of a main course.
Gujjia with chocolate filling
Ingredients: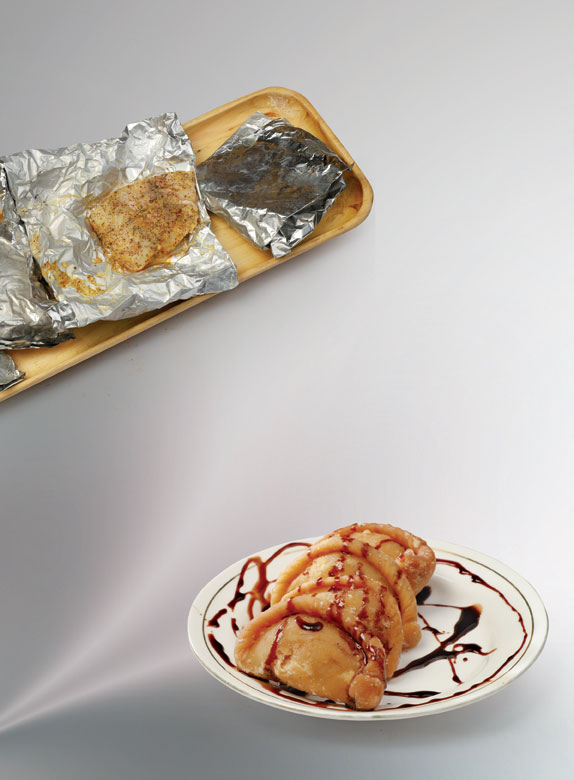 For the gujjia:
300 gm of maida
3-4 tbsps of powdered sugar
2 pinches of salt
1 tsp of elaichi powder
5 tbsps of ghee
Oil or ghee for frying the gujjia
For filling:
3 cups of freshly grated coconut
2 tbsps of ghee
4 tbsps of chocolate sauce
5 tbsps of sugar syrup
Quarter tsp of elaichi powder
Method
To prepare the filling: Heat the ghee and fry the coconut in low fire till golden brown. Mix in the chocolate sauce and syrup and continue to cook till the chocolate sauce and syrup are absorbed into the grated coconut to obtain a dry mixture to be used as a filling
Sift together the maida, sugar powder, elaichi powder and pinches of salt. Then add the ghee a little at a time. Add just few tsps of water and knead into a dough. Divide into small portions. Roll out each portion into small chapattis with 2-3 inches of radius depending on the size you want your gujjias. Place a small portion of the filling in the centre and cover to make a half moon shaped gujjia. Prepare all the gujjias in this way and then fry on low heat till golden brown on both sides. If you want to drop these gujjias into sugar syrup – you could do that to give the gujjias a sugar syrup coated look which will be light brown in colour.
Chocolate Gajjar halwa
Ingredients:
1 kg of grated red carrots
2 kgs of full cream milk
2 tbsps of elaichi powder
100 gms of khoya kheer
3-4 tbsps of ghee
1 and a half cups of melted jagery
1 cup chocolate sauce
Method
Bring the milk to boil in a heavy bottomed pan. Lower the heat and add the grated carrots. Boil and cook on low fire till all the milk is soaked into the carrots. Mix in the elaichi powder and the jaggery. Stir from time to time and allow the jaggery to mix into the carrots to give it a 'blackish colour' Now mix in the chocolate sauce. Once the jaggery and chocolate have mixed, add in the khoya and allow to melt. Now add the ghee a little at a time and continue to cook and stir on low heat. Cook till the preparation is dry.
Serve garnished with grated carrots. The preparation will be dark in colour.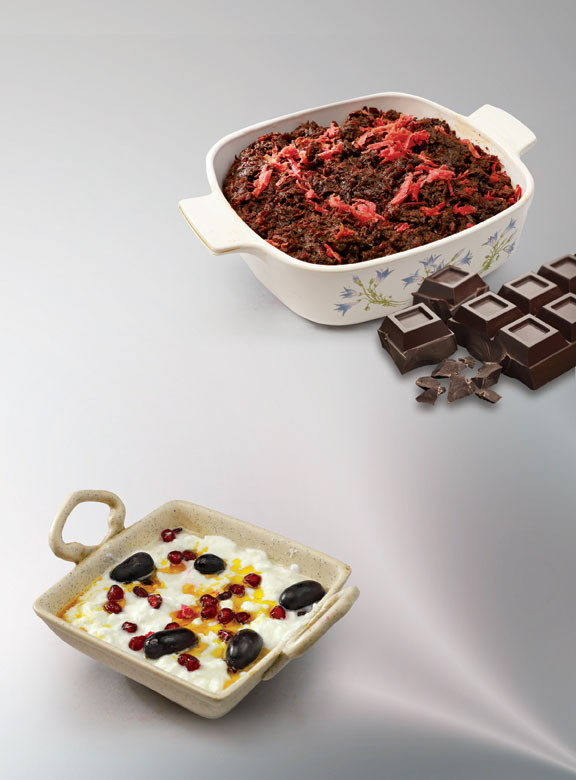 Black grapes and pomegranate raita with red chillie tadka
Ingredients:
250 ml of beaten curd
3 tbsps of sugar syrup
100 gms of black grapes
2 tbsps of pomegranate – or more
For the tadka:
1 tsp of oil
1/2 tsp of chilli powder
Method
Blend the curd and sugar syrup and place in a serving bowl. Add the grapes and pomegranate.
For the tempering: Heat the oil and add the red chillie powder and 'burn' slightly only for 5 seconds and pour over the raita and serve. Goes with snack, meals – just anytime of the day.
Chicken kali mirch
Ingredients:
500 gms of chicken breast with bones
Salt
1 cup of ghee
2 tbsps of ginger garlic paste
2 tsps of green chilli paste
10-12 pepper corns
1 inch piece of cinnamon
3 tbsps of pepper powder
1 tsp of white pepper powder
3 cups of full cream milk
3 tbsps of cream for garnishing
1 tsp of fresh garlic – chopped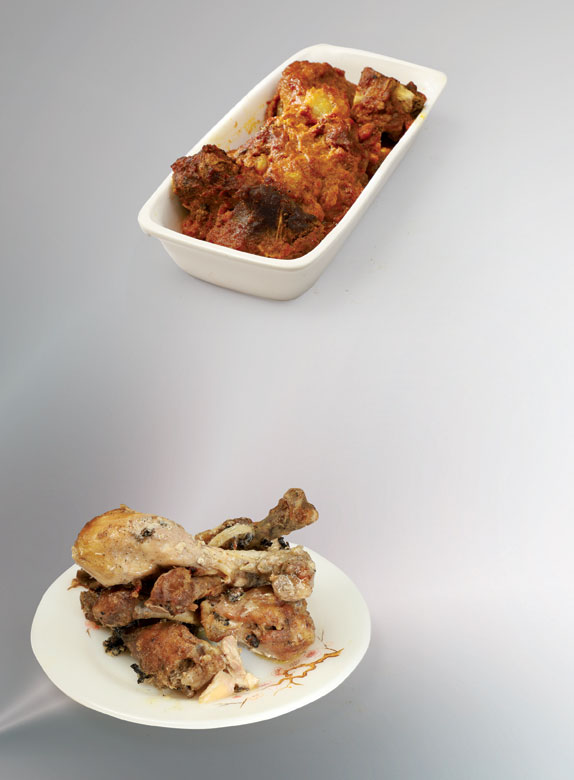 Method
Heat the ghee and add the pepper corns and the cinnamon stick and allow to splutter. Lower the heat and add the chicken pieces. Fry on low heat till the chicken pieces are golden brown. Now mix in the pastes and the pepper powders. Add the milk and cook the chicken on medium heat, covering with a lid till the chicken is tender. The gravy would thicken at this stage. Keep the consistency the way you want. Add the chopped fresh garlic. Put off the heat and lace with the cream and serve.
Mutton in green papaya and bottle gourd
Ingredients:
1 kg of mutton
Salt
1 cup of oil
1 tsp of haldi powder
2 tbsps of coriander powder
2 tsp s of roasted jeera powder
1/2 tsp of garam masala
For the papaya paste:
1/2 cup of grated green papaya – skin and seeds remove
1 cup of bottle gourd – skin removed and grated
3 tbsps of ginger garlic paste
1 tsp of green chillie paste
Method
Mix all the ingredients for the papaya paste and keep aside. Heat the oil and fry the mutton pieces till all the water is evaporated. Add salt, spice and the papaya paste and cook on low fire, stirring from time to time till the mutton begins to look a golden brown. You Will need to cook and stir for at least 12-14 minutes. Place in a pressure cooker with 1 cup water and cook till the mutton is tender. This can be serve with puris for breakfast or brunch or with rotis for a meal.