Dhaakad: Amitabh Bachchan Shares Teaser Of 'She's On Fire' Song Then Deletes It Very Soon
Dhaakad actress 'Kangana Ranaut' dropped the teaser of her song  'She's On Fire'. The teaser get a healthy amount of views as soon as it dropped on social media. While sharing the post, Kangana wrote, "Fire, so hot and destructive, even the Fire Brigade cannot put it out! She&'s on Fire!".
As we all know the queen is also on fire, no matter the issue. She is very outspoken about slamming Bollywood and nepotism from time to time with her videos and post. Her activeness in all manners like Bollywood, politics and love towards her nation makes her apartment from other B-town Divas.
The song 'She's On Fire' is has been written and composed by popular rapper Badshah and sung by him and Nikita Gandhi. The song has been set to tune by Hiten. After watching the song, the legendary actor 'Amitabh Bachchan' couldn't resist his comment.
He wrote to all good wishes adding a thumbs-up emoticon. He tagged Kangana and other team members of the film in the post. However, Amitabh Bachchan is very active on social media and is also known for deleting and reposting on Twitter.
This time it happens with Kangana's song, Amitabh Bachchan shared the teaser of the song and then delete it for an unknown reason. Netizens are amazed by this reaction from Mr Bachchan. Hope! we will get to know the reason for deleting the post from Amitabh Bachchan in future.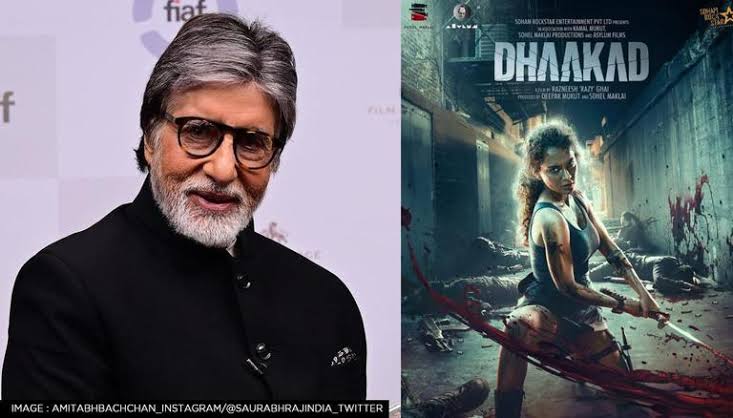 The song was launched on Thursday, in Jaipur's Raj Mandir Theatre. Sharing her views and experience about the song, Kangana said, "It's a song which has some great beats and highlights what Agent Agni is all about. The fire within her to destruct her enemies is very strong and the song captures her never-say-die attitude and undying spirit beautifully. We have experimented with costumes, hair, and makeup and tried to do something unusual and different. I hope the song is loved by all."