Does Newcastle Upon Tyne Make for Great Off-Campus Student Accommodation?
Consistently nominated one of the UK's favourite student cities, Newcastle is a great place to start your studies – and you will be in great company, with a culturally varied community of students from around the world.
Newcastle boasts of exciting knowledge, iconic landmarks, great local and high street shopping, friendly locals, and vibrant history. No matter who you are or what you study, Newcastle will feel like home from day one and with a good reason.
However, from understanding the language, managing finances, choosing accommodation and more than that, studying in foreign places can feel overwhelming if you're an international student. To help you decide whether Newcastle is right for you, we've put together just a few reasons you may want to consider the North-East of England a place to grow.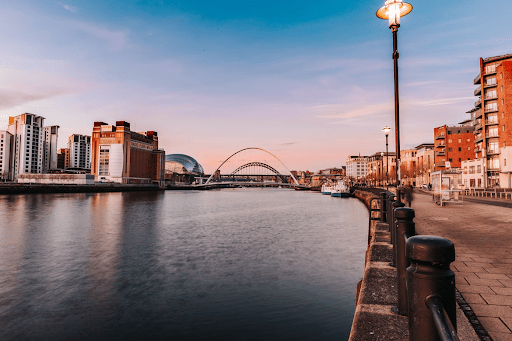 What Makes Newcastle Unique? 
Located on the north bank of the River Tyne in the northeast of England, Newcastle is a vivid and exciting city whose community is friendly and welcoming to visitors and expatriates alike. 
With the European Commission stating that Newcastle is one of the happiest places to live in the UK, it's no wonder that so many people are signing papers here. 
Newcastle exhibits stunning architecture, regeneration projects that are transforming industrial areas into digital hubs and flawless residential suburbs like Gosforth, Jesmond, and Heaton, all of which are bursting with bars, boutique shops, and fine eateries.    
If You Enjoy a Busy Social Life, Newcastle is the Place 
If you're a foreigner moving to England, it's normal to feel scared or have concerns about whether you feel safe, comfortable, and happy there. But if you choose Newcastle as a place to study and grow, it helps to know that this marvellous and not-at-all big city is famous for being friendly and welcoming with new faces. In fact, countless Newcastle graduates choose to remain in the city even after they've completed their studies, and they have good reasons to do so. 
The Newcastle community is popular for its hospitality. They have a digestible transportation system (one of the best in the country) and winding streets lined with beautiful buildings, making it a top choice for international students year after year. Not only this, but if you relish a busy social life, then you should seek places with local music, a passionate sports presence, fascinating history and an enchanting theatrical arts and literature scene like Newcastle. 
Whatever your passions, interests and culture, there is a space for you to grow and find happiness in the city of Newcastle. 
Newcastle Ranks as the Most Affordable, Student-Friendly Cities in the UK
Newcastle is the place to be if you're looking for an affordable student location. In fact, the city ranks in the top three most affordable cities in the UK, and it's the number one cheapest city to go on a date! 
Food, clothing, and studying costs are among the most important living expenses (aside from paying rent) that you will have as a student in Newcastle.
The city offers many gems where you can do your weekly food shop, including international kosher and halal supermarkets. Newcastle's famous indoor Grainger Market is an ideal place to find veggies and fruits at a reasonable price, as well as sample artisan street food. 
How much you will spend on food on a weekly basis will depend on your needs, but if you're looking for an affordable city to study and grow, Newcastle is the place.
Newcastle Consistently Delivers Outstanding Teaching 
Newcastle has a number of remarkable achievements, such as a first-class sustainability score and a 93% student satisfaction rate. In fact, the University of Newcastle ranks among the top 150 universities in the world, not to mention they're a founding member of the Russell Group.  
With the highest accreditation from TEF – the Teaching Excellence Framework, there are no limits to the specialisms and subjects you can explore when it comes to Newcastle. Newcastle has one of the largest EU research portfolios in the country, so you can rest assured you will be fully immersed in your chosen subject – no matter how specialist- with students of the same mind and researchers who are experts in their field.
But that's not all. Newcastle University also ranks as one of the best globally at attracting employers, and it was even ranked in the top 200 universities in the world for employability. 
A degree at Newcastle offers so many transferable skills. From communication skills, teamwork, analytical skills and much more. The knowledge you will gain from getting a qualification at Newcastle can benefit you on manifolds.   
Newcastle Upon Tyne Offers Great Off-Campus Student Accommodation  
Finding suitable student accommodation in Newcastle can be a mundane task, but it's not impossible at all. The city offers a great deal of cheap student accommodation with extra comfort at reasonable prices. The different locations of Newcastle provide international students with a variety of comfortable, luxurious yet budget-friendly en-suites, shared apartments, and studios to choose from. Student accommodation ranges from 80pund/week, which is inclusive of all the bills. 
You can also opt for student halls or student houses in Newcastle that the universities provide, however, these residences are quite expensive and might not come with the features. 
Newcastle Proudly Delivers Second to None Transport Links 
Newcastle is a small yet efficient city where you can easily travel from A to B, and everything is within reach. 
While compact, this North-Eastern piece of heaven has outstanding transport links, from the local Metro line that covers up most of the neighbourhoods to a well-made local bus system to get you everywhere the metro can't. You're probably familiar with the famous Newcastle Central Station that connects the city with most major points across the UK, from here, Kings Cross is no more than three hours away. So far, Newcastle upon Tyne offers a metropolitan environment and a modern-day living with a perfect mix of young professionals, families and students.