Drink Up The Goodness of Noni Juice
Most of us start our day by drinking beverages and health tonics. While there are conventional syrups, few of us are aware of the revolutionary health products sourced from nature.
One such example is Noni fruit, also called Indian mulberry, which is making quite a health impact. If you are a health-conscious reader, then know and jot down Noni juice benefits.     
An Introduction to Noni Fruit
The Noni fruit is a tropical evergreen plant of South-East and Southern Asia. It has tremendous medicinal value, immunity-boosting, and detoxification benefits. The Noni is rich in iron, antioxidants, and vitamin A, B1 (thiamine), B2 (riboflavin), B3 (niacin), B6, B12, C (ascorbic acid), E, folate, and beta-carotene. That's why its juice is a magical drink. 
The Benefits of Noni Juice
Being a long-established cure, Noni juice benefits are multiple–whether it is for first aid or critical illnesses. Here are the medical conditions which show the benefits of Noni juice.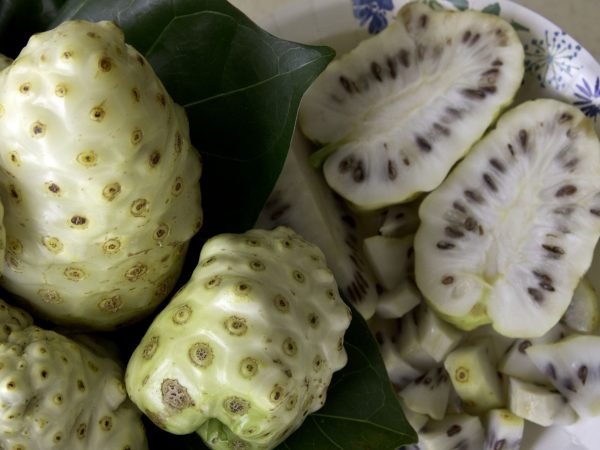 It is an anti-oxidant: According to research findings, Noni juice damages the free radicals in our body and neutralizes their damaging effect.           
Reduces gout risk: What is gout? It is a kind of arthritis caused when uric acid crystals build up in the joint leading to joint pain. Studies show that drinking Noni juice reduces the uric acid content in the blood, and chances of gout.
Has anti-aging power: Since Noni juice is rich in vitamin C and selenium, it fights free radicals. This helps it reverse the risk of aging and preserving skin elasticity.
Helps treat arthritis: Pain is a common complaint of arthritis patients. Drinking Noni juice daily reduces pain and joint destruction from arthritis.
Increases immunity: Yet another addition to the list of Noni fruit benefits is its ability to strengthen the immune system. The presence of scopoletin in it provides anti-bacterial, anti-inflammatory properties which collectively amp up the body's immunity.
Is an energy booster: Body weakness is a common problem which most of us face. Give up energy-based drinks and switch over to Noni fruit juice. It helps

 

fight general body weakness, increases the energy levels of the body, and improves the physical energies of the body. 

Helps in treating fever: Thanks to its anti-viral properties, the Noni fruit juice helps you say goodbye to fever and related ailments like cough, cold, and body pain.      
Fights scalp irritation: The antibacterial and antifungal properties in Noni juice do their bit in treating scalp irritation. Noni juice benefits the hair and helps cure pesky hair problems.   
Enables weight loss: When you drink Noni fruit juice, it not only boosts the body's metabolism but also decreases triglycerides that get deposited as body fat, helping you to lose weight.     
Protects liver: 

The Noni fruit is very effective in guarding against liver diseases. It helps in protecting the liver organ from chemical exposure and defends it against liver damage.       
Hope you liked and enjoyed reading this post on Noni juice benefits. Start including it in your diet and see how you benefit from it. Share it with your friends and family members.