Janhvi Kapoor's recent saree-clad Instagram photos are heating up. The young actress is seen flaunting her curves in a brown saree with an ornate necklace.
Another stunning look to add to our look books has been created by Janhvi, who nailed ethnic style in a modern manner. Take a look at out her glam shots inside.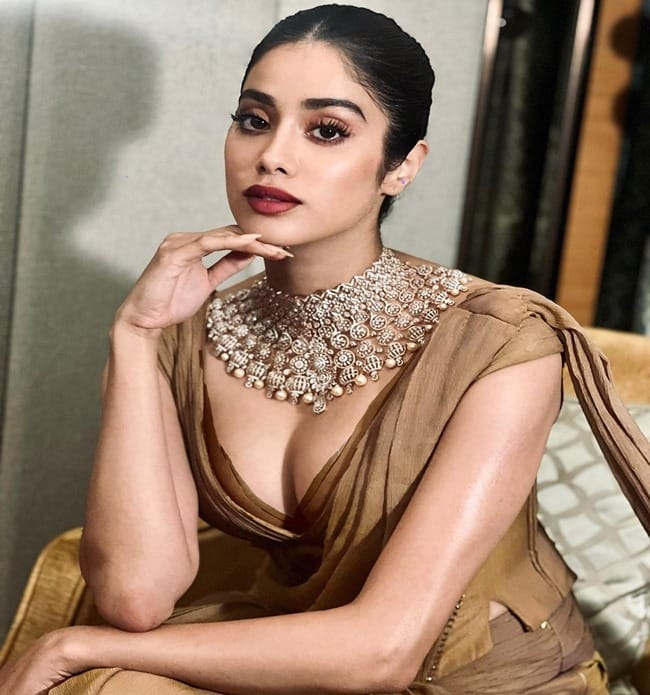 Janhvi Kapoor made her Bollywood debut with impeccable style, which she maintains to this day. She has a way of revolving heads with her apparel choices, and we swear she is not your typical Gen-Z girl in terms of style.
Janhvi Kapoor is well-known for her top-notch sense of style and ability to pull off any look. She can pull off a wide range of looks, from stunning gowns that highlight her curves to glamorous sequined sarees.
Janhvi's fashion choices are enviable and make us drool. She can make any outfit look spectacular for any occasion, whether it's a bikini or an elegant six-yard saree.
Janhvi have recently shared a series of Instagram photos of herself wearing an exquisite brown saree-style gown, and these left everybody speechless. The internet erupted, and her fashionable avatar left her fans speechless.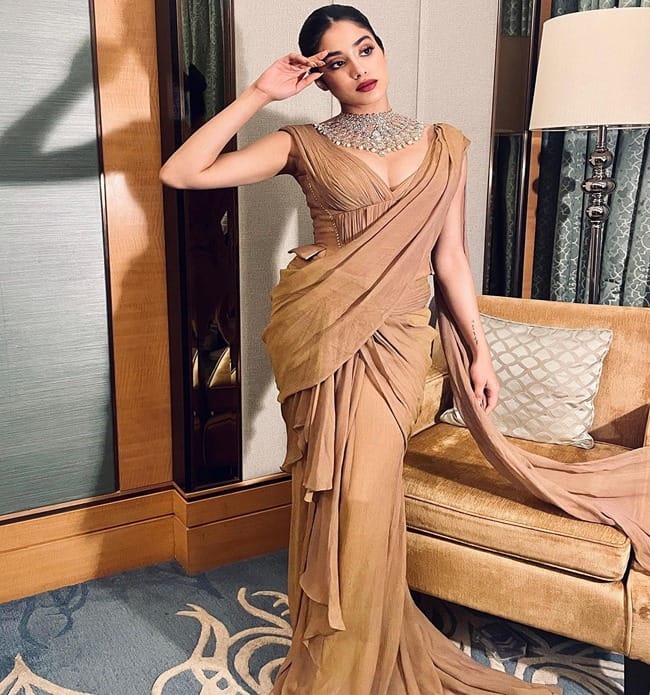 She is a style chameleon, and her best quality is her flexibility; she can make modest kurta sets look just as good as crop tops and skimpy shorts.
Her closet is dominated by classic fits, despite the fact that she owns a few thigh-high cut gowns and latex miniskirts. Her ensemble is ideal for attending a close friend's cocktail party or for a bride-to-be on her engagement day.
Janhvi's impeccable styling of the ensemble is worth emulating for your own festive mood board. Scroll down to get some style inspiration from Jahnvi's fashion diaries.
Outfit Details
Janhvi donned a wonderful brown saree gown designed by Tarun Tahiliani.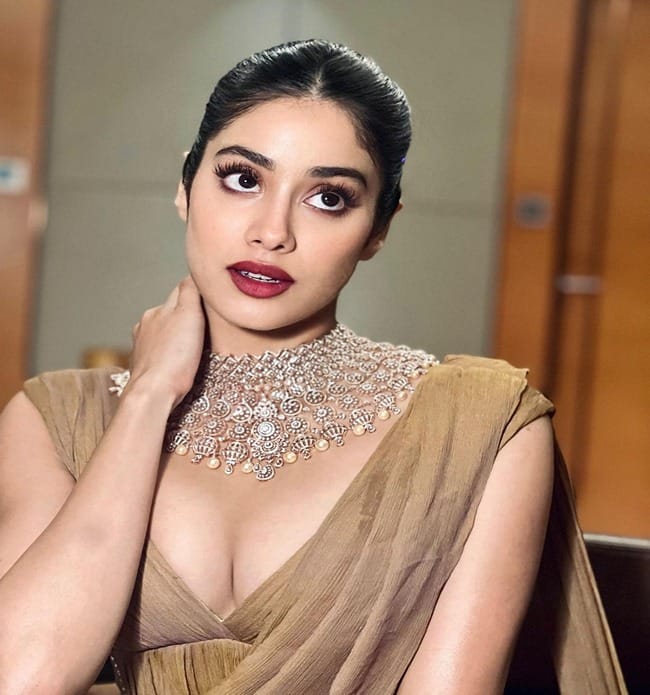 A monochromatic saree had never looked this good until Janhvi showed us her style in a lovely beige saree with a flowing design. The sophisticated pre-draped piece complemented the plunging-necked corset-style blouse.
The spectacular heavy-duty diamond necklace added a modern flair to the ensemble.
Janhvi Kapoor's pre-draped saree is incredible in beige, with an exquisitely draped silhouette made from lightweight georgette material. Asymmetrical panels on the saree add a unique touch to the overall design.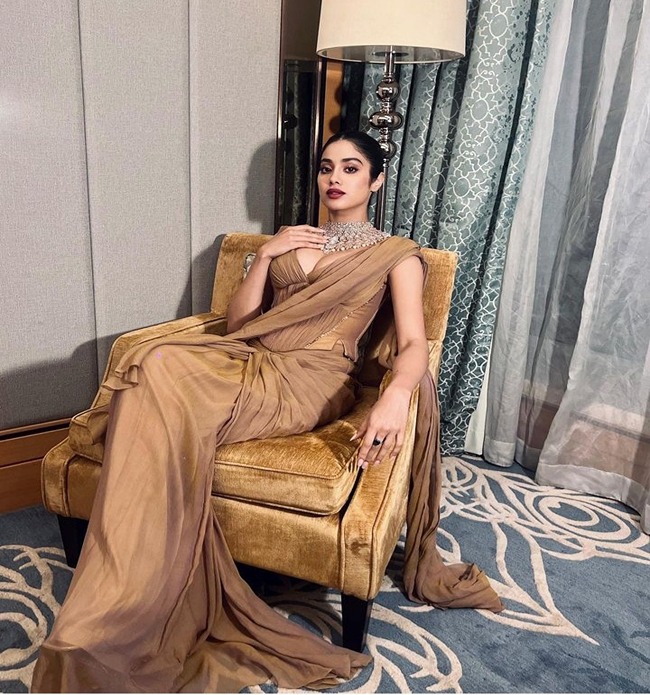 A beautiful corset-style blouse with a deep V sweetheart neckline complemented Janhvi's saree, giving it a hint of sophistication.
Accessorised The Look
Janhvi Kapoor accessorised her stunning ensemble with a heavy silver choker necklace, which added an extra element of sophistication and glamour to her overall look.
Glam Options
Janhvi completed her glam look with winged eyeliner, a dark maroon lip shade, darkened brows, blushed cheekbones, mascara on the lashes, radiant skin, and subtle eye shadow with the help of celebrity make-up artist Savleen Kaur Manchanda.
Janhvi completed her appearance with a clean, middle-parted bun that added an element of style to the whole ensemble.
Janhvi's overall look reflects her impeccable fashion sense and ability to pull off any look with grace and style.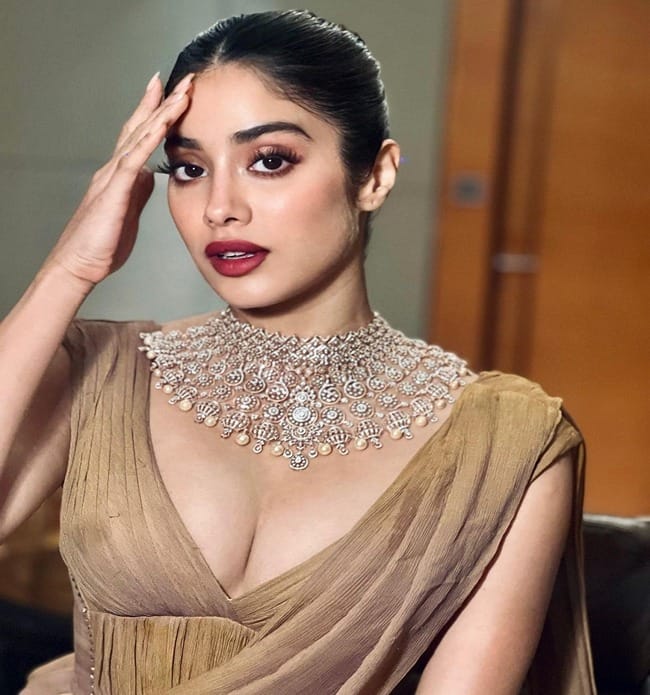 On Professional Front
Janvhi Kapoor will next be seen in Bawaal, opposite Varun Dhawan. In Mr. & Mrs. Maahi she will star alongside Rajkummar Rao. Janhvi is set to make her Telugu debut in NTR 30 with Jr.NTR.