Fashion Influencer Masoom Minawala Received The 'World Influencers & Bloggers Award' At The Cannes 2022
Masoom Minawala, a fashion entrepreneur and influencer, walked the red carpet at the Cannes Film Festival for the third consecutive year.
During the global event in 2019, Masoom made her debut and has been a regular since then. This year her ensembles each day helped make her stand out. A fashion influencer has successfully helped Indians appear on the red carpet of one of the most prestigious events in the world. In addition to representing the Indian influencer community, she also ensured that Indian designers received the visibility they deserved on the red carpet.
Masoom Minawala said, For the past three years, I've always used the red carpet to bring visibility to as many new and upcoming Indian designers as possible. My aim has always been to take Indian fashion to the world.
Masoom Minawala, the fashion influencer was honoured with the World Influencers and Bloggers Award and awarded the 'Most Authentic Fashion Influencer' award by WIBA at Cannes.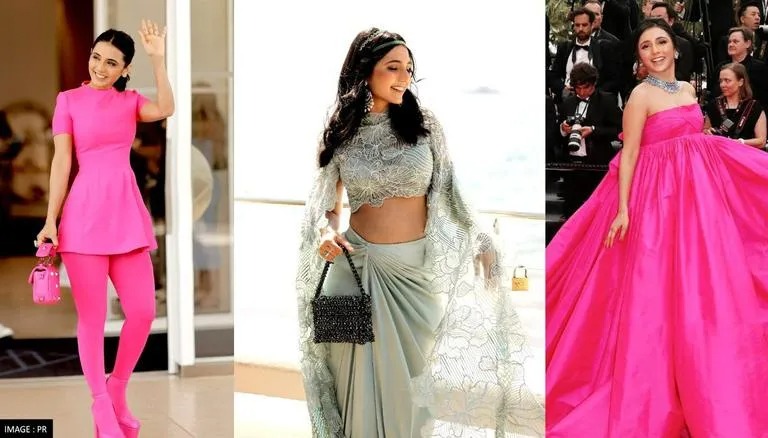 Here are Stunning Looks of Masoom Minawala At Cannes Film Festival 2022:
Anaita Shroff Adajania styled her to perfection and she looked stunning in an all-pink outfit by Valentino, which she wore on the carpet. She joined the French Riviera on behave of the beauty brand L'Oréal Paris.
As part of celebrating and becoming part of India's year of honor, she later wore a beautiful saree.
While sharing the look she wrote, "Earlier this morning celebrating India, its storytelling and the cinematic excellence that was being highlighted by the India Pavilion. It has been such a pleasure to witness India strive as a country of honour. We're the land of a storyteller."
https://www.instagram.com/reel/Cdspwfilv5g/?utm_source=ig_web_copy_link
On day 2 She donned a beautiful hot-pink strapless gown with a long trail. There was a pretty pink bow at the back of the gown, which was designed by Yousef Akbar. Masoom wore an elegant diamond piece by Swarovski and wore her hair pulled back in a bun with her look.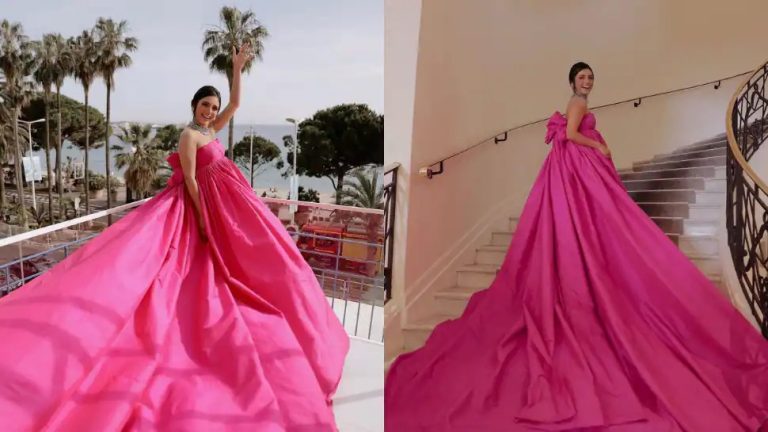 Masoom said, "A couple of years ago when I walked the red carpet of the Cannes Film Festival for the very first time, it felt like I was living a dream that I had never dreamt. A dream that was equal parts celebratory and lonely. My focus was to work towards my bigger goal of bringing Indian fashion to the world.
Three years later, there's some kind of familiarity with this place. I've seen more Indian representation this year than any of the times I've been here and I'm so proud. This year it's #IndiaAtCannes and it couldn't have been more special."
In the next day's outfit, she wore a floral, strapless gown, designed by Sophie Couture. She wore a Jewelry by tyaani jewelry and Karishma joolry and wore  Hair accessories by floral art by Srishti.
https://www.instagram.com/p/CdwCdouMkxk/?utm_source=ig_web_copy_link