A fascinating scene has been held in Delhi metro which gathered the attention of most of the crowd.
When the actor with quirky dressing style Ranveer Singh has worn a skirt in one of his famous film 'Bajirao Mastani' and flaunted his dancing styles but that was only termed as uniqueness in fashion which has gathered many trolls on it.
Now just imagine the scenario when any normal person wears long skirt with a T-shirt? Will it be treated just as the beginning of new fashion standards? Or Will people think he might be a transgender?
All these questions got their answers when a normal citizen Atul Khera decided to wear a skirt and spent a day and just doing the normal things of his daily routine. From riding in Delhi Metro to shopping in the most fashionable area Connaught Place, he did all things while wearing a pink long skirt.
You might be thinking why did he wear it? So the answer is because of the erratic challenge by his friend
Yes you heard right he wore that pink long skirt because his friend Simran challenged him to do so. Because when his friend was doing shopping for herself, he said "how comfortable long skirts are, but this world would not allow me to wear It.!"
At that very moment his friend asked him to wear it, but he refused because of the fear of the society. He wrote in his blog that "I refused because I felt the fear of being judged to be a transgender or having some other sexual orientation. I refused because I felt that how I would want to perceive myself to show to the public would not be under my control anymore."
But when his friend called him "hypocrite" with a lot of guts and fear he decides it to wear.
He stated that "I getting scanned from up and down was expected. I being laughed at and being pointed at by people was expected. What weren't expected were I being confident and a smiling face throughout "Also two people came to compliment him and lauded for being so 'gutsy.'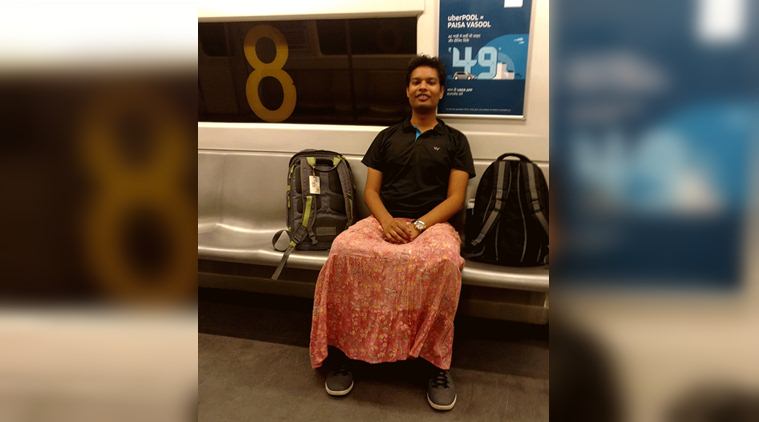 He agreed that there was a constant thought running through in his mind about what he was wearing and about people scanning and judging him constantly. He concluded that he baffled people and grabbed attention only because he decided to "not follow the stereotypes".
Also he told that earlier he had cross-dressed in him campus during his Pravah ICS journey, for Active Citizenship Day (ACD) that was themed on sexual orientations, this was a whole new experience, adding "new dimension of perspective".
At last he ended up by stating that "I did not intend to challenge the stereotypes in a society, but I did. I am society. I wanted to prove that I am not a hypocrite."