Imran Khan and Genelia D' Souza shared a frame after a long time, the image is going viral on the internet. Genelia and Imran starred in the film "Jaane Tu Ya Jaane Na" released in 2008. The trending photo has left the fans in nostalgia after seeing the dreamy couple of Jay and Aditi reunited after several years.
Jaane Tu Ya Jaane Na Stars Share A Frame
Imran Khan played the role of Jay in the movie opposite to Genelia D' Souza as Aditi. The rom-com starting the two actors was a simple yet sweet story of two best friends unaware of being in love with each other. The film was a huge success on box office and viewers loved it for its authenticity, quirky remarks and relatable nature.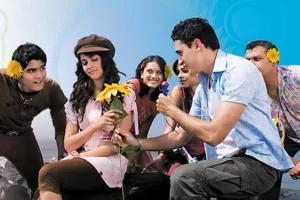 Netizens speculate about potential new projects
The photograph created a buzz throughout the internet and captured an immense amount of attention. It left fans speculating about potential new projects, partnerships, or collaborations on the horizon for the cherished pair. Can this mean we get to see Jay and Aditi reunited too?
The stars of the film posed in a photo after years leaving the netizens in awe and excitement. Some fans believe that a sequel of 'Jaane Tu Ya Jaane Na' is on the way. Rumors are rife that Genelia and Imran might start a new project. Well, whatever it is, if it has Imran and Genelia it must be pure entertainment. The two actors have turned the heads of the entire internet with just one photo. The anticipation and curiosity surrounding their next venture added to the overall thrill.
Conclusion
People from all over the world hail 'Jaane Tu Ya Jaane Na' fame Imran and Genelia. The fans seems to be holding their hopes high. However, there is no official news from anywhere that the famous on-screen couple is making a comeback together. If they are reuniting for a new project or not is still under a question mark.