In A Bizzare Turn Of Events, Socialism Weds Mamata To Be Blessed By Communism And Leninism!
A wedding in Tamil Nadu has recently sparked off users celebrating their last laugh as the internet watched Socialism getting hitched with Mamata Banerjee. And what makes this wedding more intriguing and leaving users wide eyed is the fact that Communism and Leninism graced the same and blessed the married couple for a happily ever after!
Yes, you read that right, but hey, that isn't West Bengal's didi! And neither is this a bot wedding arranged for the sake of establishing popularity. It is way more than that. And neither is this a satirical dig in politics, for both the invitation and the marriage drew the eyes of social media rolling up and down.
This viral marriage spread out in Salem and is garnering views on Social media, for the coming together of the peculiarly named couple is a treat to the tired eyes, indeed! Tamil Nadu's CPI secretary presided over the function.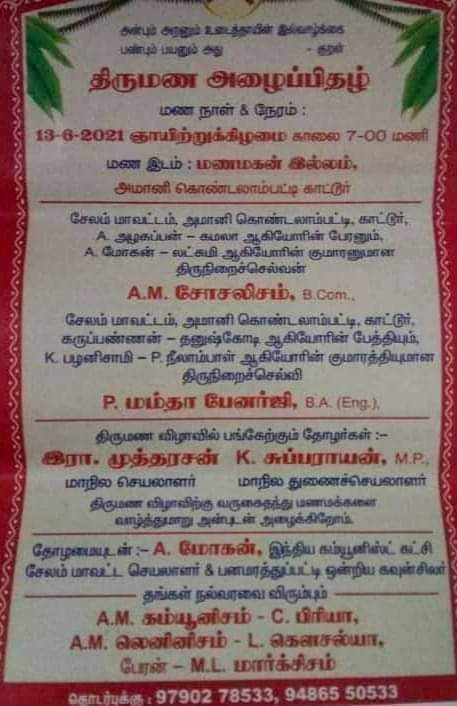 The groom has been christened AM Socialism and is the son of A Mohan, who comes from a bloodline that has CPI ideals running in last breaths, and is a 25-year-old lawyer-businessman. The bride is Mamata Banerjee, daughter of K Palanisamy and Neelambal and the duo are devout Congressmen.
Only a few took an eye full of this bizarre wedding, as Socialism tied the knot with Mamata in the presence of his brothers Communism and Leninism, oh and the nephew Marxism!
'We have received thousands of congratulatory messages from known and unknown people till this minute,' the couple smiled whilst speaking.
'I started realizing the power of my name only after 'Didi' became the chief minister of West Bengal,' Mamata recalls, while Mohan says that he named his sons Communism, Leninism, and Socialism after many noted that communism died following the collapse of the Soviet Union.
Whatever the case, sending our wishes to the married couple!