Janhvi Kapoor recently stepped out in a classy pink saree to attend the Kalyan Jewellers Navratri celebrations. Let's take a closer look at her traditional ensemble!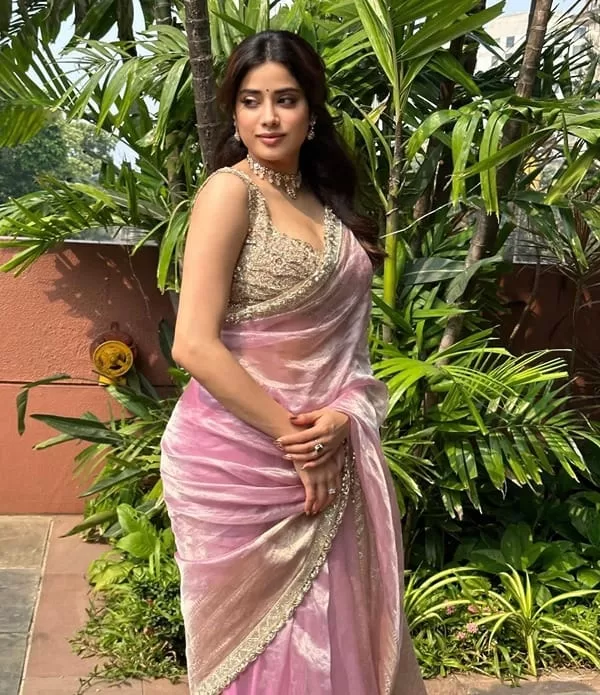 On Sunday, Janhvi Kapoor and several other celebrities travelled to Thrissur to attend a Navratri event. Janhvi, like the other celebrities, wore traditional attire to the event. She wore an elegant saree and a heavily embroidered blouse from Manish Malhotra. Her elegant saree should serve as inspiration for your festive ensemble.
Many actresses in the fashion-laden world of Bollywood inspire us to want more with dazzling fashion statements, but Janhvi Kapoor's timeless style leaves us wanting more.
Janhvi Kapoor is the ultimate Gen Z style icon, capable of pulling off any look to ultimate perfection. The actress makes her fans swoon with her fashionable appearance and undeniable beauty. And her latest look is no exception, as Janhvi shows off her fashion prowess in a stunning saree ensemble.
Janhvi's stunning appearance demonstrates that she can slay the ethnic as easily as the casual. Her Insta-diary, which is filled with drool-worthy snaps, is a treasure trove of style inspiration for all of her fans. Her saree look is ideal for receiving inspiration for the festive season. Look down to take notes from the diva.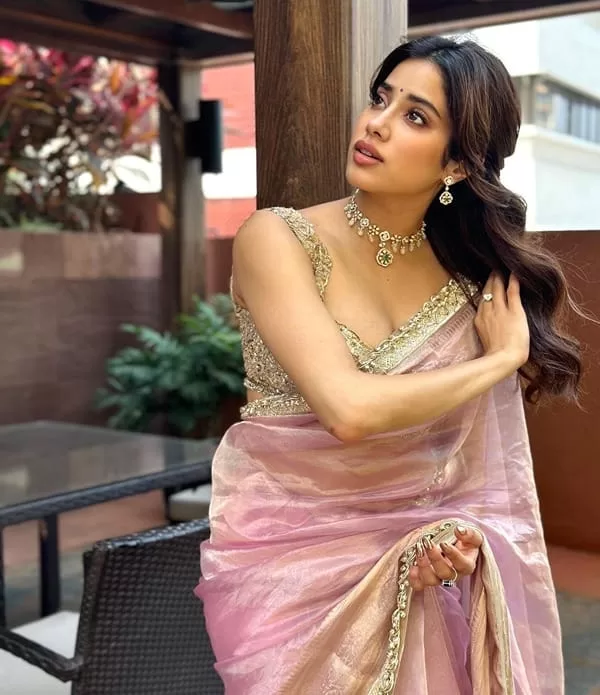 Janhvi Kapoor took to Instagram to show off her traditional outfit for the event. Let's  jump right in and check the lovely and talented actress' elegant ethnic ensemble.
Decoding Janhvi's Outfit 
Janhvi Kapoor went all-in for the star-studded evening, donning a stunning pink handwoven tissue saree designed by Manish Malhotra. The stunning semi-sheer drape featured a beautiful feminine aesthetic as well as an elegant yet formal touch with a classic antique gold zari-crusted border that elevates the ensemble beyond comparison.
The saree is made of tissue silk and has a see-through silhouette with antique gold zari-crusted borders. Janhvi draped it elegantly around her curvy frame in traditional style, pleating the front and allowing the pallu to fall to the floor from her shoulder. She paired the six yards with a sleeveless blouse that was embellished with sequins, zari-crusted embroidery, scalloped hems, a plunging neckline that highlighted her decolletage, and a fitted bust.
Accessories
Janhvi Kapoor accessorized her elegant ethnic ensemble with a traditional delicate gold droplet choker-like neckpiece with a green emerald piece, a matching ring , Kalyan Jewellers' minimalistic matching earrings and gold sandals to complete the look. To finish her appearance, the diva added a matching delicate and small bindi.
Glam Picks
Last but not least, her makeup and hair game were flawless. Janhvi Kapoor kept things simple by pinning her hair to the back and parting it in the centre. This elegantly complemented her ensemble.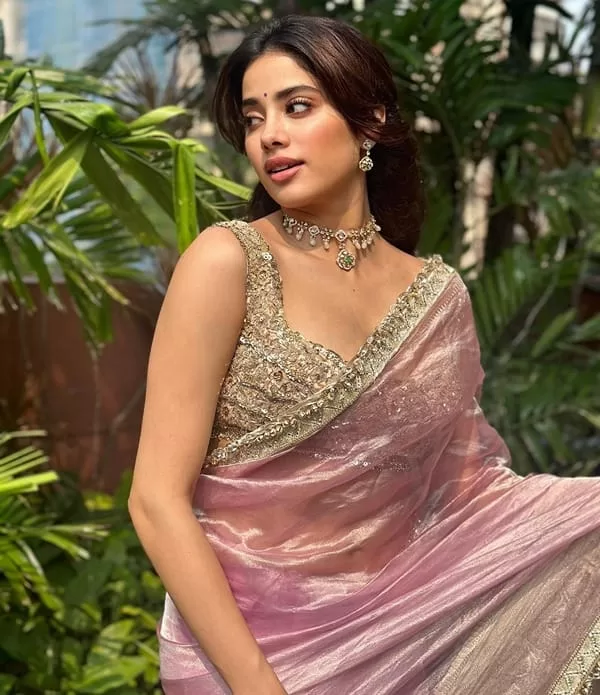 The actress also went for a simple yet stunning makeup look, with well-shaped brows, mascara-laden eyelashes, pink eyeshadow, blushed cheeks, highlighter at the right spits, and, of course, Our hearts swooned over the perfect pink lipstick.