Kapil Sharma Performs Sidhu Moose Wala's Song As A Tribute In Vancouver- Watch!
With his cast from The Kapil Sharma Show, Kapil Sharma is now on tour in Vancouver. The group is fired up and kicked off their debut performance with a bang. The comedian has been sharing highlights from the tour and has stated that his first concert in Vancouver had a packed house. Amid his joy, Kapil gave a touching tribute to the late Punjabi singer and politician Sidhu Moose Wala, who was murdered over a month before.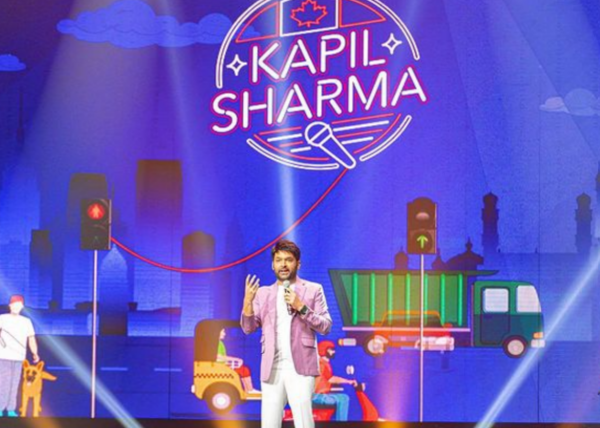 When Sidhu Moose Wala's song was performed on stage by Kapil Sharma, the audience showered the late man with love. They took notes while listening to Kapil perform in silence. Even some of his fans said he reminded them of Sidhu. While performing, Kapil paid him a tribute and experienced emotion. This video was uploaded to Instagram by one of Kapil's fan clubs, and the comedian shared it on his account while holding his hands in prayer for Sidhu Moose Wala. The comment that flooded this Instagram video said, "Legends never die."
Along with Sumona Chakravarti, Krushna Abhishek, Chandan Prabhakar, Kiku Sharda, and Rajiv Thakur, Kapil Sharma arrived in Vancouver a few days ago. On social media, they have been posting bits and pieces about their vacation.
Watch the video here:
The first song to be released after Sidhu Moose Wala's terrible demise is his song, SYL (Satluj-Yamuna link). He wrote, sang, and created the song SYL.
Recently, the three Punjabi legends Sidhu, Sandeep, and Deep were honored at a ceremony in Vancouver by Punjabi actor-musician Diljit Dosanjh. The words "This Show Is Dedicated To Our Brothers" appeared on the background screen of his presentation, in which he performed well-known Moose Wala songs.
Punjab police are currently looking into the incident, and it has been reported that Sidhu Moose Wala has 19 bullet wounds. The deceased Punjabi singer's post-mortem found that the bullets struck his kidneys, liver, lungs, and spine; he passed away within 15 minutes of the shooting, according to an NDTV report.
Sidhu Moose Wala was buried in his hometown of Moosa in the Mansa district on May 31. The singer's family bid him a tearful farewell.
Gangster Lawrence Bishnoi is reportedly involved in the murder of Sidhu Moose Wala, which the police are currently looking into. In a Facebook post, Canadian-based mobster Goldy Brar claimed responsibility for the murder of Moose Wala, and Delhi police reportedly said that Bishnoi had been in communication with him.