Kareena Kapoor, Karishma Kapoor & Karan Johar Are "Trying to be Candid" At The Party Hosted By Manish Malhotra
Manish Malhotra, a well-known name in the Bollywood industry. The designer is known for his incredible Creation and creativity in the world of fashion. He is one of the best designers in the industry that managed to style B-town divas onscreen and off-screen. The celebrity designer hosted a party where director and producer Karan Johar, Kareena Kapoor, Karishma Kapoor and Natasha Poonawalla go candid. All of them had a great time together and to prove this we have several pictures giving a glimpse inside their meeting.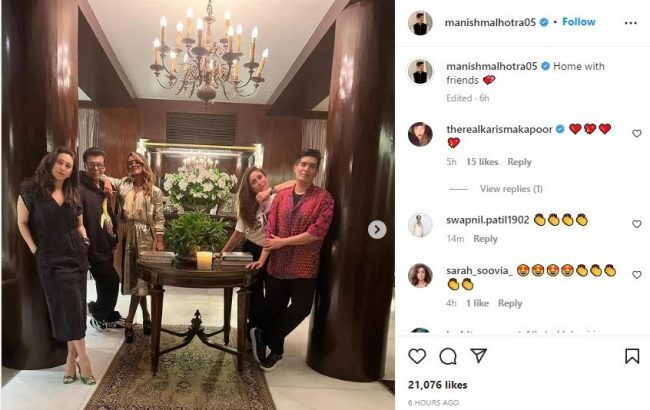 In the pictures, Kareena can be seen in a white T-shirt, black pants and shoes while Karisma wore a black dress and heels. Karan opted for an all-black ensemble while Manish opted for a red shirt and black pants. Natasha was dressed in a cream top, silver jacket and matching skirt. In the selfie clicked by Manish Malhotra, Karishma Kapoor, Kareena, Karan and Ñatasha smile in different poses while on the second click Kareena pouted with Natasha and Karishma.
While sharing the pictures on social media, Manish captioned,  "Home with friends (two hearts emoji)." Reacting to the post, Karisma dropped red heart emojis. A fan said, "A beautiful frame of loved ones." "Look at @kareenakapoorkhan she's unbelievable beauty." Karan also posted the inside pics and wrote, "Trying our best to be candid (failing of course!)"
Karishma Kapoor also posted the pictures via her Instagram account. "Just hang in…" Sharing the same photo on her Instagram, Natasha wrote, "Monday night done right! Chilled but Warm juxtaposition of sorts! Thank you Manish for a super evening! My (red heart emoji)'s!" "Trying our best to be candid (failing of course!)," the caption read.