Mahaan Movie: Average, Predictable Storyline!
Mahaan is the real-life father-son combination of Chiyaan and Dhruv's debut on-screen collaboration. When asked about it, Vikram described the film as "particularly special" to him.
Mahaan has been in Tamil, Telugu, Malayalam, and Maha Purusha in Kannada. In addition, the film features Vani Bhojan, Simran, and Bobby Simha. The fans were expecting a lot more. However, it was the same old Kollywood drama going on for decades.
Script Analysis
Mahaan begins with a prologue set in 1968, in which three youths are involved in a card game fight. Remember these three lads since the entire movie revolves around them.
In 1996, we found one of them, Gandhi Mahaan (Vikram), living an unsatisfied existence since his family, especially his wife Naachi (Simran), are ardent followers of the Mahatma. His father is so committed to the cause of independence that he changed his son's birthday to coincide with India's Independence Day. Do you have any idea where he obtained his name?
He chooses to celebrate the night away after turning 40, and at a game of cards, he encounters Sathyavaan (Simha), a childhood buddy. The next day, he returns home hungover, and his wife (Simran) and son, Dada, leave his house.
His friend, Sathyavaan, runs a bar and an unauthorized toddy drink, which Mahaan transforms into a brand overnight. It is one of the reasons why some people dislike the film.
After a few years, they run across their third prologue buddy, Gnanam (Muthukumar), a politician who helps them build their company. However, just as life appears to be going well, Gandhi's history resurfaces in the shape of his son Dada (Dhruv Vikram), who is now a police officer determined to punish his father's cronies.
Can Mahaan safeguard his family's safety with Gnanam working against them as well?
Star Performance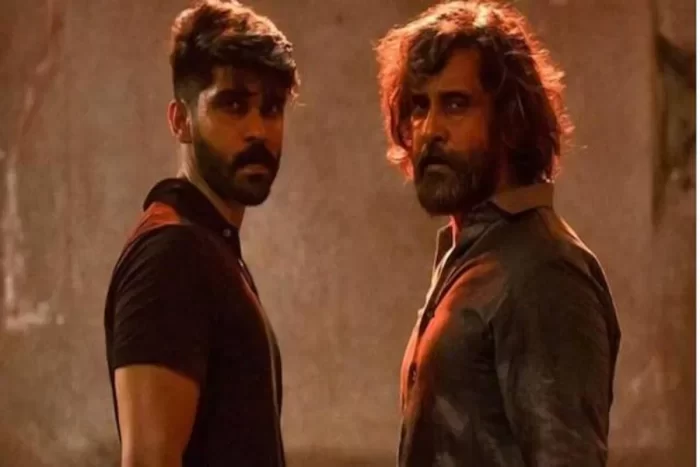 Fortunately, the emotional stakes keep rising, and the performers provide outstanding performances.Vikram has a relaxed demeanor about him as if he's loosening up a lot, and it's clear that he's having a good time with a performance that's his best.
Dhruv matches up to his father in numerous moments, demonstrating that he is a true prodigy. Simha, Muthukumar, Simran, and Sananth all give outstanding performances that enhance the film's moments.
Direction
In some respects, Mahaan is Karthik Subbaraj's spin on the age-old drama of estranged brothers; instead of estranged brothers, we have an estranged son who is hell-bent on killing his father's cronies.
Karthik Subbaraj takes his time setting up the plot; in fact, the whole first half is a setup, with the story picking up only in the second half, but he does so in a compelling manner.
This section's filmmaking is typical Karthik Subbaraj – The frenetic camera work (by Shreyaas Krishna) mirrors Gandhi's astonishment and indecisiveness in this flashy and brilliant film. Surprisingly, the visual flair that we have come to identify with this director appears to be lacking in these situations.
The Final Word
The story of sons and fathers – Mahaan and his father, Mahaan and Dada, Sathyavaan and Rocky, Gnanam and Anthony — yet it's hard to say where Karthik leads this aspect. Is it about dads influencing their sons' lives? Or how about sons defying their fathers? Or perhaps both?