Met Gala 2022: Fashion`s Biggest Night, Are You Ready To Crush And Crash?
The Met Gala 2022, dubbed "fashion's largest night out," is upon us, and as various celebrities stroll down the red carpet, we offer you some of the event's highlights. From Blake Lively's transformable gown to Alicia Keys' NYC skyline-inspired cape, Natasha Poonawalla's goddess in gold, Kim Kardashian's most luxurious fit in the world, and more.
The theme for this year's event was 'Gilded Glamour.' We can tell you that the gala's A-list guests did not disappoint. Many celebrities, including Rihanna, have previously criticized a few stars for not adhering to the topic.
Blake Lively In Atelier Versace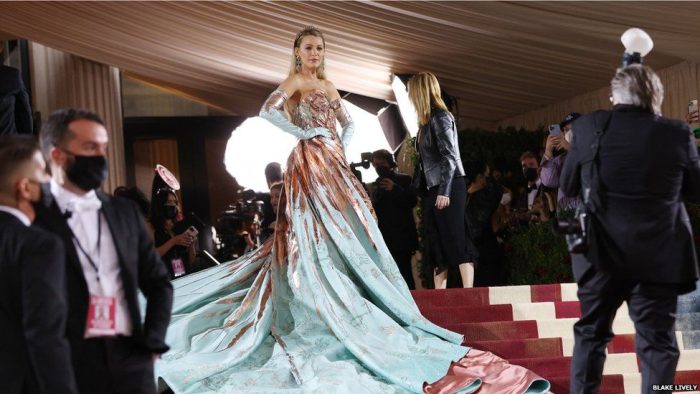 The Versace gown was worn by Blake Lively and changes color from pink to turquoise blue. The actress looked stunning in a strapless gown at the Met Gala 2022, which she attended with her husband, Ryan Reynolds. It was beaded all over, with a lengthy train and a large bow. She dressed up as Lady Liberty with matched gloves and a tiara!
Kim Kardashian In Vintage Jean Louis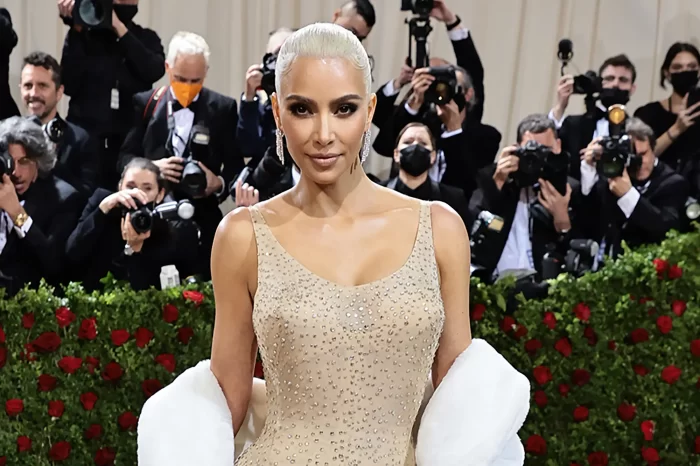 Kim Kardashian is known for running above and above, and she did just that. The SKIMS founder was a sight to behold, accompanied by her fiancé Pete Davidson. It is claimed to be the most, costly dress in the world, is kept in a museum. Kim wore a white fur coat and bleached her hair blonde.
Natasha Poonawalla In Sabyasachi
We'll chat about the next highlight of the night, which is a personal favourite of ours. One of the attendees, Natasha Poonawalla, went all out in a gold Sabyasachi sari with a sheer tail. Her hair was gold-shimmering, and she wore a metallic costume with a bustier, bracelets, and other accessories. Her outfit was a perfect combination of the two cultures, and she appeared to be a walking goddess.
Cardi B In Versace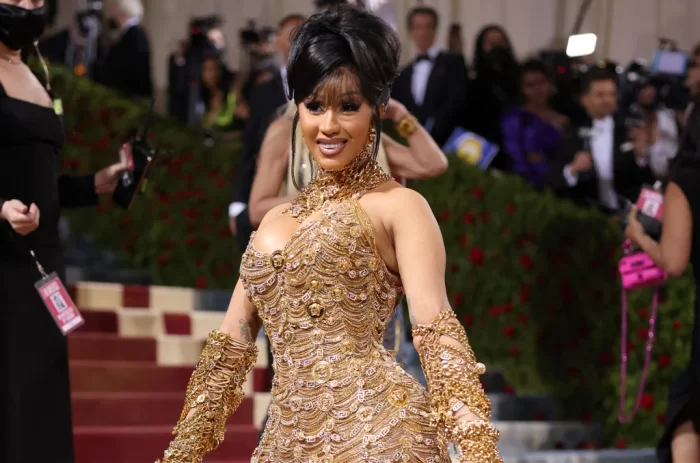 Cardi B, who was also dressed in gold, will be discussed. The singer looked stunning in a Versace gown with miles of glittering silver chains. Her body was highlighted by the dress, which was finished with a choker and gloves. Everyone seemed to be sticking to the Met Gala 2022 theme this year!
Kendall Jenner In Prada 
Kendall Jenner ditched her brows and set her nipples free.
Her brows were bleached, and she donned a Prada outfit with a transparent crop top and a long black skirt. Lorraine Schwartz diamond earrings finished out her ensemble. Her brows looked nothing but scary.
Kylie Jenner In Off-White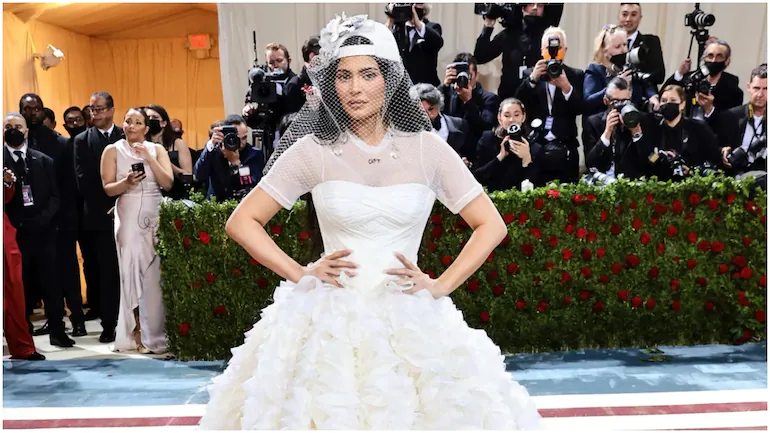 On the red carpet, Kylie Jenner wore an Off-White bridal gown with a veil and a billowing skirt. The veil on this gown, however, was affixed to a reverse baseball hat, maybe as a nod to all-American sports. Many Indians compared her look to kuch kuch hota hai`s Anjali.
Gigi Hadid In Atelier Versace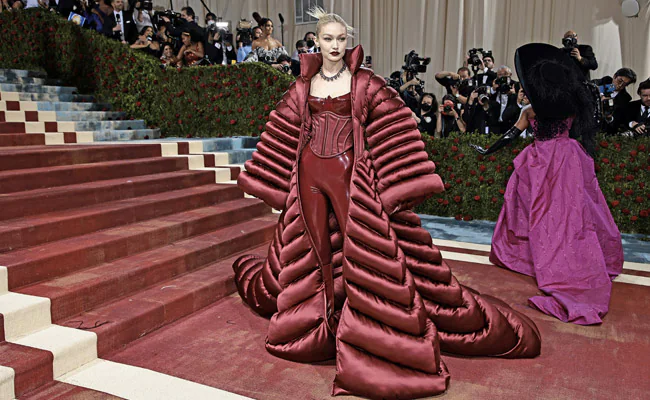 Gigi Hadid, a Met Gala professional, arrived in an unconventional ensemble. She wore a red Atelier Versace puffer coat over a matching catsuit to match the red carpet (literally).