Standup comedian and lockup winner Munawar Faruqui has won the hearts of people with his comedy and innocence. People like the way he talks and keeps his point. During her stay in the lockup reality show, she impressed the fans both with her innocence and finesse. During this time he also opened many secrets. Along with this, his closeness with Anjali Arora was also discussed in the show, which was doing a great job of increasing the TRP of the show.
Even after the Lock Upp, show, Munawar Faruqui garnered limelight fiercely, but this time the reason for her being in the headlines is something else. There was news that Munawar Faruqui had a breakup with girlfriend Nazila. How much truth is there in this matter, it has been revealed by the standup comedian himself.
Munawar and Nazila started dating in December 2021. But the public figure kept his relationship private. Even during the reality show Lock Upp, Munawar did not reveal his relationship with Nazila. In the show, the talk of increasing his closeness with Anjali Arora started coming to the fore. But after the show ended, he put a complete stop to all the rumours, revealing his relationship with Nazila. Well, all this was not enough that Munawar had to once again reveal the truth of his relationship with Nazila.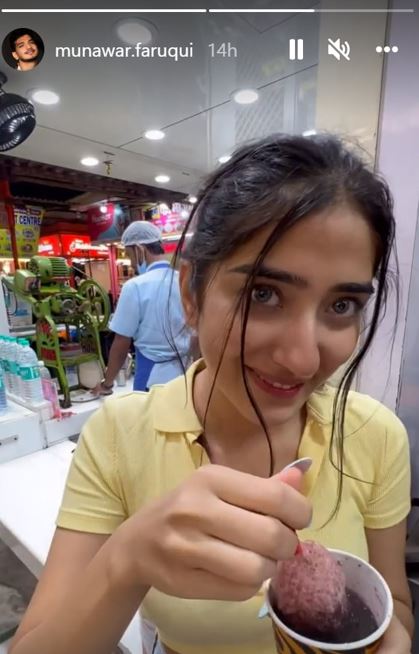 Actually, there was news in the past that Munawar and Nazila have separated. Both have unfollowed each other on Insta. But the standup comedian has denied it. Putting a video on Insta Story, he has informed us that he and Nazila are still together. After sharing a post related to the breakup, he turned the camera towards Nazila, who is seen smiling and eating a ball of ice. Later he laughs and says – What are people writing and saying?