Must See! SRK's Daughter Suhana Khan Turns Muse For Manish Malhotra: Checkout!!
Suhana Khan is SRK, and Gauri Khan's daughter. She has been making news this month for various reasons. It includes signing a debut contract with Zoya Akhtar, attending the IPL auction and now serving as the inspiration for renowned designer Manish Malhotra. She seemed to be on the verge of breaking into the Bollywood business.
The Fashionista
These days' celebrities are constantly one step ahead of the pack, especially when it comes to fashion. They allowing their genetically enhanced excellent looks and Gen Z fashion savvy.
Suhana Khan has been a celebrity since she was a child. She has developed a good sense of style and fashion throughout time. The diva understands how to dress down and glam up depending on the occasion, from designer purses to striking tank tops and frayed denim.
Suhana Khan changed her casual style for a friend's wedding and dressed up like a genuine Bollywood queen. The actress chose a bold red saree from the shelves of famous designer Manish Malhotra.
Her crimson chiffon saree was embellished with a few sequins to complement the drape and add a glam touch. Detailed embroidery was also used to adorn the border.
The 21-year-old diva chose a tight crimson number with sequins all over and big embroidered straps as her blouse.
She struck a stance and showed a lightly accessorized appearance. Her appearance consists of a set of dramatic earrings. Her hair was pulled back into a thick ponytail with the ends fashioned into waves. Filled-in eyebrows, little makeup to obscure her complexion, colored dewy cheeks and glossy nude lips have completed her look.
Take a look: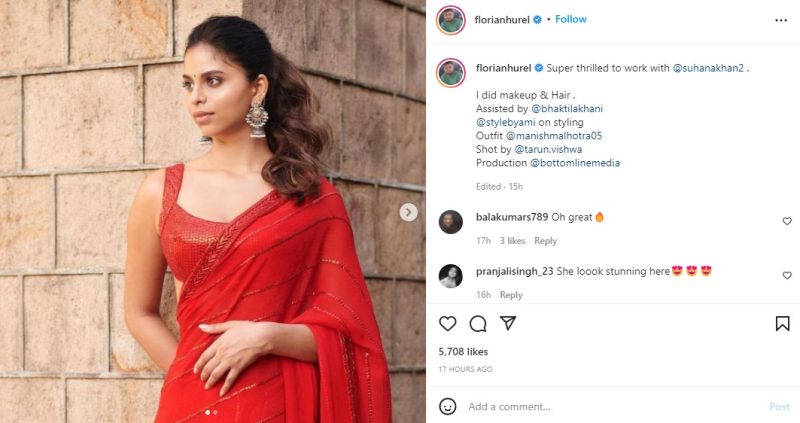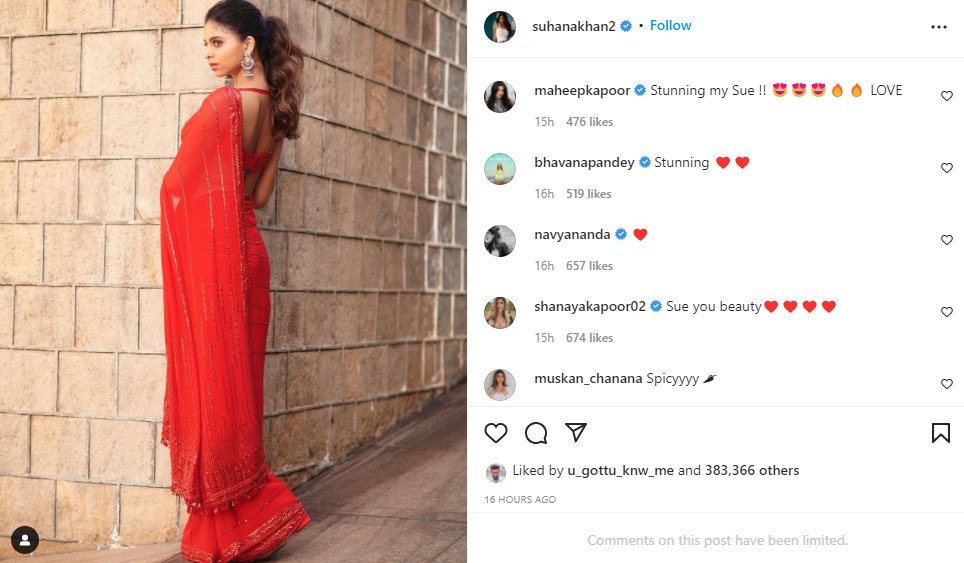 Suhana's drape for the celebrations was stunning, and the color looked so rich on her. What are your opinions on Suhana Khan's saree from the Taban collection by Manish Malhotra? Please tell us what you think in the comment box below.