Parineeti Chopra has shared some stunning photos of her wedding celebrations on social media. The Bollywood actress took to Instagram to share photos from the Chooda ceremony, where she is dressed in a bright yellow anarkali suit. Checkout photos!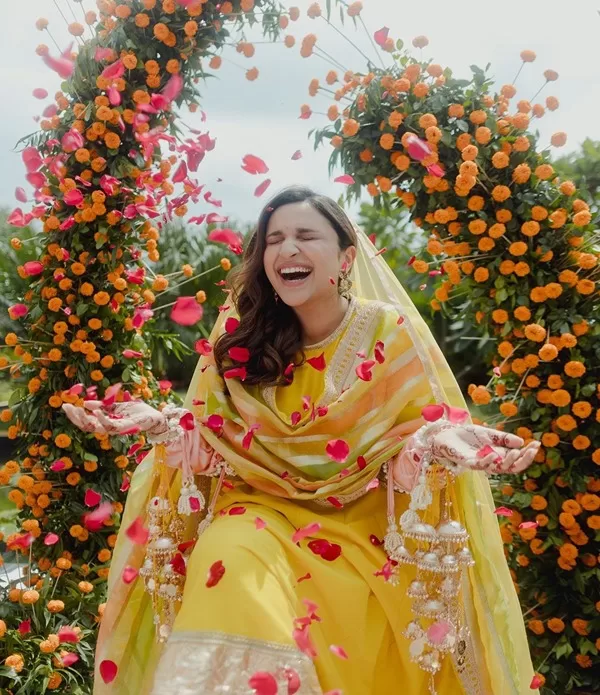 Parineeti Chopra, the newlywed, continues to dazzle her fans with stunning peeks from her fairy-tale wedding to Raghav Chadha. Following the official wedding announcement, an album of lively Haldi celebrations, and pre-wedding activities, Parineeti has now released beautiful photos from her choora ceremony. Her effervescent joy shines through these photographs, which capture touching moments with her family.
Parineeti Chopra Shares Gorgeous Photos From Her Chooda Ceremony
On Thursday, October 26, Parineeti Chopra posted some stunning photos from her chooda ceremony to her Instagram account. The image shouted love and excitement, and it was just irresistible. Parineeti wore a yellow anarkali suit with lace detailing to her chooda ceremony, which she accessorized with a matching churidar pyjama and a multi-colored dupatta. She finished off her outfit with little makeup, earrings, open hair, and juttis. She transformed into the coolest bride-to-be, leaving everyone speechless. The first image shows her surrounded by floral splendour, showered with roses and beaming with glee like a sunshine.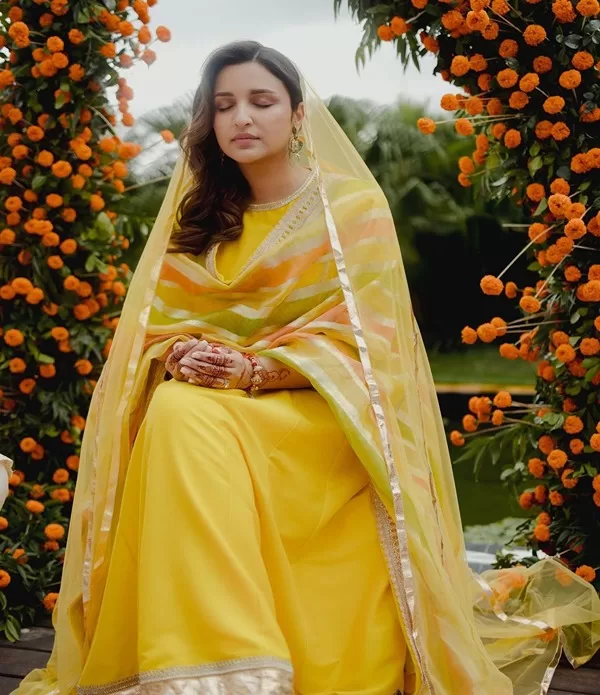 Parineeti Chopra's chooda ceremony was a happy affair, as evidenced by the peeks. The then-bride-to-be was observed enjoying all of the rites with joy and respect. Another peek shows her brothers tying kaleeras on her hands during the ceremony, as the adoring sister looks on in admiration. Parineeti also appeared for a sweet photo with her mom and siblings, which was simply adorable.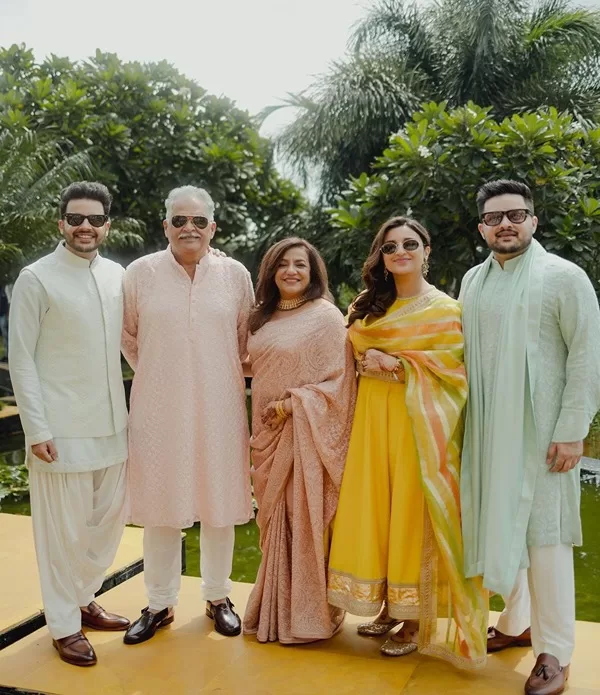 A close-up of the complex pink choora is shown, while another photograph shows Parineeti appreciating her arms, which are draped in a lovely pink linen. She embraced style by posing with dark shades, adding flair to the festivities. And there's a candid view of her breaking them over her friends' heads.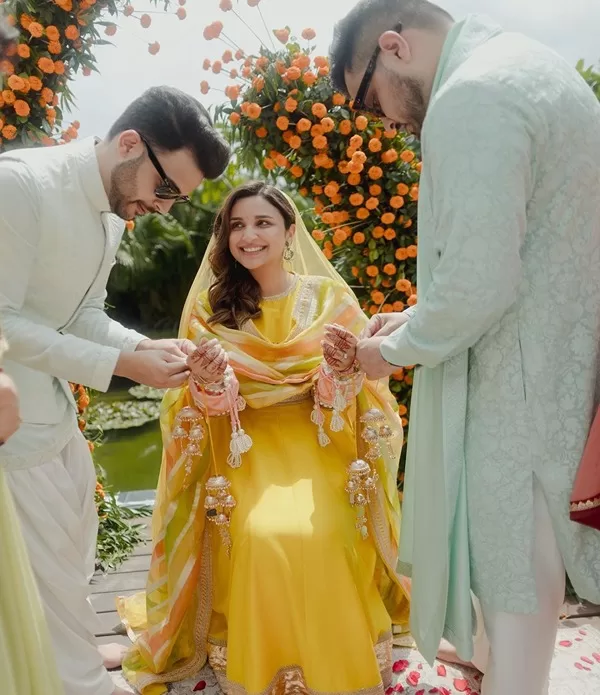 A touching video of the choora ceremony and the couple's haldi celebration had previously been released.
Parineeti Chopra's Modern Pink Chooda And Bespoke Kaleeras
Parineeti Chopra chose for a pink chooda instead of the conventional red and white one. She also had a pair of kaleeras made for herself for her wedding as an homage to her and Raghav's love story. The actress wore a pink chooda with her and Raghav's initials stitched with pearls.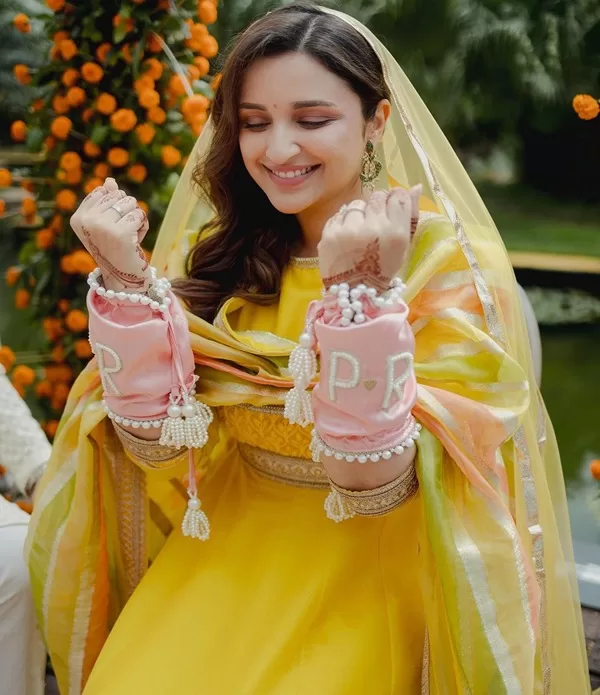 About Parineeti And Raghav's Lavish Wedding
The wedding of Parineeti Chopra and Raghav Chadha took place on September 24 in the picturesque backdrop of Udaipur, Rajasthan. The celebrations took place at The Leela Palace and The Taj Lake Palace hotels. An lively 90s-themed bash preceding the wedding lent a nostalgic touch to the festivities. As part of their pre-wedding rituals, the couple and their families participated in athletic competitions in Delhi.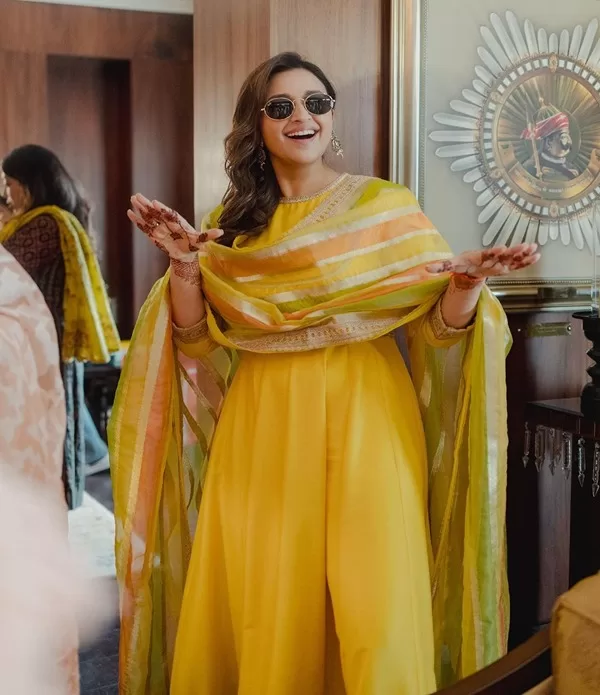 Raghav and Parineeti flew to Delhi a day after their magnificent pastel-themed wedding, where the bride was greeted with a grand Bahu Swagat ceremony at her new home. The evening began with the colourful traditions of the ring-finding game and fascinating relationship inquiries. Parineeti openly stated that Raghav's family treated her and made her feel like a queen in her new home.