Pawan Singh Gives Open Challenge To Khesari Lal Yadav, Apologizes For Making Obscene Gestures On Stage!
The battle of Pawan Singh and Khesari Lal Yadav is not taking its name to end. Pawan Singh came live to answer Khesari and during this, he said a lot. Not only this, but Pawan Singh has also apologized to his fans for making obscene gestures on the stage. Apart from this, Pawan Singh also said that no artist is big or small, everyone is on their own, forgive me if I have said anything wrong.
At the beginning of the live show, Pawan Singh says, Bhojpuri cannot progress beyond the work of anyone. In my view all are artists, no one is small or big. Everyone is a superstar in their life. It is a matter of pride for us. If you guys do good work then our industry will progress. Artists have no caste. I am a lion, so only lions listen to my songs. The atmosphere in today's time was not like that before.
Pawan Singh Apologizes To The Audience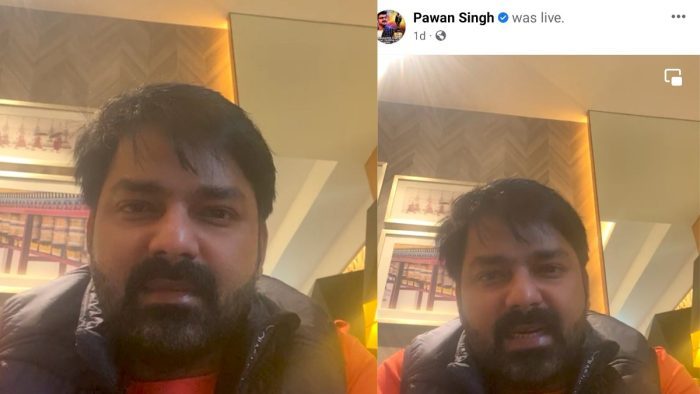 Pawan Singh says that where I am has become possible because of your blessings. I don't know how to throw, I don't call myself a superstar. No superstar calls himself a superstar. I respect my elders.
As for making a wrong gesture on the stage, I apologize for it. I am also human and I make mistakes. There is a limit to anything. Every time Pawan Singh is made an issue. If you have guts then bring harmonium, it will happen.
Cause Of Conflict
Pawan Singh reached a program a few days ago. Where he targeted Khesari Lal Yadav fiercely. He also made some objectionable gestures from Pawan Singh on the stage. Not only this, he called Khesari a dancer by taking 5 thousand rupees.
After this Khesari shared the video and said, 'I do not compete, I work. Some people have a big body, not their intellect. Climbing on the stage, they are giving gestures to me… This is the education I have received. I will die of shame. I don't do anything good yet the world loves me. Remove your ego from your mind. I am not fond of showing stardom. Gobar Singh has become. God has given the tongue, then use it in the right place.