Priyanka Chopra Trolled For Opting Surrogacy For Becoming A Mother- Deets Inside!
Priyanka Chopra and Nick Jonas who had recently welcomed a baby through surrogacy became the new target of trollers of Twitter. On Saturday, the couple took to their Instagram accounts to share the good news with their fans. Sharing the good news with their fans, they both wrote, "We are overjoyed to confirm that we have welcomed a baby via surrogacy. We respectfully ask for privacy during this special time as we need to focus on our family. Thank you so much".
As soon as the couple announced their news of becoming parents, their fans and celebrity friends showered them with lots of good wishes. However, a section of social media users started trolling Nick and Priyanka, quoting that Priyanka opted for a surrogate mother to avoid the pregnancy pain.
Priyanka and Nick
A user wrote while trolling, "I wish Priyanka Chopranick Jonasjonas congratulations. But isn't it became a trend for rich people to opt for this method? However these methods were developed to help those who had complications in conceiving". Another wrote, "How do those mothers feel when they get their readymade babies through surrogacy? Do they have the same feelings for their babies like those who give birth to the babies?" A user tweeted, "It is better to be not a mother than have a baby by surrogacy. Unless blood of mother flows in the child, how can a person have a motherly feeling."
While another user said, "I understand when genuine parents go for surrogacy. But I hate it when these stupid Bollywood people do it. They spend all their energy on getting naked, showing skin, and of course drugs and then use their money to have a ready-made baby. They won't have basic parenting skills. Another life screwed".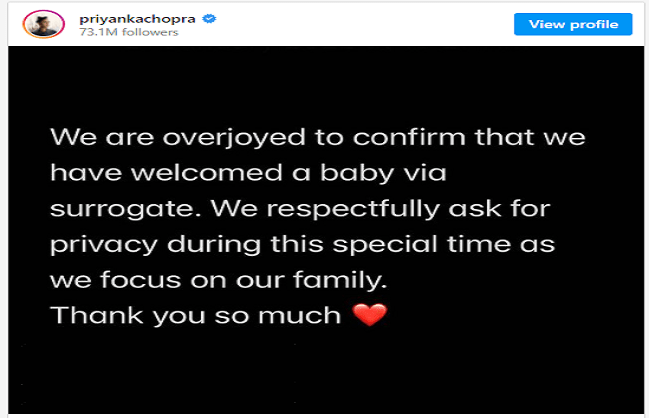 Priyanka's Post
However, Priyanka's fans came out in support of her and urged everyone to respect their privacy. A user said, "How shameless people are for judging an actress for having a baby via surrogacy ! There are many couples who aren't able to carry a baby naturally- one of them being conceiving at a later age".
Another said, "Is it not insensitive to call them "ready-made babies", also let's not judge women who want to adopt motherhood through surrogacy. I know many biological mothers who don't feel the bond with their children!"
US Weekly reported that the couple welcomed a baby girl through surrogacy. Priyanka and Nick got married in a Christian and a Hindu ceremony in Jodhpur's Umaid Bhawan Palace on December 1, 2018.