Pune Woman Goes Viral After She Does Push-Ups And Weight Training In A Saree
A woman from Pune has gone viral on social media after she performs weight training exercises and push-ups in a saree.  If you think a saree is a lot to handle then you must meet Dr. Sharvari Inamdar who will not only inspire you on performing workouts but also make you believe that outfit is not a mandate. If one has willpower they can even ace it in a saree.
Dr. Sharvari Inamdar is a resident of Pune and soon she became an internet sensation after her workout video in a saree went viral on social media. She is a fitness freak and has mastered the art of push-ups, pull-ups weight training as well.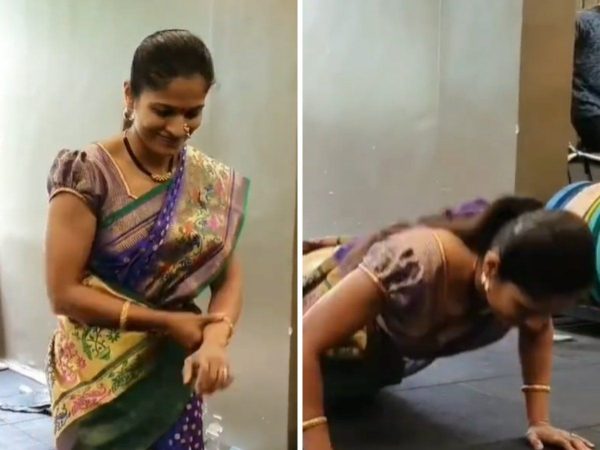 In one of her interviews with a leading daily she stated, "Frankly speaking, women do not wear sarees every day. It is not comfortable for everyone to wear a saree. But as an Indian woman, when we celebrate, we purposefully celebrate it with traditional Indian wear. So, wearing a saree should not be a barrier for any household woman to look after her body. So, that is why I am celebrating womanhood."
She is someone who believes every woman should be conscious about her fitness and take necessary steps in the ordeal to live a healthy beautiful life.
She gave some good advice on weight training to which she said, "Weight training helps in improving your bone density and muscle mass. When you train with weights, you eat properly and take care of your body. You become strong, emotionally, physically, and mentally, and you can take care of your family and society better," she also added the benefits of weight training focusing on how important it is to enjoy life with strength. She also cleared the air on confusion for those, who believe weight training is only for man, or weight training makes a woman masculine. It is a gender-neutral fitness routine.
With around 5000 followers on Instagram, support from her husband and kids, she has set her foot right on track motivating the netizens. Truly, a woman can do anything. The world needs strong women with indomitable will like her.