Bollywood actress, Raveena Tandon is one of the most celebrated actresses in the entertainment industry. Fans used to praise and admire the versatile acting skills of Raveena Tandon during the 90s and early 2000s. Raveena never fails to win her fans' hearts through her charismatic persona. For the unversed, the Government of India recently recognized the actress for her impeccable acting talent. To honor her talents, she was awarded the Padma Shri award by the officials. On the personal front, the actress is married to a film distributor, Anil Thadani. The couple is blessed with an adorable daughter, Rasha and a son, Ranbirvardhan. Recently, we caught hold of Raveena's latest picture with her daughter, Rasha Thadani. However, some eagle-eyed netizens wonder if Raveena's picture is a work of photoshop.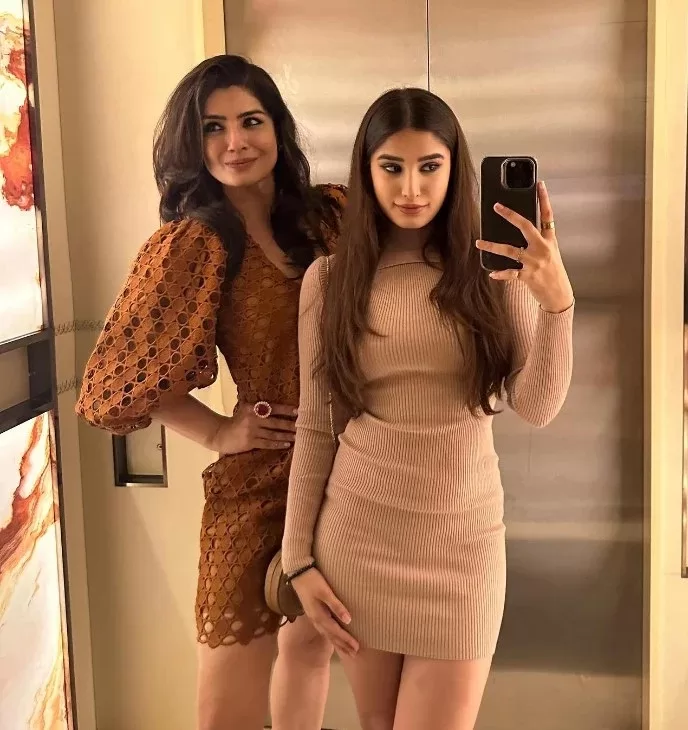 Raveena Tandon poses with her daughter, Rasha Thadani
On September 17, 2023, Raveena Tandon took to her IG handle and shared an unseen picture with her daughter, Rasha Thadani. The mother-daughter duo posed for a mirror selfie and looked glamorous in their respective outfits. Raveena opted for a rust-hued printed dress. Whereas her daughter Rasha looked stunning in a beige-hued cord midi dress. However, it was her mother, Raveena who stole the show at the age of 48 giving major competition to her daughter, Rasha's chic appearance.
Netizens take a dig at Raveena's strange pose and call it photoshopped due to insecurity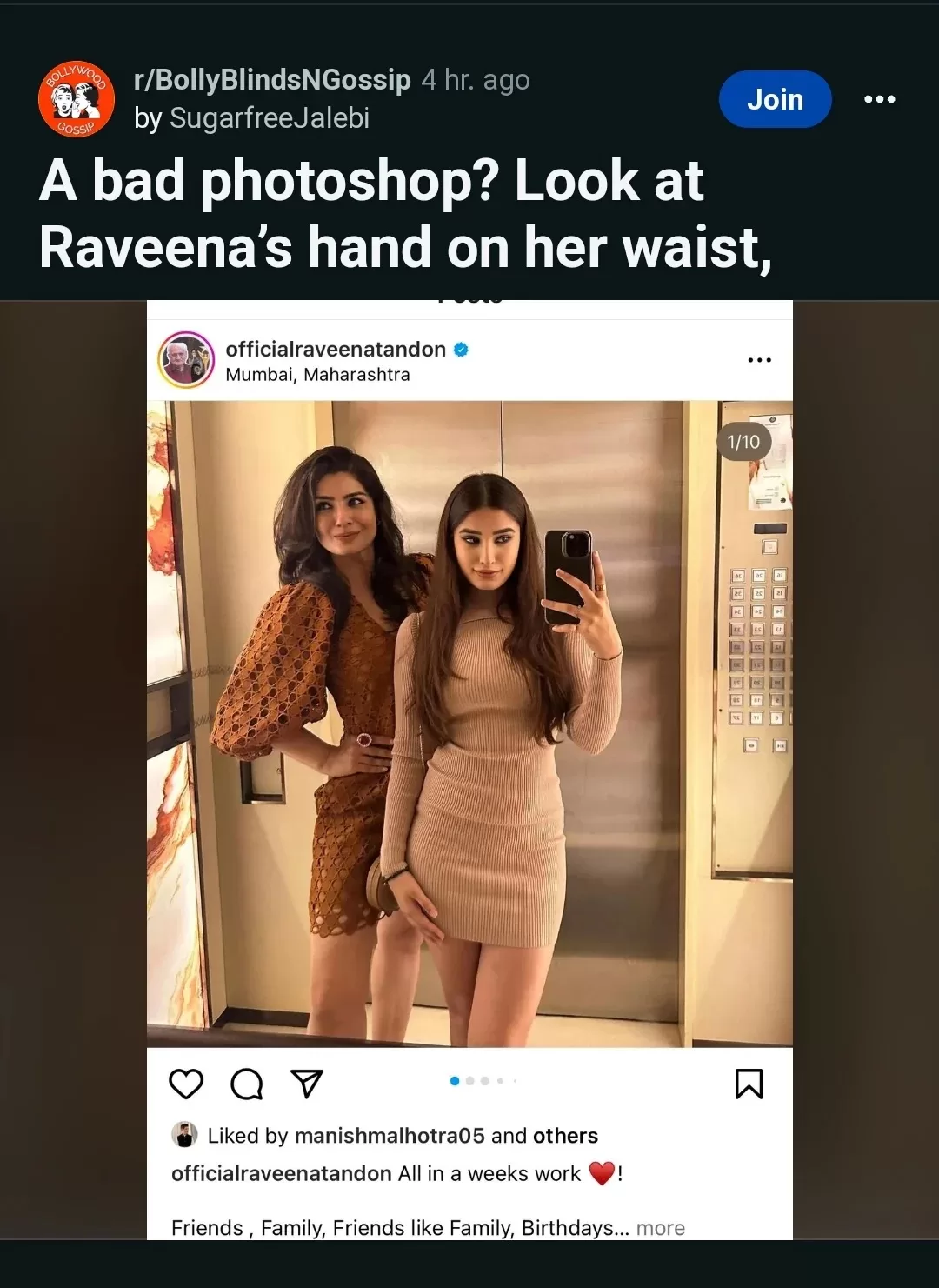 Well, netizens looked unimpressed by Raveena and Rasha's pictures. A Reddit user re-shared Raveena's picture and pointed out how the actress had photoshopped her waist area. The user claimed Raveena's picture was 'photoshopped' and a result of editing making the actress look slimmer in an awkward way. Reacting to it, several users mocked the actress for being insecure about her looks.
One user commented, "Not just actors but everyone does this, filters photoshop. Insecurity. Can't blame them." Another user penned, "That photoshop made her look waist small aka young but awkward body pose."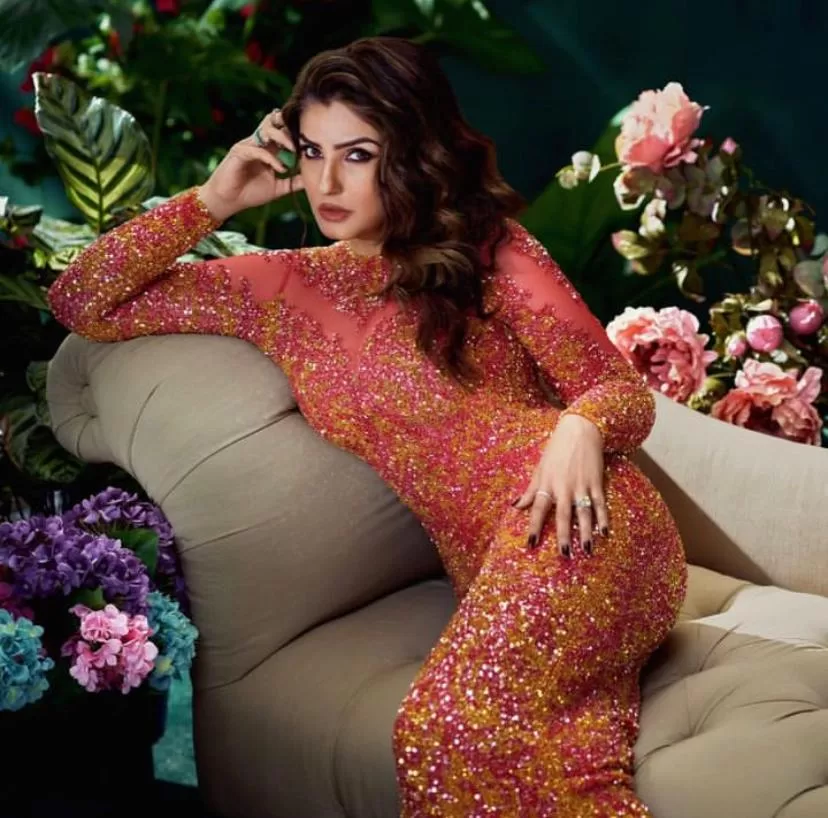 When Raveena got body-shamed back in 90s
Actress, Raveena Tandon remembered her professional career back in the 90s. She opened up about the time when people used to brutally body-shame the actress. Elaborating more about it, the actress mentioned that she had begun her career at 16 years of age. The actress at that time was carrying her chubby baby weight. As a result, netizens often body-shamed her with negative comments, like "90s ke kholo, TTs, thunder thighs" over her body weight.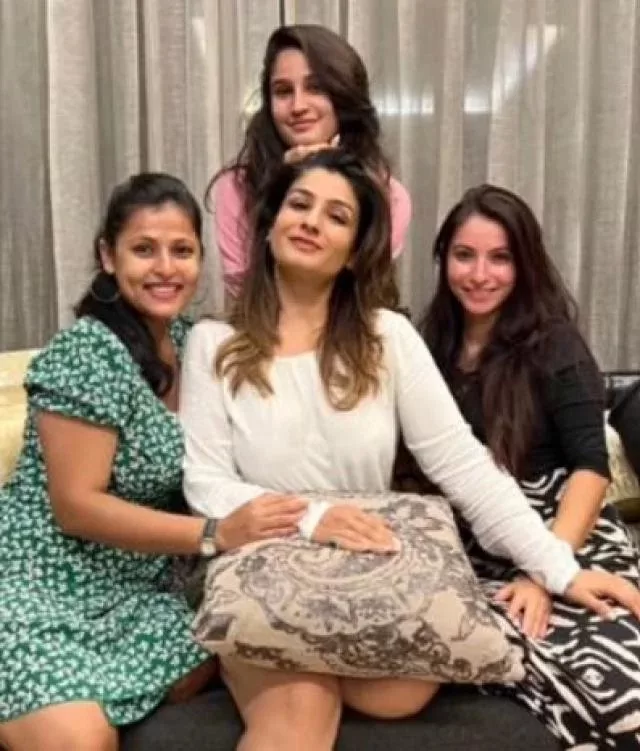 When Raveena Tandon disclosed why she adopted two girls at the age of 21
For the uninitiated, Bollywood diva, Raveena Tandon is the mother of two adopted girls, Pooja and Chhaya, whom she adopted at the age of 21. Several Bollywood celebrities and fans praised Raveena's bold and daring decision. The actress managed the situation gracefully and established herself as an inspiration for others. In one of the interviews with Pinkvilla, the actress talked about her decision to adopt children at such a young age. In Raveena's words:
"There was something about them that made me feel that me being a 21-year-old doesn't matter. I can say it has been the best decision of my life. I cherish each and every moment I have shared with them, from taking them into my arms for the first time to walking them down the aisle."