Russian Bride Ties Knot With German Man In Traditional Hindu Wedding In Gujarat, Checkout!!!
A German businessman's son married a Russian woman according to Hindu rituals in Himmat Nagar town in Sabarkantha, Gujarat. It was nothing sort of a spectacular occasion for the locals. Videos of the lovely wedding are already going viral on social media.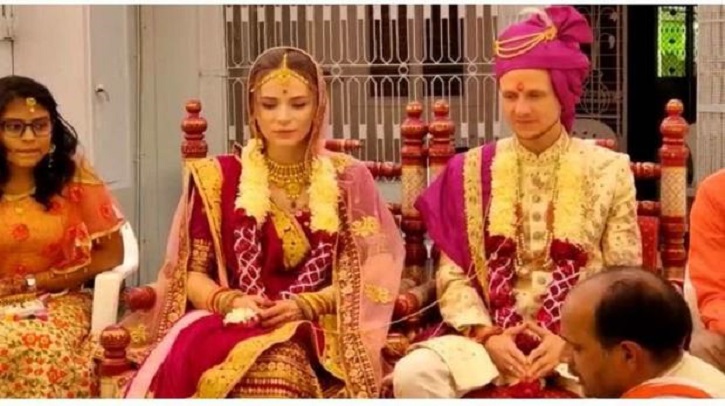 They were both very interested in learning about religion and were continuously attempting to obtain information from different corners of the world. Julia had previously visited India eight times and had been deeply influenced by the Indian culture.
Last year, Chris attended the Kumbh Mela. The two were drawn to Indian culture and therefore chose to marry according to Hindu rites in the Himmat Nagar town of Sakrodia. Julia is an English teacher who also teaches yoga where as Chris is the wealthy German businessman's son. He is also the CEO of a corporate firm established in Germany and Singapore. Moreover, Chris is influenced by Dada Bhagwan's teachings.
Chris and Julia wanted to marry according to Hindu traditions. Nilesh Chauhan and Bhagirath Patel, his buddies, helped the lovebirds to accomplish their goal. Lalabhai, Bhagirath's father, arranged the marriage and performed the marriage in the absence of their family members.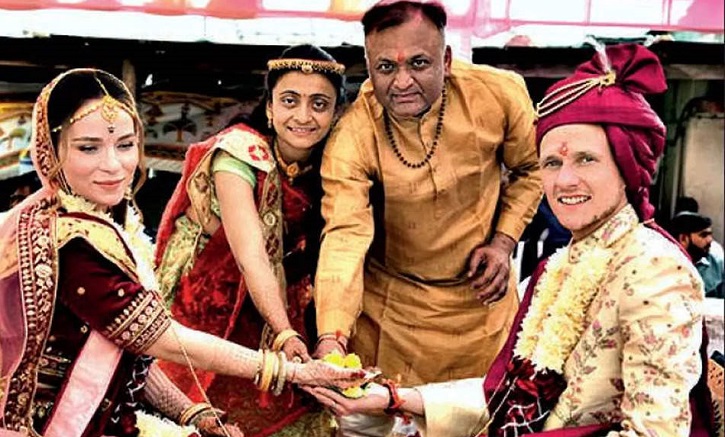 Chris Moller, the groom, said that he was "extremely delighted" to get married in such a noble way. In the courtyard of Lalabhai Patel's residence, the pair was spotted performing seven rounds of Saptapadi. People flocked to Sabarkantha village to witness the wedding of the foreign lovebirds and bless the newlyweds.
Deep Singh Rathore, MP of Sabarkantha, blessed the newlyweds. It was a wonderful event for Sakarodia hamlet, as the residents loved riding Chris's horse to the pavilion to pick up Julia.