Bigg Boss 13 winner Sidharth Shukla has been winning hearts of all his fans. He has been in the limelight ever since he entered the controversial house. Everyone loved him in the show and that's how he won the show as well. Now, he has been quite active on social media and is not only getting love but some hate as well.
Taking to his twitter handle, Sidharth Shukla revealed that he operates his own account and likes whatever he wants to. It is not because he wants to pull someone down. He wrote, "Hi guys I just want you'll to knw This is my acc & I Like whateva I LIKE not because I want to put someone down so if you feel someone is being put down then it's cause of their own doings and not mine… I have love fr all even for those who have unpleasant observations abt me." Check out the tweet below: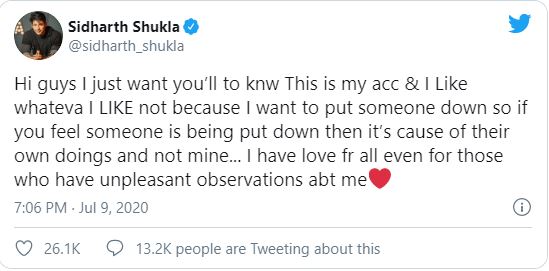 Click here to check out the tweet directly on Twitter.
We aren't sure yet who is the main target of Sidharth Shukla. But one thing is certain, whoever the person is, Siddharth has definitely put his thoughts forward pretty clearly. Soon after, Sidharth shared the tweet his fans come out in support as always.
Meanwhile, there are reports that Sidharth Shukla will be participating in the special edition of stunt-based task Khatron Ke Khiladi.
Also read: Shehnaaz Gill's Fan Mocks Sidharth Shukla As He Asks Sana To Help Him Finding A Job; Wins Sidnaaz Hearts With His Reply