Sonakshi Sinha Teases Fans With Pics From Her "Big Day" Wearing A Ring!
Social media users have been talking about an image of Bollywood actress Sonakshi Sinha that has gone viral.
Sonakshi recently posted a photo of herself on Instagram, in which she can be seen holding the hand of another person. Sonakshi Sinha is sporting a stunning ring in this shot, which she captioned with the words, 'It's a special day for me.' One of my most cherished dreams is about to become a reality… and I can't wait to share it with all of you.'
Did #sonakshisinha Got Engaged?
She Said Pictures with a Ring in Her Hand. Also she Mentioned it a "Big Day'.
What does SO EZI Means 🤔
I think SO= Sonakshi
What About EZI?#bollywood #bollywoodnews #SOEZI #actresslife pic.twitter.com/jrjf8UVa4U

— Deepesh Gajwa (@im_Dazzler) May 9, 2022
The engagement ring may be seen on the hand
'Can't believe it was simple,' Sonakshi Sinha said in the picture's caption. Following Sonakshi Sinha's Instagram post, there has been speculation that the actress is planning to tie the knot soon. The mystery man has proposed to his girlfriend "Sonakshi Sinha "based on the ring on his finger. A large number of celebs have reacted to this particular post of his.
Celebrities are sending their warmest wishes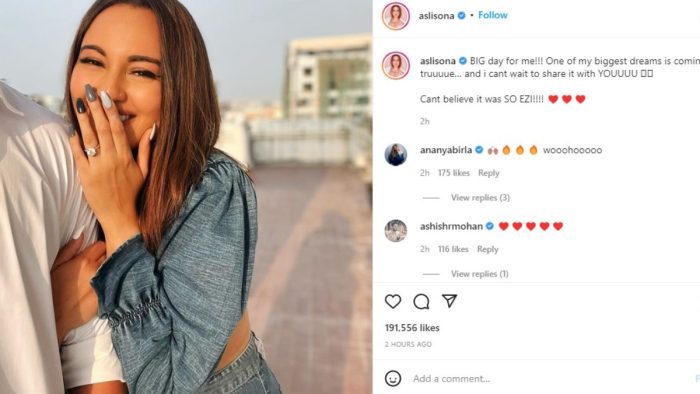 Ananya Birla commented on this article on Sonakshi Sinha's engagement with the words 'Whoo…'.
'Good luck Sonakshi,' Farhan Akhtar's wife Shibani Dandekar commented in the post's comment area.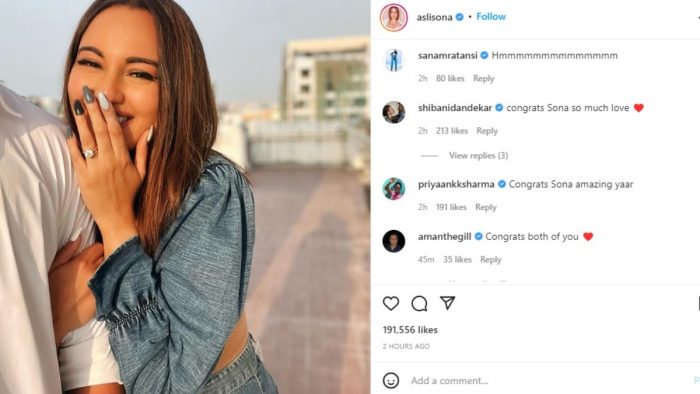 Thousands of people have loved his post, while others have shown their support for them in the comments area. However, it is noteworthy that Sonakshi Sinha has chosen to remain mum about the mystery man's identity.
People have speculated if the spouse is Salman
On social media, Viral Bhayani also posted this image and the message – Got engaged? A large number of admirers provided input in the comment area. One user inquired as to "with whom?" What is it, Salman Khan? However, according to another user, this should not be said about Salman Khan.
One commenter commented, "I'm not sure why this seems to be a PR stunt, but it is." Allow us to inform you that Sonakshi's name has been connected with Salman Khan since the release of Dabangg in 2010.