Taliban Bans Women Traveling Alone, Urfi Javed Said, "I Pray For Their Downfall!"
Since taking over Afghanistan, the Taliban has been making life difficult for its citizens, especially women. They are constantly amending the rules and reining in the freedom of the people there. In this episode, the Taliban has now banned long distance road trips of single women on Sunday. Now, no woman can travel more than 75 km without a man. Condemning this decision of Taliban, internet sensation alias Javed has given a big statement.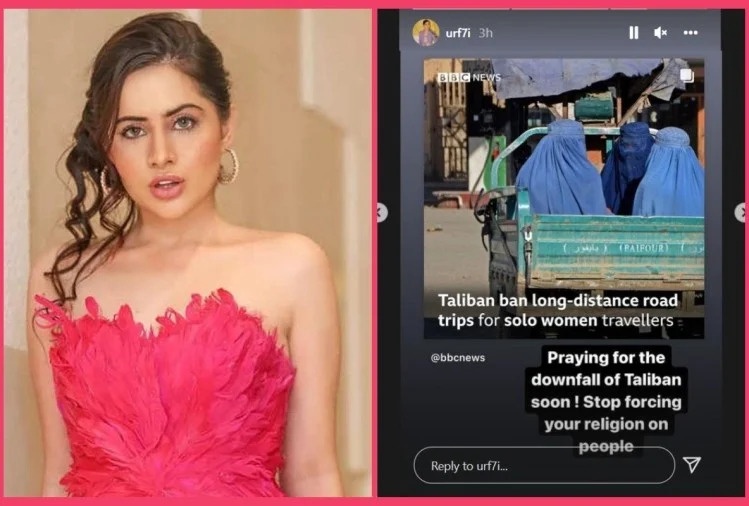 Criticizing the Taliban's ban, the actress wished the Taliban to collapse soon. Urfi wrote in his Insta story, "Praying for the early fall of the Taliban. Stop imposing your religion on others." Let us tell you that the actress has always been raising her voice for the rights of women and has been condemning such incidents. Urfi Javed tries to understand Hinduism despite being a Muslim. Although the actress's mother and her brother follow Muslim religion. Recently, Urfi Javed gave a big statement. She had said, "I do not believe in Muslim religion. I do not believe in any religion. That's why I never want to marry a Muslim boy. I will marry only the one whom I love."
It is worth noting that like her outspoken statements, Urfi always remains in the headlines due to her bold outfits. She is trolled a lot for her fashion sense and unusual dress up. Recently, the actress was wearing such a cutout dress, after seeing which people trolled her a lot. A user had asked if the dress rat had nibbled on. Later, Urfi shared the photo of the mouse and told him as his dress designer. Urfi Javed was last seen in Bigg Boss OTT. At the same time, he made his debut on the small screen in 2016 with Bade Bhaiyya Ki Dulhania. After this she appeared in TV serials like Chandra Nandini, Meri Durga, Saat Phero Ki Hera Pherie. She was last seen working in Aye Mere Humsafar TV serial.