District Jail Panipat has started its Tinka Tinka Prison library to cater to the educational needs of almost 1000 inmates lodged in this jail. This library has been designed specifically for women inmates who will be coming back to the jail post Covid-19. They have been sent to Karnal jail due to the pandemic.
The library was launched by the CJM cum Secretary District Legal Services Authority Shri Amit Sharma, Superintendent of the Jail Shri Devi Dayal and Founder of Tinka Tinka Dr. Vartika Nanda. This prison library is a joint initiative of Tinka Tinka Foundation and Deora Seva Nidhi, Kolkata. This is the first prison library started by the Foundation.
Speaking on the occasion Shri Amit Sharma said that this library will pave way to bring legal literacy and awareness in inmates. Shri Devi Dayal said that this initiative has brought immense change in the attitude of inmates. They are taking keen interest in jail radio and library will further add to the reformation process. Dr. Vartika Nanda said that this library is a move to develop reading habits in inmates and fulfil their communication needs. Two inmates have been selected as librarians for the purpose of issuing books. A proper register will be maintained for keeping the exercise smooth. Founder of Deoara Sewa Nidhi Kolkata said that they will be starting few more libraries in different jails in collaboration with Tinka Tinka Foundation.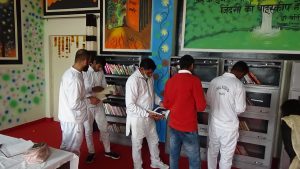 Photo Courtesy: Vishal Sharma
21 inmates from 3 different jails of Haryana were trained in the month of December as a part of Radio Skill Training workshop conceptualised and conceived by Vartika Nanda. 5 inmates from Panipat Jail were chosen for this training.  These inmates are – Suresh, Surender, Shrawan, Kashish and Nimatullah. They are now called the Radio Jockeys in the jail.
This jail had begun the radio on January 16 this year, being the first jail to start prison radio in Haryana.
Out of nearly 1000 inmates in Panipat jail, nearly 880 inmates are literate. Thus, this jail library is bound to help them enhance their knowledge and move further in their lives. This prison library is painted by Balbeer Kumar in a unique manner. He won Tinka Tinka India Award in the year 2016.
Who is Vartika Nanda:
Dr. Vartika Nanda is India's renowned prison reformer. She has initiated a continuous movement on prisons, under the banner Tinka Tinka. The President of India, Shri Pranab Mukherjee, conferred the Stree Shakti Puraskar on her in 2014 for her unique work on empowering women through media and literature. Her name has also been included in the Limca Book of Records twice for her unique work on prison reforms. Her action-oriented research on prisons and communication was taken into cognizance by the Supreme Court of India in 2018. She is credited for having started prison radio in the state of Haryana with her role both at the level of formalizing concept and training, as well as its execution. She also started prison radio in District Jail, Agra (the oldest surviving prison building in India). Currently, she heads the Department of Journalism, Lady Shri Ram College, Delhi University, India. Her three books, Tinka Tinka Tihar, Tinka Dasna and Tinka Madhya Pradesh are considered to be masterpieces on prison literature.  She can be contacted at [email protected]