Varun Sood's Father's Reaction Came After The Breakup, Wrote This About Divya Agarwal- Checkout!
Bigg Boss OTT winner Divya Agarwal is in a lot of discussions these days about the news of her breakup. Recently, Divya decided to part ways with her boyfriend actor Varun Sood. Divya herself gave information about Alvaag with Varun on social media. She wrote a long post and told that she and Varun Sood are no longer together.
His fans of Divya and Varun were very disappointed after this news came to the fore. At the same time, in the midst of all this, Varun's father has given his reaction in this matter for the first time. Varun's father tweeted and wrote a lot about Divya. See post here.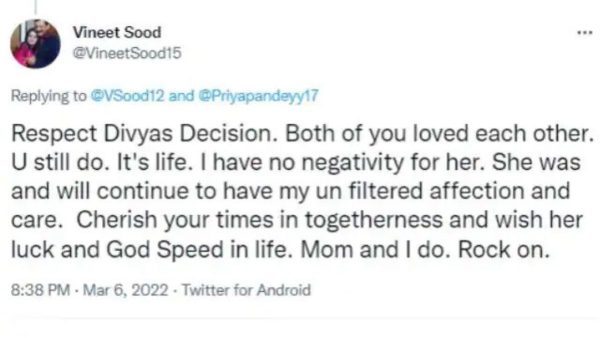 Varun Sood's father Vineet Sood has written a long post on Twitter. He wrote in the tweet, 'Respect Divya's decision. Both of them loved each other so much and still do. This is life. I don't have any negativity about Divya. My love and care for her were and always will be the same. The time that both of them spent together, both of them enjoyed that time. Congrats Divya for the future. Mom and I wish you both the best for the life ahead and wish you speed in life. Rock on.'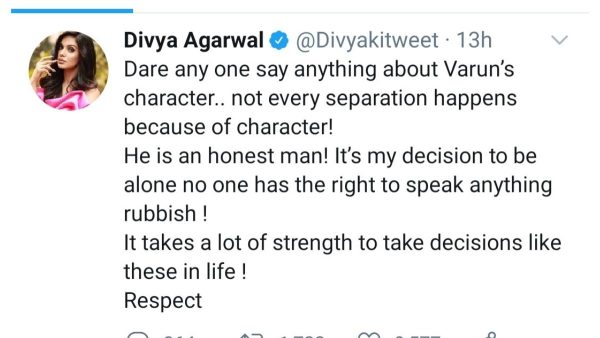 Let us tell you that recently Divya Aggarwal wrote on her official Twitter account after separating from Varun. In this tweet, She warned those who were trolling Varun Sood. Divya had written, 'Don't anyone dare to say anything about Varun's character. Not every separation is because of character! He is an honest man! This is My decision to be alone and no one has the right to speak nonsense! It takes a lot of strength to make such decisions in life and move on! Please respect my decision.