Various Bollywood celebrities such as Vicky Kaushal, Kunal Khemu with wife Soha Ali Khan, Ranbir Kapoor were spotted cheering team India during the semifinals of 2023 Cricket World Cup. Bollywood celebs radiate happiness as India triumphs over New Zealand in a thrilling World Cup match.
At the India versus New Zealand match today, the stadium was alive with the presence of B-town stars.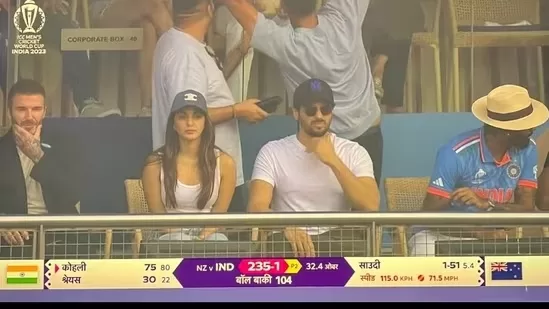 India won semi finals 2023 Cricket World Cup against New Zealand
When the entire Indian was excited about the the 2023 Cricket World Cup. B-town celebrities are no exception to this and during the India versus New Zealand match, the stadium was star studded as various celebrities were spotted enjoying the match. Ranbir Kapoor, Sidharth Malhotra, Kiara Advani, Madhuri Dixit, and John Abraham contributed to the star-studded atmosphere. Vicky Kaushal and Kunal Kemmu, also in attendance, radiated joy as India triumphed over New Zealand in an exhilarating match.
Star-studded stadium for India v/s New-Zealand
Soha Ali Khan and Kunal Kemmu enjoyed the cricket match with daughter Inaaya. It was the first match for Inaya. Soha Ali Khan also shared a few pictures on her Instagram capturing their first experience of watching a match together with their daughter Inaaya.
Kunal Kemmu, who attended the semi final match with his family, spotted posing alongside Vicky Kaushal, director Anand Tiwari, and Anant Goenka. Sporting cheerful smiles, they commemorated the thrilling victory as India triumphed over New Zealand in a nail-biting match.
Rajnikanth spotted enjoying the World Cup 2023 Semifinals
India a challenging score of 397 runs against New Zealand. Rohit Sharma started the match with an explosion after winning the toss. Virat Kohli also created history and became the first cricketer to complete 50 ODI centuries. Shreyas Iyer, also scored a century. In the beginning of the match, Shubman Gill had an injury, although he returned in the last over.