We Tried Our Hardest: Former Porn Star Mia Khalifa Separated From Her Husband
Former adult film actress Mia Khalifa is a well-known name on social media and two years ago, Mia had given information about her marriage to Robert Sandberg on social media, her fans were quite shocked by this news. But now once again Mia has shocked her fans by getting divorced from her husband Robert Sandberg. He gave this information by writing a post on Instagram. In which she says that she tried to save her marriage a lot but she could not do so, due to which she has to take this decision.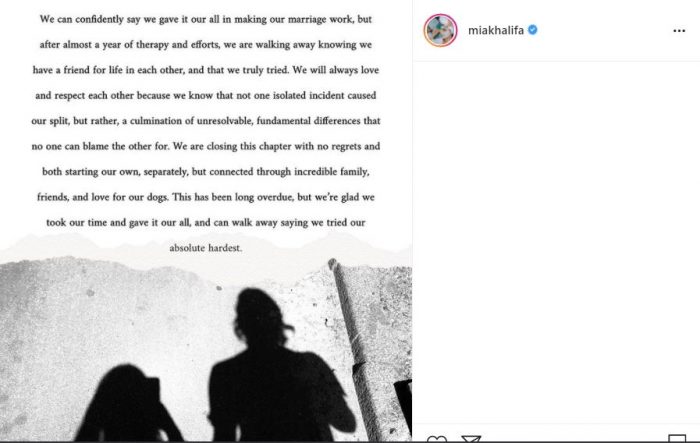 Mia wrote in her Insta post, 'We can say this with full confidence that we tried our best to save our marriage but it could not happen. However, after a year of therapy and a lot of efforts, we came to know that our feelings towards each other have died, which we also tried our best to maintain. We have closed this chapter without any regrets and now both are going to make a fresh start. Separated but will remain attached to family, friends, and the love of their dogs. We are glad that we gave our all but could not save this marriage. We will not regret that we did not try to save this marriage. We will always give love and respect to each other because we know that our breakup did not happen because of an accident but because of the difference between us which we cannot change.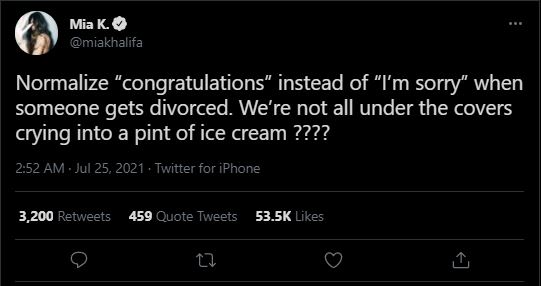 After this, Mia Khalifa, after giving information about the separation, tweeted and told the fans that, 'When someone gets divorced, learn to say congratulations instead of I'm sorry. While many people are surprised by Mia's decision, many are supporting her. Mia entered the porn industry in 2014 and the year 2016, he said that after 3 months he had said goodbye to the porn industry. She then tied the knot with Swedish chef Robert Sandberg in March 2019 and two months later in June 2019.