Kangana Ranaut has been throwing open questions at everyone after the suicide of Sushant Singh Rajput. And her main questions are targeted at the industry leader like Karan Johar and Mahesh Bhatt. A debate has sparked on twitter between Kangana Ranaut's team and Mahesh Bhatt's daughter Pooja Bhatt. After a tweet by Pooja, Kangana Ranaut's team has come up with some blasting questions.
Pooja Bhatt in her tweet reminded Kangana Ranaut that she was only launched by Vishesh Films- a film production company owned by Mukesh Bhatt and Mahesh Bhatt- in Gangster. Pooja's tweet reads, "As for Kangana Ranaut-She is a great talent,if not she wouldn't have been launched by Vishesh films in "Gangster".Yes Anurag Basu discovered her,but Vishesh Films backed his vision and invested in the film. No small feat. Here's wishing her the very best in all her endeavours." Check out the tweet: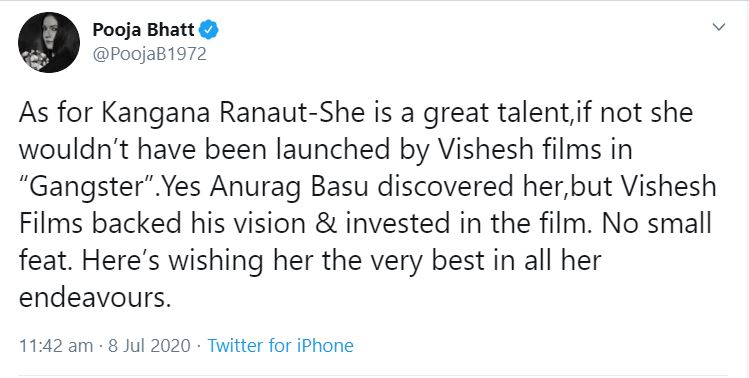 Replying to Pooja Bhatt's tweet, Kangana Ranaut's team wrote, "Dear @PoojaB1972, #AnuragBasu had keen eyes to spot Kangana's talent, everyone knows Mukesh Bhatt does not like to pay artists, to get talented people for free is a favour many studios do on themselves but that doesn't give your father a license to throw chappals at her…," and continued in another tweet, "…call her mad and humiliate her. He also announced her "tragic end", Also why was he so invested in Sushant Singh Rajpoot's and Rhea's relationship? Why did he announce his end too, some of the questions you must ask him."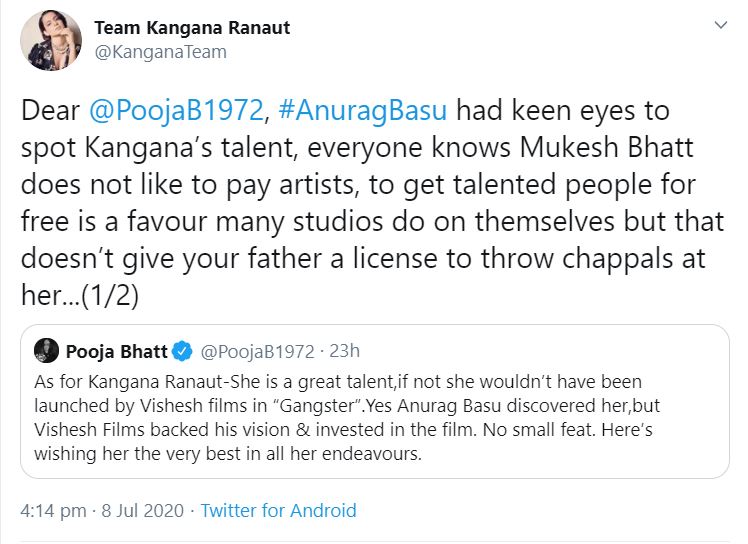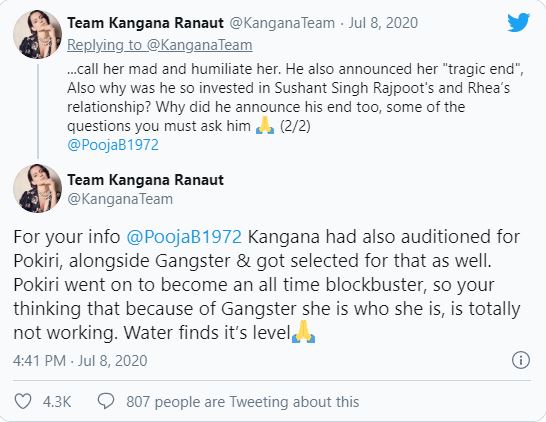 Click here to check out the tweets directly on Twitter.
In an earlier interview with Pinkvilla, Kangana had said, "After  Mahesh Bhatt met with Hrithik Roshan post our relationship went downhill, he went on record and declared that whatever proof Hrithik has shown him, he has seen a tragedy in the making. Referring to me, he also declared that a tragic end is very near. I wonder what made him say it. It's been four years and no tragedy took place."
Kangana Ranaut further added, "Now his brother is jumping into this whole thing and claiming that Sushant was turning Parveen Babi. Who is he to say that?"
Also read: Mahesh Bhatt's Wife Soni Razdan Slams All Who Call Him 'Flagbearer Of Nepotism', Says, "He's Gives More Breaks To Newcomers"