Will Stand-Up Comedian Kunal Kamra Also Quit Comedy? What Is The Future Of Comedy In India?
Earlier today Kunal Kamra took to Twitter to announce the cancellation of his shows in JP Nagar, Bengaluru. The comedian was set to perform the show titled 'Kunal Kamra Live' over the course of the next 20 days. While Kamra has had his fair share of experience regarding the cancellation of shows, it was however a first in the city of Bengaluru. In his post on Twitter, he mentioned two reasons for the cancellation of the show, one being they were not given special permission to seat 45 people in the venue due to safety protocols for Covid. Kamra adds that he also received threats about the venue shutting down permanently if he were to ever perform there. The comedian goes on to joke about how this treatment of him is just another protocol as he is perceived to be the new variant of the virus.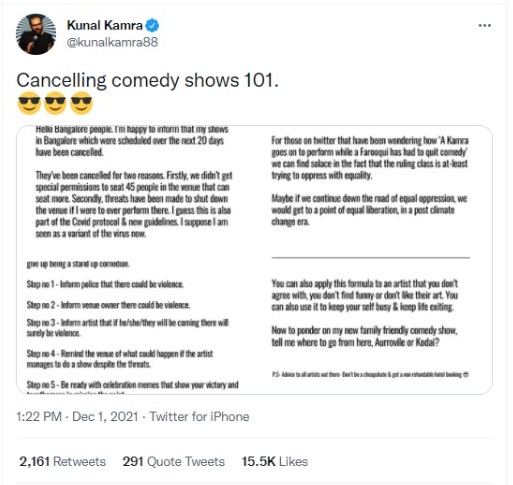 This news was followed just days after comedian Munawar Faruqui cancelled his show in Bengaluru. On Saturday, November 27th, the Bengaluru police wrote to the organisers of the show in Ashok Nagar accusing Munawar to be a controversial figure and that his presence could cause a law and order situation. These steps were taken after backlash and threats from Hindu vigilante groups. The proceeds from the show to be held were supposed to be donated to a charitable trust run by late Kannada actor Puneeth Rajkumar.
The Gujrat based comedian was arrested from his show in Indore, earlier in the month of January, over complaints from the son of a local BJP MLA. He spent an entire month in jail but this worked in his favour as he shot up to fame over the support and publicity his arrest received.  Over the last two months, Faruqui had shows scheduled in Mumbai, Goa and Gujrat but it saw the same fate as they were cancelled over threats of vandalism. Feeling heartbroken and shattered the comedian decided to quit comedy over the pressure put on the venue and organisers of his show. He took to Twitter to say goodbye and received support from many.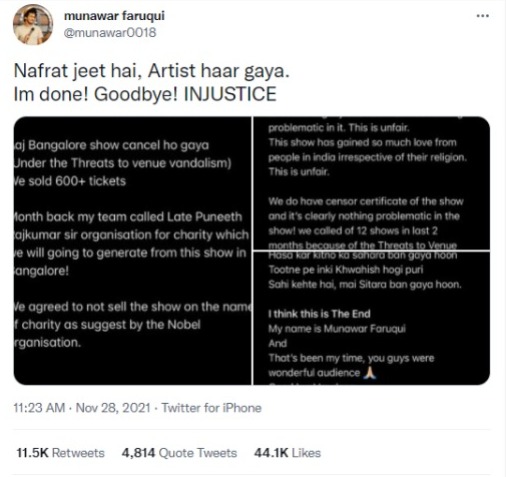 Taking note of his fellow stand-up comedian, Kamra sarcastically commented in his post on Twitter captioned, "Cancelling comedy shows 101" stating "For those on Twitter that have been wondering how 'A Kamra goes on to perform while a Faruqui has had to quit comedy' we can find solace in the fact that the ruling class is at least trying to oppress with equality." The post continues with "Maybe if we continue down the road of equal oppression, we would get to a point of equal liberation, in a post-climate change era."
For Indian Stand-up comedy, this is certainly not a first. Kamra's comedy acts are critical of the ruling government. Actor-comedian Vir Das also received backlash for his poem named 'Two Indias', which he is seen performing at the Kennedy Centre for which he is facing an FIR for defaming the country. Lastly, we have Faruqui whose perhaps only crime is to be born a Muslim in this so-called secular country.