A Scene Where Madhuri Dixit Roasts Young Stars For Having 'PRs, Styles, But No Talent' Is Hailed By Fans
The Fame Game, starring Madhuri Dixit, is available for viewing on Netflix from February 25, 2022. The series is receiving a rousing reception, and everyone is complimenting Madhuri Dixit's portrayal of the lead character.
The story centers on Anamika Anand, an actress who has ruled the big screen for many years. However, she will have to show her fame once again when she grows older. She does, however, go missing one morning. Is Anamika a kidnap victim or a murder victim? Watch the series to find out.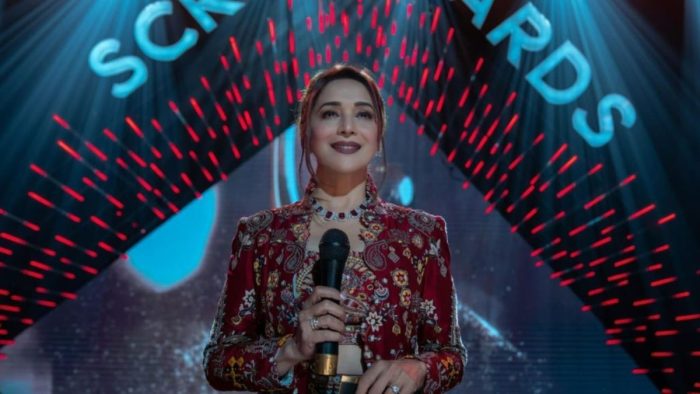 While the series has many fantastic sequences, one, in particular, has caught everyone's attention and is the subject of much discussion.
WARNING: THIS CONTAINS SPOILERS!
Anamika, alias Madhuri talks with a young actress at a wedding in one scene. In front of the cameras, the young starlet expresses her desire for Anamika's blessings.
"Young stars nowadays have PR, stylish, trainers, you have everything," Anamika responds. You don't even need my blessings, much alone my ability." This, of course, embarrasses the young actress. Netizens are enthralled by this sight.
"The truth this line contains!!!" commented one Twitter user after sharing a picture of the incident. "Dead Anamika Anand is screaming facts in that young actress's face and telling people their place," another netizen said.
"Our ferocious queen, we adore you." "Congratulations." Take a look at the tweets below:
"… you young stars these days have PR, stylists, trainers, ypu have everything, you dont even need 'talent', let alone my blessings" 🤣🤣🤣🤣🤣🤣🤣🤣🤣🤣🤣🤣🤣🤣
Way to go 🤣🤣 #TheFameGame #MadhuriDixit

— Carolina Muñoz 🇻🇪 (@lcaromunoz) February 25, 2022
Dead 💀 Anamika Anand spitting facts on that young actress's face and showing people their place. We love you, our savage queen 🔥❤️ #MadhuriDixit #TheFameGame #TheFameGameOnNetflix pic.twitter.com/xxOXqPRvlq

— Abhinav Garg #MadhuriDixit (@Abhinav_MadzFan) February 26, 2022
The truth this line holds!!!
👏🏻👏🏻👏🏻#TheFameGame pic.twitter.com/W4bjKx2iHd

— Aayushi🪶 (@Kaahaniwali_) February 26, 2022
The Fame Game ended with the possibility of a second season, and now everyone is excitedly anticipating The Fame Game 2.