Akshay Kumar and Twinkle Khanna are a power couple with two adorable kids. The two are known for their amazing relationship and how they've maintained themselves through. The two seem to be very down to earth in all matters of life. Now, on a past occasion, it was revealed that Akshay had to buy his wife a very expensive diamond ring. And the reason will make you feel like they're just like any normal couple.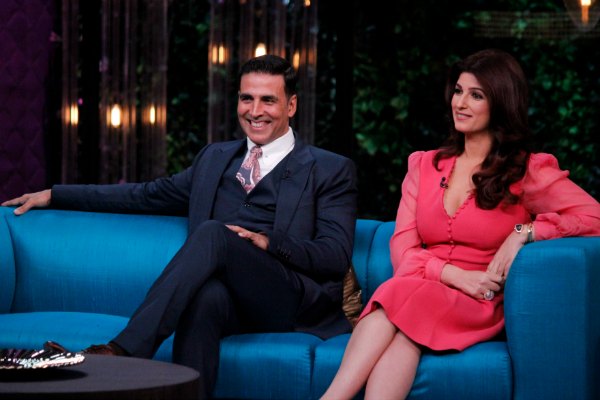 A video clip from the chat show 'Koffee With Karan' is surfacing on the internet. The clip is last season of the chat show when Karan asked Khanna about her sparkling ring and earrings. In the reply of Karan, Twinkle Khanna recalled a memory when Akshay Kumar forgot her birthday and got her a paperweight as a birthday present at the last moment. With this, she then made sure Akshay bought her a huge diamond rock, to make up for getting her an unsatisfactory birthday present. "When we were first dating, on my birthday, he got me a crystal paperweight. A paperweight! I don't know what he thought, that I would be very impressed with this paperweight," Twinkle said.
Akshay Kumar who can be seen sitting next to Twinkle jumps in the conversation and defends himself by saying, "Actually, I had forgotten her birthday. Let me honestly tell you. I had forgotten her birthday and then when I realised it was her birthday, there was no time to go and buy. Paperweight was there in my house so I quickly wrapped it (laughs)." Twinkle then added, "He gave me a paperweight, so I told him that day, 'One day, I will make sure you buy me a diamond as big as this bloody paperweight!' So I made sure." Watch the video below:
Click here to watch the video directly on Instagram.
Also read: Akshay Kumar Reveals He Was A Victim Of Nepotism In Bollywood, Ajay Devgn Replaced Him In The Movie Overnight