AyurSoma Ayurveda Royal Retreat; Perfect Setting Of Luxury, Ayurveda & Heritage
It is a dream location that nestles between a stretching hillock reflecting rich greenery, coconut palms, glittering Chowara beach alongside the splendidly calm Arabian Sea. Enter at Ayursoma to witness the ancient royal world of Maharajas with wooden palace like architecture complimented by the perfect beachside location .
Boutique Luxury Hospital –Somatheeram Ayurveda Hospitals is an old and most authentic Wellness Brand of South India that runs Ayurveda Hospital and Retreats. Ayusoma Ayurveda Royal Retreat is a new addition to the group where authentic Ayurveda treatments have been synchronised with heritage, modernity and luxury. It is primary a Boutique Ayurvedic Hospital in a luxurious heritage setting to give a curated fulfilling experience.
Indulge in an overall transformation of body, mind and soul, through meditation, yoga, Ayurvedic cuisine and the most authentic Ayurveda Treatments as per your body problems. Not to miss is the experience and flavours of Kerala culinary classes on special Ayurvedic cuisine and authentic Kerala style cooking too.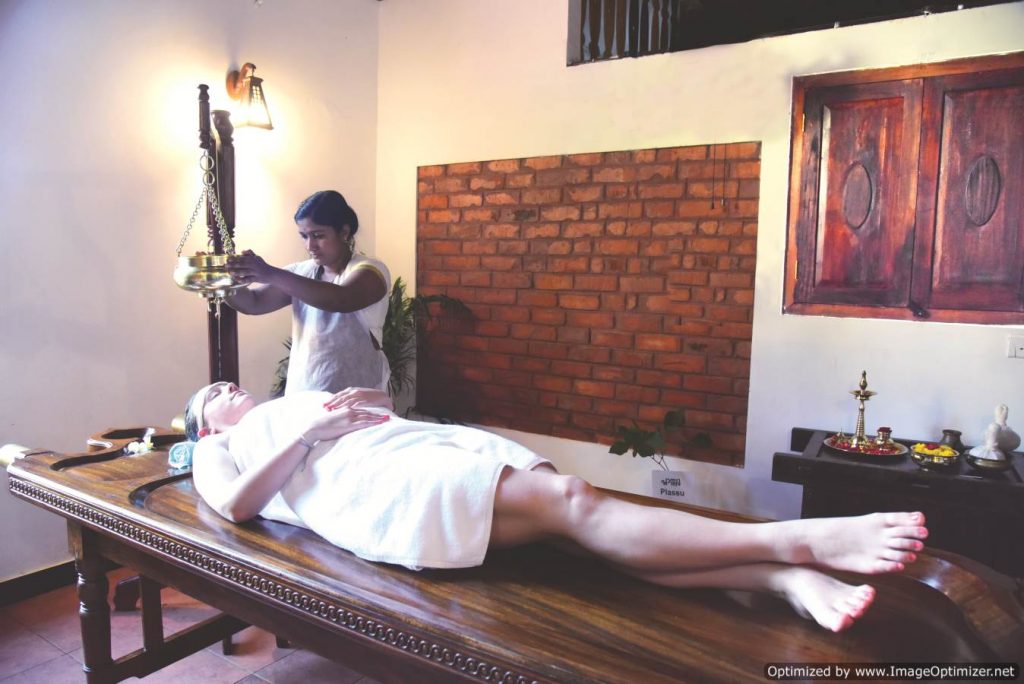 Dedicated to Ayurveda– A fully dedicated team of best doctors and therapists provide Ayurvedic treatments based on the constitution of the three doshas energies – Vata, Pitta and Kapha. Consult the Ayurveda doctor and choose your package as per the body problem ranging from complicated issues like Asthma, Rheumatoid Arthritis to mental ailments like stress, Body Detox or Rejuvenation and others. Dietary and daily practices like yoga, meditation in addition to the therapies nourish the soul. The medicines used are mostly produced at Ayursoma and few are sourced from forests. This place is for serious wellness seekers to experience of a lifetime .
Ayursoma Highlights
Packages- Regain the strength that hectic life, alochol, incorrect lifestyle has robbed of you. Choose your package ranging from Stress Management, Body Immunisation Package, Slimming, Body Purification, Rejuvenation, Beauty Care and others. On the basis of the Panchkarma concept, all treatments have been developed, dedicated to individual needs. Various therapies are provided that includes cleansing procedures (Panchkarma), oil applications ( Snehana), Herbal Steam Bath (Swendanam), pouring of warm oils onto the forehead ( Shirodhara), the royal oil bath treatment (Pizhichil), soothing face masks, vastis and others.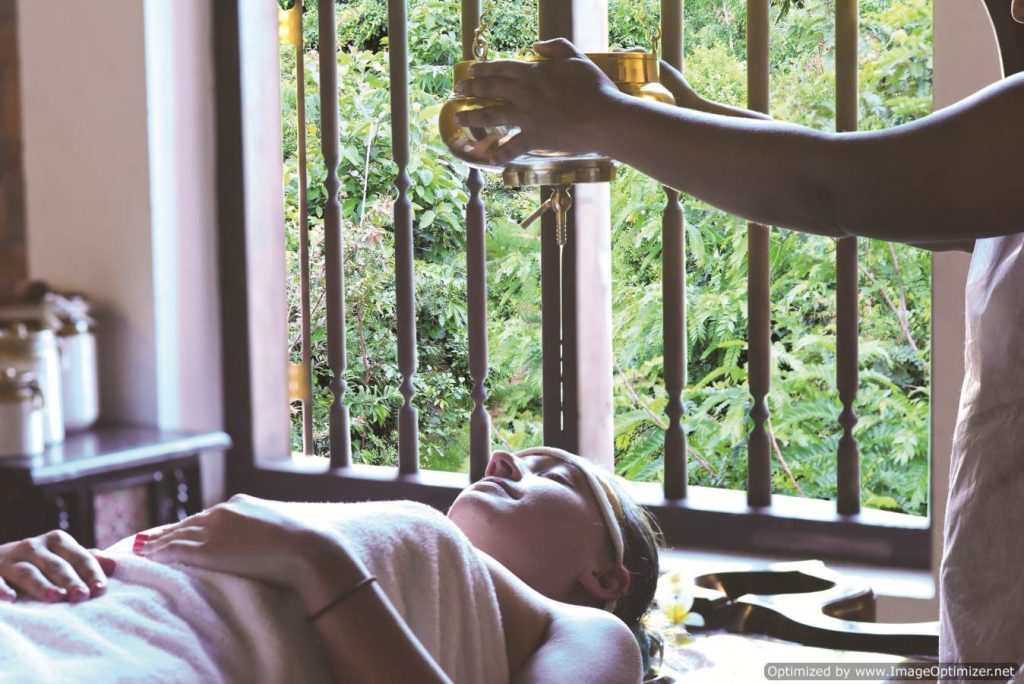 World Class Yoga– Retreats are meant to rejuvenate out minds with peace and tranquility by keeping aside our routine life. With 2 Yoga Halls and an open yoga platform, Ayursoma imparts world class yoga training , Yoga Classes and Seminars to a fully vegetarian cuisine . People from all over the world come here to experience authentic Yoga practice. .
Fitness Centre & Beauty — Sweat in the fitness centre while pamper with herbal beauty treatments using natural remedies.
Open Air Ayurvedic Restaurant – Pleasant breeze and the sea's own music, glimpses of sunset, changing colours of sky, enjoy all this with the Ayurvedic meal in open air restaurant overlooking the sea.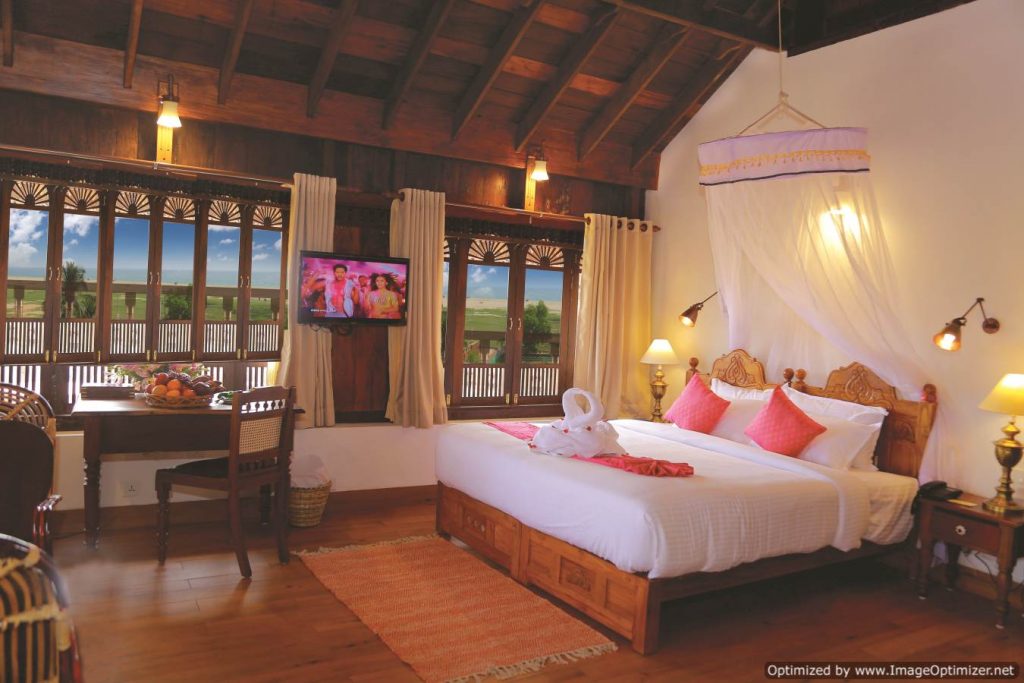 Private Treatment Rooms –The concept of private treatment rooms attached to bedrooms is a unique concept. This facility is provided in premium Heritage Deluxe Rooms. Attached private treatment rooms is an exclusive amenity for an Ayurvedic retreat.
Special rooms for differently abled – Special room is built which equips the requirements for the specially- abled who can very much come and experience therapies along with a comfortable stay.
Herbal Bath Facility in every room – Ceramic coated bathtubs have been specially made of steel as they are 100% recyclable hence, eco-friendly prevent discolouration from herbal bath.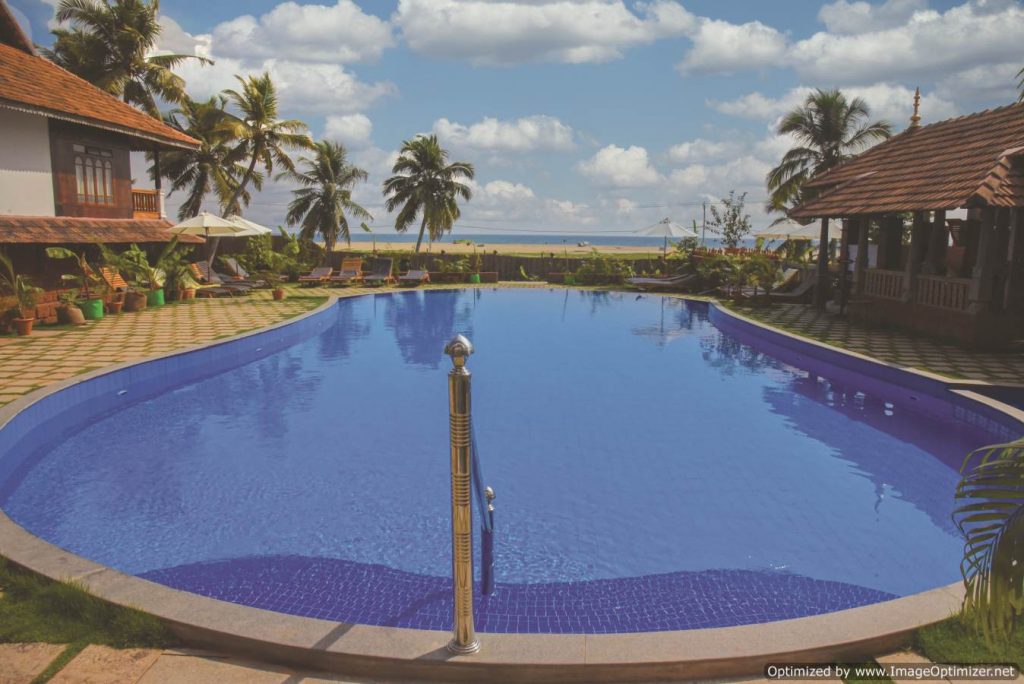 Sea Facing Swimming Pool –This huge pool with views of the setting sun is a beautiful way to relax and enjoy your leisure time. Umbrellas, pool lounges, pool side dining facility along are few luxuries around the pool.
Herbal Garden- Gain insight on the richness of herbal plants in herbal garden that harbours more than 2000 varieties of herbal plants, which are also used as a source of medicine during treatment.
Enhance your experience during the treatment days with tours based on a day trip to nearby villages and cities. Book these programs during your stay at Ayursoma while evenings are to explore yourself and the beauty of 'God's Own Country' – Kerala.
contact- AyurSoma Ayurveda Royal Retreat
Somatheeram Ayurveda Group, Chowara P.O,
South of Kovalam, Trivandrum, Kerala-695 501, India
www.ayursoma.org
[email protected]
+91 471 2268101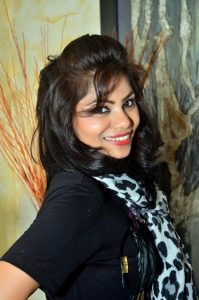 By Khushboo Jain
Wellness Advocate, Founder of Madaboutwellness
@khushboojainwellness (Facebook) Read more…