Famous Bollywood Photographer Accused of Rape: FIR Filed!
By Rahael Mathew
On the  early hours of 12th April, Andheri based 28 year old model took to social media to share her horrifying tale of rape and molestation.  The aspiring model stated that she was attacked during a work assignment causing a ripple in the industry.  The accused persons included a talent manager, producer and son of a famous producer.
Overcoming her fears, the model filed a FIR at Bandra police station on May 26th against 8 persons and famous Bollywood photographer,  Colston Julian. The model claimed that the abuse lasted years.  An Instagram account in the model's name , posted nude photos of the accused and in the caption stated, "I had to stop attending fashion events and parties where he was at because he'd approach, harass." The model also provided a gist of how the abuse began stating, "come over let's watch a movie and talk about this, don't worry. – #colstonjulian".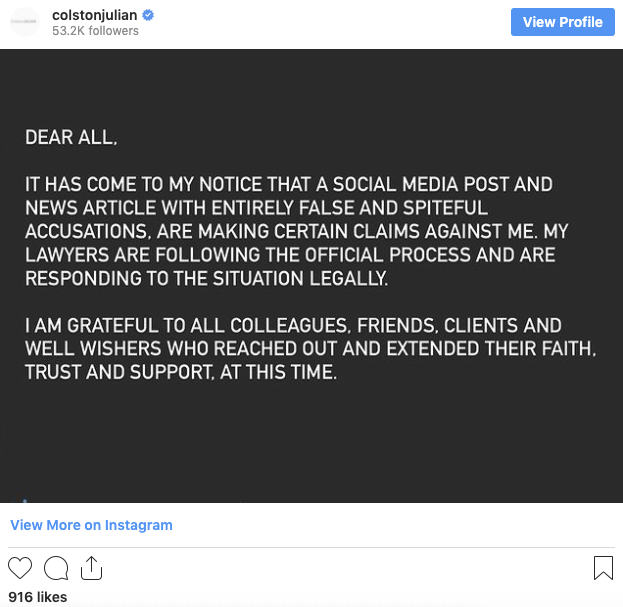 The FIR filed by the model stated the abuse took place in 2014 and 2018 under false pretext. The model also went along to clarify on instagram stating, "It's a lil late for me but I'm trying to protect the next girl." She also posted another picture of phone conversations stating she has all the proof in emails and messages to substantiate the allegations. 
In response to the allegations posted, the accused Julian Colston posted the following statement, "Dear all, it has come to my notice that a social media post and news article with entirely false and spiteful accusations are making certain claims against me. My lawyers are following the official process and are responding to the situation legally." 
The FIR has been filed under sections 376N, 345 and 34 of the Indian Penal Code, for commission of repeated rape and molestation with common intent. The Bandra police are currently investigating the accusations and yet no arrests have been made.