I Was A Background Dancer In Song 'Dilli Wali Girlfriend': Said Aayush Know Full Story Inside
Aayush Sharma, Salman Khan's brother-in-law and actor, said that he was one of the background dancers in the song 'Dilli Wali Girlfriend' from Yeh Jawaani Hai Deewani. "For…first time…I saw how Ranbir Kapoor, Deepika Padukone perform and how shoots take place," he added. Aayush further said when he came to Mumbai, he used to give auditions for roles of junior artists and ads.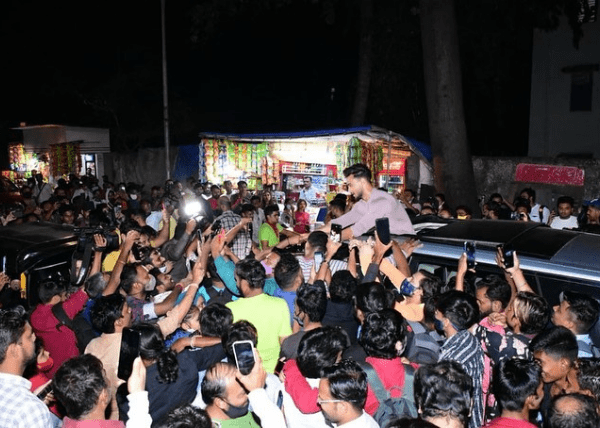 Aayush Sharma disclosed in a recent press conference that he was one of the background dancers in the film's song Dilli Wali Girlfriend. The actor, who recently starred in Antim: The Final Truth, claimed that it was a profession he took up during his difficult times.
Aayush Sharma has become an overnight superstar thanks to the wonderful reviews and affection for his character and portrayal as Rahuliya in the just released 'Antim: The Final Truth'.
Soon after his release, Aayush Sharma visited two of Mumbai's most iconic single screens, Gaiety and Maratha Mandir, causing a fan frenzy as the audience poured their affection for the actor. People couldn't stop cheering for 'Rahuliya,' which sounded similar to the actor's screen name. The internet is also awash with accolades for his outstanding performance.
Aayush underwent an incredible physical transformation for the film, but he also shown great growth as a performer with his acting talents.
Aayush Sharma has received praise for his flawless expressions and vicious body language as the threatening criminal, in addition to his muscular figure and toned biceps.
Aayush Sharma has captivated the audience with his fascinating act, mastering the fine nuances of portraying a crazed gangster with no remorse for his actions.
Aayush Sharma is a businessman from Delhi and the spouse of Arpita Khan, Salman Khan's sister.
Aayush and Arpita met through a mutual friend, lost touch in the middle, and then reconnected approximately two years ago and began dating. The pair married in 2014, and they had two sons. Aayush made his Bollywood debut with the Salman Khan's production 'Loveyatri' (2018) alongside Warina Hussain.
He is a member of Mandi's first political family. His grandfather, Pandit Sukh Ram, was a Congress veteran who represented Himachal Pradesh at a period when the state was not even prominent. His father, Anil Sharma, is a politician who is currently the Cabinet Minister for Rural Development, Panchayati Raj, and Animal Husbandry in Himachal Pradesh.