"My Kaali Is A Queer, Spits On Patriarchy, Dismantles Hindutva," Writes Leena Manimekalai Amidst Kaali Poster Row!
Many Bollywood films find themselves in the ocean of controversies before their release. Most of the time, the reason for the outrage among audiences is hurting religious sentiments. Not a long time ago, Ranbir Kapoor starrer Brahmastra was called out by many because, in the trailer of the film, the actor was seen wearing shoes inside the temple. And at present, the documentary Kaali is facing accusations for its portrayal of Goddess Kaali with a modern touch.
As soon as Kaali's poster was shared by filmmaker Leena Manimekalai, people on social media became furious. In the poster, Kaali Ma was seen holding the flag of the LGBTQ community while smoking a cigarette.
Now, taking the controversy a step ahead, the Toronto-based director has tweeted openly about it. Standing by her stance, she has written that the avatar of the Hindu Goddess in her documentary is being portrayed as a queer who smashes patriarchy and pulls apart Hindutva.
Taking to her Twitter, Manimekalai penned, " My Kaali is a queer. She is a free spirit. She spits at the patriarchy. She dismantles Hindutva. She destroys capitalism. She embraces everyone with all her thousand hands."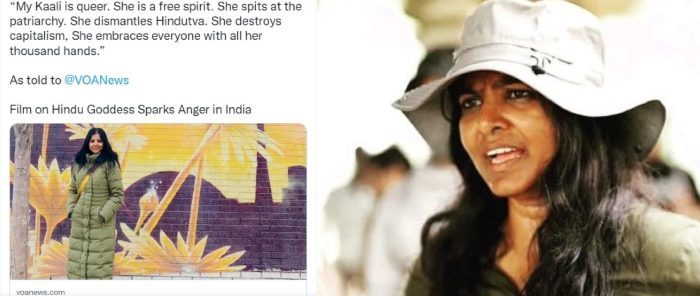 Before this tweet, the filmmaker who identifies herself as a bisexual and an atheist questioned people who got offended by her portrayal of Kaali Maa. She wrote, "When they think that they wield all the power with their brains filled with hate, they are not capable to imagine the power we creators can have with all the compassion."
Recently, The Aga Khan Museum in Canada distanced itself from screening the documentary. In a statement, they said, "The Toronto Metropolitan University has organized 16 short documentaries aimed at exchanging cultures through art. They did not intend to offend any religion. The film Kaali would not be part of the further screening of the 'Under The Tent' event. We recognize the short film has caused sensitivities and have no further plans to screen it at this time."
Let us tell you that multiple FIRs have been registered against Leena Manimekalai in various parts of India. Narottam Mishra, a BJP leader from Madhya Pradesh has demanded the issuing of a lookout circular against the filmmaker.