"Student Of The Year," Clocks 9 Years; Fans Request Karan Johar To Bring Back Alia, Varun, And Sidharth's Trio
Bollywood celebs Varun Dhawan, Alia Bhatt, and Sidharth Malhotra made a special place in the hearts of the audience through their debut film Student of the Year in 2012. Since then, all three actors have grown into massive stars. They have huge fan followings and some record-breaking box office hits to their names.
Recently, the iconic film which starred Varun, Alia, and Sidharth in lead roles completed 9 years of its release. As all of them are quite busy with their work schedules, the trio caught each other virtually for a reunion. The Director of the film, Karan Johar was also a part of this mini-reunion. While Karan and Alia met in person, Sidharth and Varun joined in via video call.
Sharing pictures from their meet on social media, Alia wrote, "There's something about today… something really special. 9 years later we managed to connect and give each other some happy grateful virtual wala love."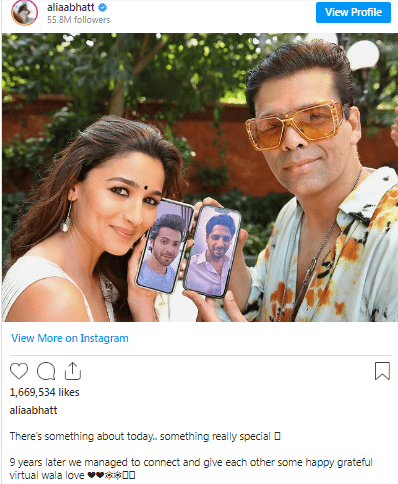 The comment section of the post got flooded by the comments of their fans. One user wrote, "This pic has my WHOLE HEART." Another penned, "How cute is this." One user asked the director of the film to bring back the trio, "Bring this trio back @karanjohar," he requested.
Karan Johar also posted the picture of their celebration on clocking nine years of the film. In the caption of the post, he wrote, "October is just filled with gifts that keep giving – and #SOTY is one such! Not only does it continue to give everyone many tunes to break out in a dance or hum along, a style that is timeless and for me, many many memories! But the ultimate gifts have been these three students, now superstars who keep on giving their absolute best to the field of cinema! Couldn't be prouder and here's to the film that started it all! #9YearsOfSOTY."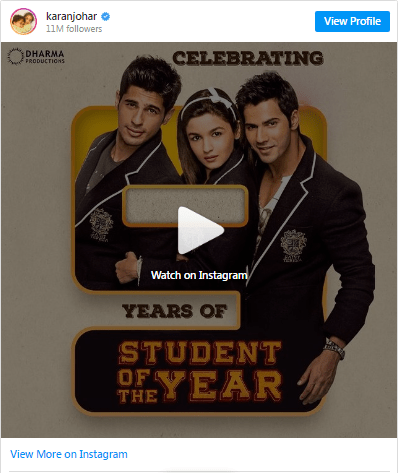 Student of the Year featured Varun, Sidharth, and Alia as students of St. Teresa High School. The movie captures how the friendship between the three goes through testing times when they battle it out in an intense competition to win the 'Student of the Year' trophy.
Sunny Hinduja Takes A Short Break From Work To Reunite With His Parents In Dubai
The film also got its sequel released in 2019. Student of the Year 2 featured Tiger Shroff and launched two debutante actresses, Ananya Panday and Tara Sutaria. Alia Bhat was seen making a special appearance in one of the songs of SOTY 2.